Unlike other nonimmigrant US visa applications, applying for an H1B visa is rather a complicated process as it requires both a US employer and an alien worker to apply for the visa. But if you know important information about an H1B visa application, it will help you a lot. Here are the H1B visa FAQs.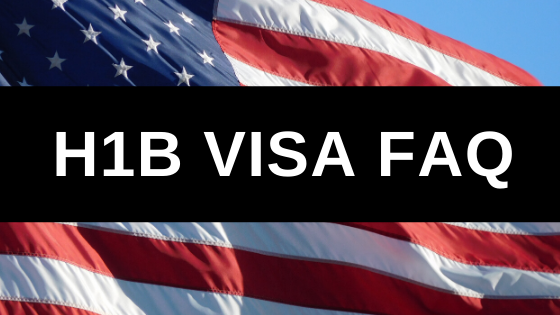 What is an H1B visa?
The H1B visa is an employment-based nonimmigrant US work visa issued to foreign nationals to stay and work in a specialty occupation in the United States for a predefined period. A US employer needs to file an H1B visa petition for an alien to work in the US in a specialty occupation. 
Who can apply for an H1B visa?
A foreign national has to fulfill the following requirements to qualify for a job offer from a US employer who will sponsor your an H1B visa petition:
The job applicant should have at least a US Bachelor's degree or its equivalent foreign degree in the area of his/ her speciality occupation from an accredited institution; or
Applicants with 3-year's bachelor's degree should have work experience of 3 years in a similar occupation/ field.
Who files the H1B petition?
It is one of the most frequently ask questions (H1B visa FAQs). The answer is as under:
The job applicant can't file his own work visa petition. A US employer who has given you a job offer can file your H1B petition on your behalf. After the petition gets approved, your employer will receive Form I-797 Notice of Action from the USCIS. Which they will forward to you.  
How to obtain an H1B visa?
Here are the basic and common steps of applying for H1B visa:
First of all you need to receive a job offer from a US employer.
Your petitioner, the US employer, needs to file a Labor Condition Application (LCA).
Petitioner also files Form I-129.  
The USCIS selects the H1B petitions in the H1B lottery.
Why is H1B called a 'dual intent' visa?
An H1B visa is called a dual intent visa because an H1B visa is one of the few nonimmigrant visa categories that a foreign national applies for with the intention of later applying for US permanent residency. A dual intent visa allows foreign nationals to apply for a green card. As a result, H1B visa holders are eligible to apply for a green card.
Can I apply for H1B while I am working in India?
Yes, a US employer who offers you a job can apply for a petition on your behalf while you are still working in India. You don't have to be present in the US when your prospective employer files your H1B petition.
How many H1B visas can a person have?
Multiple companies may file an H1B petition for the same employee. A person can have multiple H1B approval from multiple companies. Hence, there is no limit to the number of H1B visas a person can have. However, the H1B visa can be stamped for only one company at a time. 
What is H1B approval and a visa?
H1B approval or Form I-797 (Notice of Action) is an approval for an alien to legally work for the company mentioned in the petition. A non-US citizen can have multiple H1B approval from different companies. A visa is issued to foreign nationals to enter a country that is not their own for a specific time.
If an H1B visa is stamped for a particular company, can the visa holder work for another country?
It is not allowed unless the individual gets an H1B visa petition approved for another country.
Can I enter the US after my H1B petition is approved?
Only the USCIS's approval of an H1B petition doesn't grant you permission to step in the US on H1B status. The visa applicant will have to attend an H1B visa interview at a US consulate in India to get his/ her visa stamped. The visa officer will verify your education background, job offer and details of the US employer, work experience, and other relevant information. If the consular officer finds all of the information to be correct and the same as stated in your petition, he will issue your H1B visa.
Can H1B holders bring their spouse with them?
Yes,  your spouse and dependents can come with you to the US on an H4 dependent visa. Also, H4 visa holders can study and apply for employment authorization document (EAD) to work in the US.  
Can I transfer my H1B visa to another company?
Yes, an H1B visa can be transferred to another company, if the visa holder:
Is physically present in the US; and
Has I-94 form and the last 2 months' pay stubs from the previous employer.
Your new company needs to handle all the paperwork for your H1B visa transfer. You don't have to get permission from the existing employer for a visa transfer.
How long can an H1B visa holder stay in the USA?
The H1B visa is issued for up to 6 years. After that, you can apply for an extension beyond 6 years. Apply for an H1B visa extension if your green card application is pending for more than 365 days or you have applied for AOS/485. 
Is it possible to speed up H1 petition processing?
Yes, the US employer can file your H1B petition under the premium processing. There will be an additional fee for expedited processing. The USCIS guarantees to process the petition in 15 calendar days in case of H1B premium processing. 
Can H1B visa holders start their own company in the US?
Yes, they can. However, you can't form an S-Corporation because only a US citizen can start an S-Corporation in the United States of America. Visa holders can incorporate 'Limited Liability Company" (LLC). LLC can be a 'Partnership Firm' or the liability protection as an 'Incorporated Company'. As a visa holder, you can be the Chairman or Director of the Board. Individuals who hold a Green card or citizenship can also become a CEO.
Are H1B employees required to pay taxes in the United States?
Yes. According to the income tax laws in the US, H1B visa holders are required to mandatorily pay state and federal taxes. Since H1B visa holders can enjoy benefits associated with Social Security number, they must pay Medicare and Social Security taxes as well. 
These are some of the most H1B visa FAQs asked by Indian applicants.
H1B visa holders of Indian origin may have several India-related queries. To get tailor-made answers/ solutions, you can download SBNRI App from the Google Play Store or App Store. You can also use the SBNRI app for investment in stock market/ mutual funds, NRI account opening, tax filing, etc. To ask any questions, click on the button below. Also, visit our blog and YouTube channel for more details.