NRIs can get life insurance plans in India offered by insurance companies, such as SBI Life Insurance for NRIs, LIC NRI Insurance Plans, Max Life Insurance, HDFC Life Insurance, etc. While searching for life insurance in India, NRIs are faced with an array of questions related to eligibility, cost of the insurance, premium payment, medical examination, NRI accounts, KYC procedure, documentation, etc. Here are the answers to common questions asked by NRIs (NRI Life Insurance – FAQs).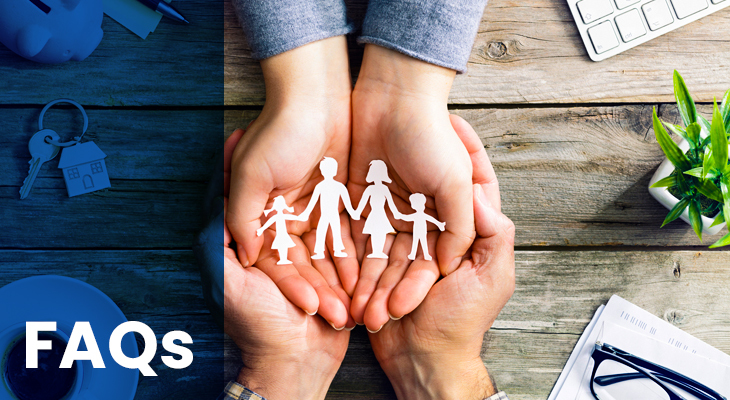 Also Read: Why NRIs need life insurance policy in India?
NRI Life Insurance – FAQs (Frequently asked questions)
Q: Who is an NRI?
Generally, an Indian citizen residing out of the country for a specified time is known as NRI (Non-Resident Indian). A person of Indian Origin (PIO) is also treated in the same way as an NRI. A PIO is an individual who either held an Indian passport at any time, or whose parents or grandparents were a citizen of India, or the spouse of the person is an Indian citizen.
Q: Can NRIs purchase a life insurance policy in India?
Yes, Non-Resident Indians (NRIs) and Persons of Indian Origin (PIOs) can also buy life insurance in India in the same way as resident Indians.
Q. What is the term for NRI life insurance?
The term for life insurance for NRIs varies depending on the insurer and the plan you choose. Generally, NRIs can get insurance for up to 25 years. Generally, the minimum age to get NRI insurance is 18 years and the maximum age varies from 55 to 60 years depending on the term and conditions stated in the policy.
Q. Are insurance policies issued in foreign currency?
Life insurance policies are issued only in INR (Indian Rupee), however, NRIs can pay the premium of policies in a foreign currency.
Q. How can I buy the insurance policy? Do I need to be present in India to buy a life insurance policy?
NRIs can buy a life insurance policy from abroad or during their visit to India. If you come to India to complete all formalities, you would be treated at par with Indian residents for the purpose of availing the insurance policy. You can also obtain insurance cover online from the country of your residence by submitting the required details/ documents.
Q. How is the medical examination of an NRI applicant done?
If the NRI applicant is present in India to buy the insurance policy, the medical examination can be conducted in India and the insurance company will bear the cost. In case the medical examination is conducted abroad, he needs to go through the prescribed medical examination at his own expense if no affiliated healthcare centres are available in the country of current residence, and send the report to the insurer.
Q. How can NRIs make payment of premiums for the insurance policy availed?
There are primarily two methods to make a premium payment of a life insurance policy. For a foreign currency-denominated policy, you can make the payment in a foreign currency or through your NRE/ FCNR account, and for a rupee-denominated policy, NRIs can pay premiums using their NRO account.
Q. Which insurers offer life insurance to NRIs?
Several companies offer NRI life insurance. Here are top insurers that offer life insurance to NRIs:
Max Life Insurance
HDFC Life Insurance
SBI Life Insurance
Life Insurance Corporation of India (LIC)
PNB Metlife Life Insurance
Kotak Life Insurance
TATA AIG Life Insurance
Aviva Life Insurance
Q. What types of life insurance policies can be taken by NRIs?
While NRIs can buy any insurance policy in India, there are some life insurance policies customized to cater to the specific needs of NRI customers.
Q. How to settle an insurance claim, can I get the claim amount outside India?
NRIs can receive maturity proceeds, death benefits, remittance of bonus, claim proceeds or surrender value in INR. if the premiums are paid in a foreign currency, the remittance can be allowed in a foreign currency in the same proportion to the premium paid in foreign currency. However, you must check the guidelines of the insurer.
Q. What are the KYC documents required from NRIs to buy a life insurance policy in India?
Where the documentation may vary from insurer to insurer, here is the checklist of common documents required to buy an NRI insurance in India:
Copy of passport
OCI/ PIO card
Address proof i.e. latest utility bill/ bank statement
Passport size photographs
Income proof like, a bank statement, income tax returns and documents certified by Chartered Account
Copy of employment, personal financial questionnaire
Any other documents as required by the insurer
Q. What will happen to the existing policy if my residential status changes from resident to NRI or vice versa?
Your life insurance policy will continue in Indian currency in either case.
Q. Can NRIs invest in ULIP?
Yes, NRIs can also buy a Unit Linked Insurance Plan (ULIP) in India.
Q. What are the benefits of buying a life insurance policy in India for NRIs?
NRIs get a host of benefits by availing life insurance plans in India. Here are some of the key benefits of availing insurance:
Long term protection for the NRIs and their family
Financial stability for your family even when you are not around
NRIs can save tax on income earned in India
One of the cheapest premiums in the market across the world
NRIs can park their surplus funds here
Inheritance planning
These are some of the NRI Life Insurance – FAQs. The specific answer may slightly vary based on a policy you choose and the insurer as well.
At SBNRI, we understand that there are many obstacles faced by NRIs and they may have several questions while trying to buy life insurance in India. You can download SBNRI App to connect with our experts and get end-to-end assistance related to insurance policies for NRIs.
You can also click on the button below to ask any questions. Visit our blog and YouTube Channel for more details.