Diwali is around the corner! The 14th of November will be an intersection of the traditional festival of Diwali and Children's Day in India. A weekend full of love, lights and celebration is at the doorstep which gives us a reason to rejoice in the present time when the world is battling COVID-19 together. Amidst the darkness of a pandemic, Diwali is here to spark the light of positivity.
With a huge NRI population all around the world, Diwali is a global festival with the Indian communities propagating the soul of the festival everywhere they are. The most beautiful aspect of this festival is spending time with your family and exchanging gifts with each other.
The joy of buying new clothes, getting new electronics or investment in gold on Dhanteras, getting your home dazzling with the holy radiance of diyas and the firecrackers for the kids. Diwali is an emotion in India extending boundaries. It is sad that many NRIs are away from their homes and will not be able to spend this auspicious day with their families. In this article, let's explore what's the most that can be done to keep intact the soul of the festival.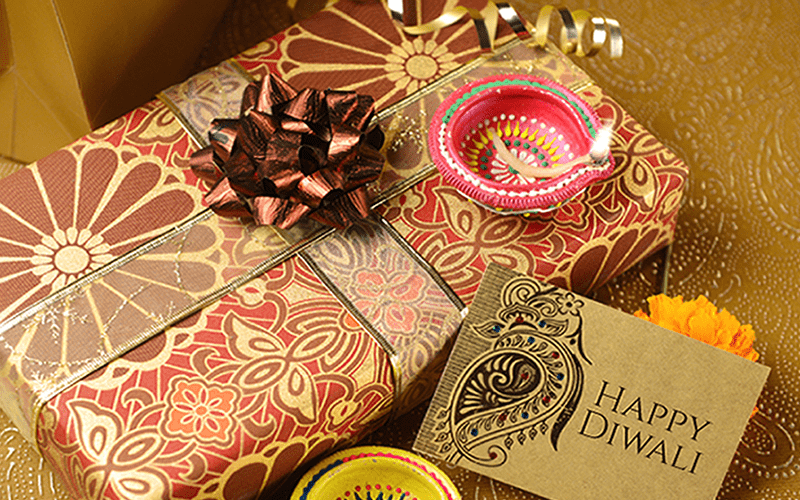 COVID 19 and Diwali: A not so good combination
Let's face it! Staying away from one's family is the most unpleasant thought this time of the year. Especially when you are an Indian and have seen the beauty of the festival of Diwali since you were a child. Diwali is one festival that makes it all right- brings in everyone closer celebrating togetherness and prosperity welcoming light over darkness.
COVID has been a part of our lives for almost a year now. Battling the pandemic, we have discovered that it's important to take care of the safety of our loved ones in order to protect them. Even though some international travel has resumed and the lockdowns have been lifted gradually, most NRIs find it safer to avoid large family gatherings.
The sparkling atmosphere of markets, roadside shops, malls and the bazaars have dampened but the online e-commerce domain has lit up. As per market estimations, Diwali season amounts to almost 40-50% of annual retail sales. So, everyone is trying to capitalize as much as they can. The Indian e-commerce sector alone is expected to grow 32.8% in 2020.
Sending gifts to your loved ones is a very thoughtful way of letting them know that you are there apart from that customary video call. But, there can be doubts: What to give? What can be the best gift that will avoid the risks of spreading the virus? What is the most secure and personalized gift out there for your family?
Why not just send money?
The answer to all your doubts is money. A safe online transfer this Diwali will make it risk-free and wonderful. Anything that you can't touch is valuable: love, care, respect and in this case sending money online.
It shows care and gives the person receiving it a chance to spend it on anything they like. Given the present circumstances with the world battling a pandemic, nothing else can be a better choice.
Will my gift be taxed in India?
Taxation on Gifts sent and received by NRIs is well defined under the Income Tax Act. Also, there have been recent amendments in the definition of NRI as per Income Tax.
These points will help you be restless on the taxation front:
Gift from NRI Relative to a Resident Indian is exempt from tax in India for both giver and receiver
Gifts to Resident Indians from NRIs (non-relative) within Rs.50,000/- are exempt from tax for both giver and receiver
On gifts to Resident Indians from NRIs (non-relative) exceeding Rs. 50,000/-, gift-tax is applicable to be paid by the receiver. (The amount is added to the total income of the receiver and taxed as per their income tax slab)
Gifts to Resident Indians from NRIs (irrespective of relation) for marriage or through will is exempted from tax in India for both giver and receiver
Also Read: Gift by NRI to Resident Indian or Vice-Versa: Taxation and more
What to look for before sending money online
There are some factors that need to be considered to avoid spending extra in the form of fees and charges on your remittances to India. Sending a gift should mean that most of it is received by your loved ones. Let's tell you how you can avoid paying a chunk of your gifts to the banks or other providers and make the most out of your remittances to India.
There are 3 basic factors to consider:
Exchange Rate: While explaining the concept of Transfer Fee VS Exchange Rate we concluded that most of the transfer operators don't charge any transfer fee and it all crops up to the exchange rates that they provide. Make sure you check the final amount that will be received by your family and friends and compare the figure on multiple channels to select the best one out of the lot.
Transfer Speed/ Urgency: Another factor to weigh in would be how much time you have. If you are planning well ahead and have ample amount of time, you can avoid the extra fee that various operators charge on the name of instant transfers. Sudden plans can cost you some extra bucks.
Offers & Deals: Since it's Diwali. Don't forget to check out the extra discounts in the form of deals and offers by various service providers.
Sending Money Online to India this Diwali: The Perfect Gift
Make this Diwali special by making it safe and enjoyable for your family. Plan ahead in time and reap the benefits of the ongoing offers, deals & discounts to make the most out of them.
Remember, you need to weigh in all the factors to select the best time for sending money online. SBNRI has made it easier for you by evaluating every factor and creating the perfect channel for all your remittances to make this Diwali brighter and happier than ever. Click on the button below to instantly remit money to your loved ones and gift them the happiness they are waiting for. This time, Diwali is all about celebrating togetherness and prosperity by maintaining the distance. Visit our blog and Youtube Channel for more NRI specific solutions.