In India, the state of Maharashtra is famous and the best tourist spot for family and friends. It sits under the second most famous Indian state to lure foreign visitors. And it ranks fourth in the list of most visited places by foreign travelers.
The great part of Maharashtra is that it is a state which mixes geographical gems and past assets. Thus, it becomes luring to visitors from abroad and India. There are so many things that make Maharashtra a sought-after travel spot for any traveler. Its hills, the mighty Arabian Sea, and the awe-inspiring caves of Ajanta and Ellora all make it a must-see. A transient state bridges the past, present and future while bearing witness to the future. Maharashtra's third largest state in India has magic in its air. Let's read more about places to visit in Maharashtra in this blog.
Ajanta And Ellora Caves Tourism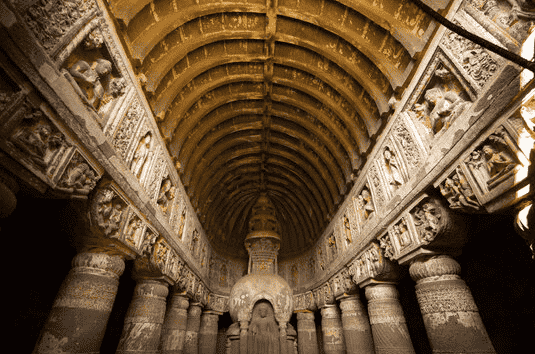 Located near Aurangabad in Maharashtra, Ajanta and Ellora caves are outstanding examples of ancient cut caves worldwide. In addition to Buddhist abbeys and Hindu and Jain temples, the Ellora and Ajanta cave complexes feature stunning statues, paintings, and frescoes. The Ajanta caves are 29 in total. And during the 2nd through 6th centuries BC, it was constructed. On the other hand, Ellora Caves are made between the 6th and 11th Century AD and are 34 in total and more spread out than Ajanta caves.
These are the famous UNESCO World Heritage Sites. However, these are pretty famous among visitors worldwide, making them sit under the places to visit in Maharashtra. There is about 99 km of caves around Aurangabad that Buddhist monks mainly use as a retreat. On the other hand, Ellora is about 15 km west of Aurangabad and has an ideal mix of Jain, Hindu and Buddhist sites. Indian rulers built and funded these hand-carved caves covered by dense forests. In addition to being the most famous place in the whole Ajanta and Ellora Caves, Kailash Temple is also the largest monolith in the whole world. Several carvings illustrate these rock-cut caves, some of the finest examples of ancient Indian style and statues.
Kumbhoj
Kumbhoj is the oldest town situated in the Kolhapur district of Maharashtra. The site bears witness to the eddies of time, seeing the migrations of races and the struggle for supremacy among them. The result is a fusion of many races, religions, and cultures resulting in a supreme form of human unity. The road and walls of this famous historical village are soaked in stories now half ignored and half raised to the status of myths and fables. It is a unique place to visit due to its religious value or uptake by many religions. There is a belief that the goddess Shakamvari was born in Kumbhoj.
It also has a monolithic bust of Jain Bahubali in the kayotsarga pose, making it a famous spot for the Jain pilgrims. In addition to a great saint like Shri Bahubali Maharaj, many Jain saints like Shri Prabhachandraji and Shri Kamalakarji are also reported to have visited here.
There is an inn on the grounds of the Jain temple complex, Dharamshala, which is fully equipped for lovers. It is 28 kilometers away from the ground. It is accessible by going up 50 steps carved out for the comfort of devotees and tourists. Therefore, it sits among the places to visit in Maharashtra.
Panchgani
Getting its name from the five hills covering it, Panchgani is the most famous hill station near Mahabaleshwar in Maharashtra. It is famous for many reasons, like its various sunset and sunrise points and scenic gully views.
A mountain range in the Sahyadri range wraps Panchgani, also called Panchgani because of its five hill ranges. It is situated at 1344 meters. The unique hills on one flank and shore plains on the other make for a fantastic view. In British times, this place was famous as a summer resort. Hence, many colonial period places can be seen here. In many ways, Mahabaleshwar and Panchgani are twin cities. Panchgani offers more than verdant green valleys and a soothing environment; it is also known for its red, juicy strawberries. The farms of Panchgani, also known as the 'Strawberry Garden of India'. It offers stunning views of luscious strawberries, especially during February and March. Hence, you must see these best places to visit in Maharashtra in your life.
Mahabaleshwar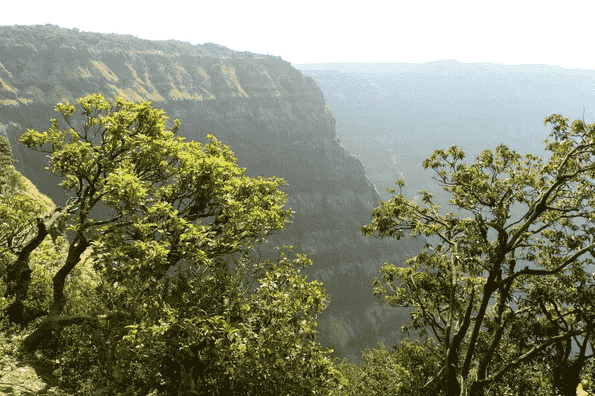 Located in the western ghats of Satara District, Mahabaleshwar is a mountain retreat. It is a famous visitor spot among the ideal places to visit in Maharashtra. The area is famous for its strawberries and other fruits and is ideal for relaxing on holidays. Many rivers with incredible waterfalls adorn the lovely mountains that surround Mahabaleshwar. From Mumbai and Pune, it's a great weekend escape because of its natural beauty and fresh aura. This is one of the famous places to visit in Maharashtra.
An ancient pilgrimage site consists of Malcolm Peth, Old Kshetra Mahabaleshwar, and a region of Shindola village. In this spot, the mighty Krishna River originates, which makes it a holy place for Hindus. Mahabaleshwar Temple is a 500-year-old temple devoted to Lord Shiva. Additionally, it serves as a pilgrimage site for Hindus.
There are several places in Mahabaleshwar to explore nature's beauty. It includes Chinaman's Falls, Dhobi Waterfalls, Wilson Point, and Tapola. A visit to Venna Lake in Mahabaleshwar is an excellent way to spend some time with the ones you love. There is a lake where you can have a picnic or enjoy boating. Among other fresh fruit products such as jams, syrups, and jellies, Mapro garden offers the highest quality strawberries in the area.
Nashik
Nashik is one of the vital holy places to visit in Maharashtra. According to Hindu lore, Lord Rama lived in Nashik during his 14 years of exile. The Kalaram Temple in Nashik, where a black statue of Lord Rama is revered, is an integral part of any Rama devotee's trip to Nashik. A black statue of Lakshmana and a statue of Sita adorn the temple's shrine Sanctorum. Among the four main Kumbh Mela sites, Nashik is one. Millions of lovers from around the world attend the event every 12 years. You can enjoy the natural beauty of Nashik in addition to clerical visits. Dudhsagar Waterfalls, Sula Vineyards, Coin Museum, PandavLeni Caves and more are popular lures.
Summary
These are the best places to visit in Maharashtra you must see. It is best to do a deep study before making the plan. You will feel relaxed and get rid of any worries. You will see amazing beauties and unique aura which can help you to get some unforgettable moments in life which you never forget.
You can also click on the button below for more information. Visit our blog and YouTube Channel for more details.
What are the most popular places in Maharashtra that is worth visiting?
Among numerous amazing destinations few notable ones are Panchgani, Ajanta and Ellora Caves, Nashik, Lonavala and so on.
Why tourists love traveling to Maharashtra?
There are so many coastal towns in this state. Mumbai is known to have three UNESCO World Heritage sites. The state is also filled with plethora of caves and numerous forts.
What is the significance of Ajanta and Ellora caves?
This historical destination is beautifully decked with stunning sculptures, frescoes, paintings as well as many Buddhist monasteries and temples.