Buy Now Pay Later (BNPL) is a kind of short-term financing through which consumers can make purchases and pay for them at an upcoming date, frequently free of interest. Also implied as "point of sale installment loans," BNPL provisions are becoming a more and more popular payment choice, particularly when shopping online. Consumers may find it convenient to use BNPL financing, but they have to consider some potential downsides.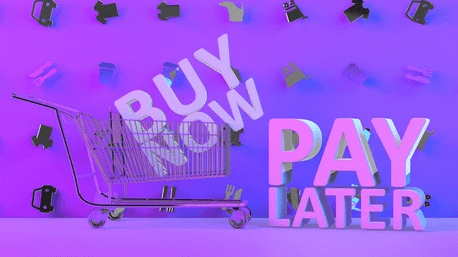 Important Aspects:
The provisions of buy now pay later are point-of-sale-installment loans, which let consumers make purchases and pay for them at an upcoming date. Generally, Customers make a forthright payment toward the purchase and afterward, pay back the balance in a prearranged number of installments.
Frequently, no interest is charged for buy now pay later arrangements, and often it is easier to get approval for them than traditional credit cards. Usually, your credit score is not affected by BNPL, but your credit score can be damaged if you make late payments or fail to pay.
Many companies including Klarna and Affirm provide buy now pay later financing on purchases completed from participating merchants. PayPal has initiated its own point-of-sale installment plan. Certain credit card issuers like Chase and American Express have also established similar financing plans. Buy now pay later financing provided through a credit card company may take lower fees or interest rates in comparison with the usual variable APR charged on outstanding balances.
How Does Buy Now Pay Later Work?
All Buy now pay later plans are not exactly the same. Despite each company having its own terms and conditions, generally, point-of-sale installment loans work in the following ways:
You make a purchase at a partaking retail outlet and decide on buy now, pay later at the sales counter. If approved, often very quickly, you make a small down payment like 25% of the total purchase amount, and then you pay back the due balance amount in a number of interest-free installments. You can pay through a cheque or bank transfer. Payments can also be made from your bank account, debit card, or credit card automatically.
There is a difference between making a purchase with a credit card and with BNPL, even though both involve delayed payments. When you pay for things with a credit card, you need only to make the minimum payment outstanding on the card each month. Interest accumulates on the residual amount until you pay it back completely unless the card used is with a 0% introductory APR. However, you can bring a balance indefinitely.
In comparison, BNPL plans frequently don't charge fees or interest. But there is a fixed repayment program, usually a number of weeks or months. They will tell you forthrightly what you will require to pay each time while usually, the amount is the same. It is similar to any other kind of unsecured personal or consumer loan.
All purchases may not be qualified for buy now pay later financing. And the amount you can finance this way may have limits. But buy now pay later can be a desirable mode of payment for minor purchases when shopping online, and its acceptance developed during 2020, with the growth of e-commerce at large.
Credit Checks
The majority of buy now pay later companies only entail a soft credit check for approval, for which your credit score is not affected. However, others may perform a hard pull of your credit, and you may well lose a few points off your score temporarily.
Certain buy now pay later finances are conveyed to one or more of the three main credit bureaus. If a financial institution directs this information, the loan can turn up on your credit reports, and it could influence your credit score.
What Are The Benefits of Buy Now Pay Later?
BNPL lets you make a purchase without being anxious about immediate funds forthright and pay this back at a future date.
Recently there has been a substantial plunge in cash transactions, as other payment opportunities such as cards, net banking, and e-wallets, became the new normal in the midst of the fast-changing Indian financial ecosystem. During this time, buy now pay later developed as a widespread credit option among customers, giving them immediate access to an approved credit limit, which could then be spent for purchases.
But what is this policy of credit all about and what makes it so attractive to consumers like Gen Z and millennials? Let us explore what it involves.
Analyzing BNPL
As its name implies, buy now pay later lets you make a purchase without being anxious about instant cash forthright, and then pay this back at a future date. While this does liken to a small-ticket loan, this has grown worth and penchant for one vital reason – a suitable and smooth user experience. From paying your bills to shopping online, the cardless and cashless BNPL is effective, fast, and customer-friendly.
Here is a Focus on Some of the Benefits of Pay Later:
Immediate Access to Credit
You do not need to look for alternate credit choices. With BNPL, you are provided prompt credit at the time of sale itself, heading for an easy and frictionless purchase.
The Simplicity of Use
Some BNPL programs provide a QR-code option where you can easily scan the code to make a payment, while others let you conclude BNPL transactions through UPI.
Safety And Security
BNPL helps consumers make secure payments without swiping their card and PIN, transferring money from an e-wallet, or entering their net banking details. An OTP is created and forwarded to their registered mobile phone, which is all that is required.
Boosting The BNPL Option to Your Advantage
On top of the accessibility and flexibility provided by BNPL, this credit choice can also help you create an upbeat credit profile given that you maintain your end of the arrangement with the lender or merchant, and make your reimbursements in good time.
Check Your BNPL Transactions Thoroughly
You can make different BNPL transactions with various lenders or merchants, but keep in mind to take into account the whole amount spent. You are aware of your financial stand, credit responsibilities, and other dues, so be cautious and watch your BNPL transactions. Reckless spending, even if it is within your approved credit limit, can make it hard for you to pay back your dues reliably. Select your repayment period smartly.
Conclusion
The notion behind buy now pay later is that customers can pick up the things they want right away while also getting some additional time to pay for them. Buy now, pay later financing may appear attractive if you cannot or do not plan to pay the bill for something at the same time.
These loans spread your credit without inflicting excessive interest charges but with a reimbursement program, so you do not enter a pile of ongoing debt situations. But think about whether the payments are reasonable and what consequences you may face if you cannot pay. Read the fine print judiciously on buy now pay later financing so you totally comprehend the conditions to which you are being in agreement.
To conclude, weigh the advantages of point-of-sale installment loans compared to the benefits of using other financing options like personal loans or rewards credit cards.
You can also click on the button below for more information. Visit our blog and YouTube Channel for more details.