Foreign nationals must get a visa to enter the United States. There are various types of nonimmigrant visas issued to people traveling to the United States for a short period of time. The type of visa you require to go to the US will be determined based on the purpose of your intended travel and other facts under U.S. immigration law. In this article, we will describe various US visa types to help you understand the steps required to apply for the visa and pay US visa application fees at a US Embassy or Consulate.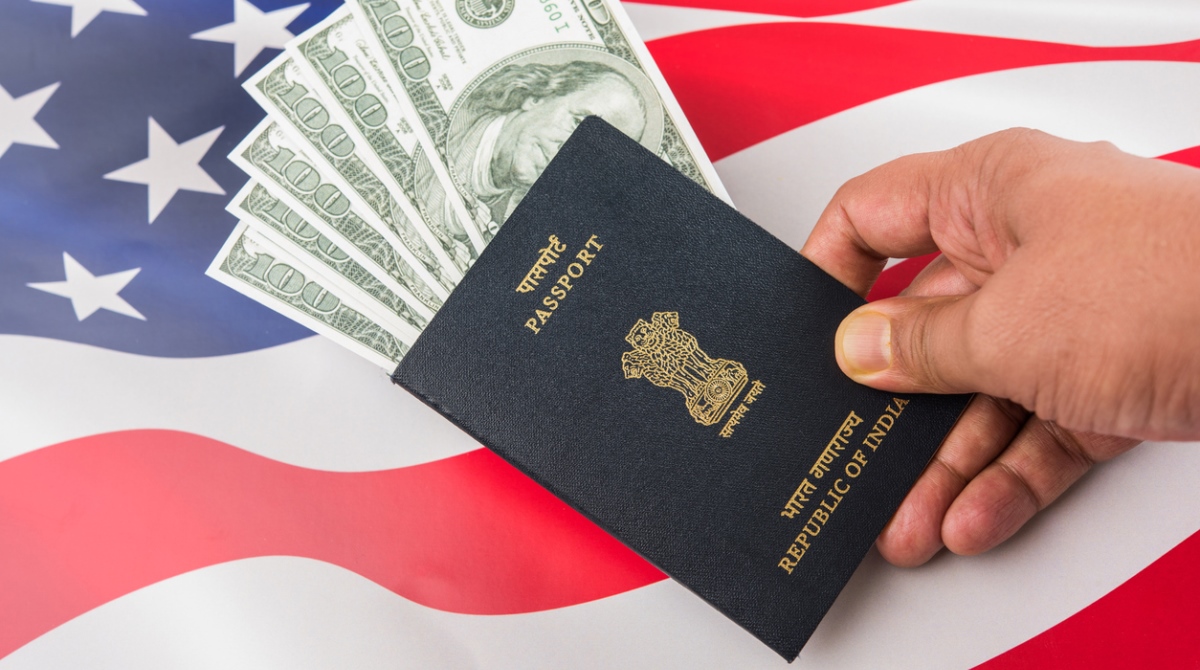 US Visa Types
Basically there are two types of visas – nonimmigrant visa for a temporary stay and immigrant visa for permanent settlement in the US. Here are the most common US visas for Indians:
Nonimmigrant US Visa Types
Purpose
A
Foreign government servants and diplomats
A1, G-1, NATO 1-6
Visa renewal in the US for A, G and NATO categories
A-2, NATO 1-6
Foreign military officers posted in the US
B-1
Amateur and professional athletes Business visitorsNannies or domestic servants
B-2
– Visitors for medical treatment
– Visitors for pleasure, vacation
BCC
Mexican Border Crossing Card
C
Transit in the US
D
Crew members serving on aircrafts/ sea vessels
E-1
Treaty traders
E-2
Treaty investors
E-3
Australian workers- professionals and specialty workers
F-1
Language and academic students
F-2
Dependents of F-1 visa holders
G-1-G-5, NATO
Employees of designated international organization and NATO
H-1B
People working in specialty occupations that require highly specialized knowledge
H-1B, J1
Physicians
H-1B1
Free Trade Agreement (FTA) professionals of Chile and Singapore
H-1C
For nurses to visit the areas where there is a shortage of healthcare staff
H-2A
Temporary agricultural workers
H-2B
Temporary non-agricultural workers
H-3
Non-employment training programs
H-4
Dependents of H visa holders
I
Media, journalists or their representative
J
Exchange visitors
J-1
Exchange visitors – Au-pairs Exchange visitors – Professors, scholars and teachers
J-2
Spouse and children under the age of 21 of J-1 visa holder
K-1
Finance
L
Intra company transferees
M-1
Students – vocational
M-2
Dependents of M-1 visa holders
O-1
Foreign citizens with extraordinary abilities in the field of art, science, athletics and business
P
Athletes, entertainers and artists
R
Religious workers
T-1
Human trafficking victims
TN/TD
NAFTA professional workers- Canada, Mexico
U-1
Criminal activity victims
US visa types for nonimmigrants
US Visa Types for Business or Tourism
US tourist visa fees: $160 USD
There are two types of visas under business/ tourist visa:
B-1 visa is issued to business associates who want to enter the United States temporarily for business.
B-2 visa is issued to individuals who want to travel to the United States for pleasure or medical treatment including meeting family/ friends or vacations, honeymoon and social occasions.
You can also obtain a combined visa issued for both objectives. You need to prove to the consular officer that you have sufficient funds to cover your expenses while in the US. Visitor visa holders are not permitted to accept employment in the US.
Work visa
US work visa fees: $190 USD
Individuals who travel to the US for employment on a temporary basis need a specific visa based on the type of work they will be doing. Prospective employers of H, L, O, P and Q visa applicants are required to file a petition on the applicants' behalf and get it approved by USCIS (U.S. Citizenship and Immigration Services) before the applicants can apply for a work visa.
The petition, Form I-129, must be approved before the prospective workers can apply for a work visa at the US Embassy or Consulate in their home country. Visa applicants will have to bring I-129 and a copy of Form I-797 at the time of visa interview at the Consulate.
Here are visas offered for work in the US:
H1-B visa (specialty occupation)
An H-1B visa is issued to foreign nationals to enter the United States to perform services in a pre-arranged professional job. You must have a bachelor's or higher degree in the specific specialty occupation for which you have been selected. USCIS will determine whether you are qualified to perform the service. The prospective employer needs to file the Form ETA-9035, LCA (Labor Condition Application) with the Department of Labor regarding the terms and conditions of the contract of employment with you.
H-2A (seasonal agricultural workers)
The H-2A visa allows US employers to offer agricultural jobs to foreign nationals in the United States on a temporary basis. A US employer must file Form I-129 petition for Nonimmigrant Worker on the visa applicant's behalf.
Note: Indians and Bhutanese passport holders are not eligible for H-2A visa
H2-B visa (skilled and unskilled workers)
This visa allows foreign nationals to come to the United States for temporary or seasonal jobs for which US workers are not available. Employers must obtain a Department of Labor certification.
Note: Indians and Bhutanese passport holders are not eligible for H-2A visa
You will need to obtain an H-3 visa if you wish to come to the United States to receive training in any field from an employer for up to 2 years. The employer can pay you, but the training can't be used to provide productive employment.
Spouses and unmarried children (below the age of 21 years) of the principal H visa holders can obtain an H-4 visa to accompany him/her to the United States. However, dependents are not permitted to work in the US but can attend school in the US.
L-1 (intra-company transferee)
You are required to have an L-1 visa to visit the United States if you are an employee of an international company that is temporarily transferring you to its parent branch, affiliate, or subsidiary in the United States. You should have a managerial or executive position, or have specialized knowledge and be ready to attain a position at either of these levels in the US company. You must have had employment outside the United States with the international company continuously for one year within the 3 years before your application for admission to the United States.
Spouses and unmarried children (aged below 21 years) of L visa holders can obtain L-2 visas to enter the United States. If your spouse wishes to work in the US, he/she will have to submit a completed Form I-765 with the application fee. However, children will not be allowed to seek employment in the United States.
Type O visas are issued to experts in the field of science, education, business, arts, etc. or individuals with extraordinary achievement in motion picture and television production. Their essential support personnel.
Type P Visa (artists, entertainers)
Type P visas are granted to entertainment artists, athletes and their essential support personnel who wish to visit the United States for performance.
If you are traveling to the United States to participate in the international cultural exchange program for the purpose of providing practical training, and sharing the history, traditions and culture of your home country, you must obtain a Q visa. Your sponsor must file a petition on your behalf and the petition must be approved by USCIS.
Also Read: Visa Status: Check Visa Status with Passport Number
US Visa Types for Students
Student visa fees: Fee: $160 USD
Foreign citizens can visit the United States to pursue their studies. Before applying for a visa, all US student visa applicants must have got admission in an educational institution. Once the students have secured admission, the educational institution will provide the applicant with the required approval documentation to be submitted while applying for the student visa. Student visas can be issued before 120 days of commencement of the course of study. Students are allowed to travel to the US within 30 days from the start date on Form I-20.
The F1 student visa is issued to students who wish to pursue academic studies in an accredited US university, college, private secondary school or in an approved English language program. Also, if your course of study is more than 18 hours a week, F-1 visas are required.
If you are planning to pursue non-academic or vocational study or training at a US institution, you need an M-1 visa.
Exchange Visitor Visas
Fees: Fee: $160 USD
Foreign nationals can visit the United States to participate in various exchange programs. Visa applicants must be accepted and approved by an authorized program sponsor before applying for a visa. The exchange visitor program's J visa is designed with the objective of promoting the interchange of persons, knowledge, and skills in the fields of education, arts, and sciences.
Participants include:
Teachers
Students at academic levels
Professors
Research scholars
Professional trainees
International visitors coming for tourism, observation, training, demonstrating specialized skills, participating in organized people-to-people programs, etc.
Transit/ship crew visas
Fee: $160 USD
Visas for transit or ship crew are issued in two categories:
Transit C visa is issued to foreign nationals traveling to another foreign destination via close and continuous transit through the United States enroute. If the foreign national is visiting for purposes other than transit through the US, they will need to qualify for and take B-2 visas.
Crew D visa is granted to a crew member serving onboard a vessel or aircraft in the United States. Generally crew members transiting through the United States or its waters use a combination of transit and crew visa (C-1/D). However, in some cases, foreign nationals may only need the D visa.
Crew members serving onboard a vessel within the Outer Continental Shelf can get a modified B-1 visa rather than a crew visa. If the crew members enter the US during time-off between flights or cruises, they should get a B-1/B-2 visa.
Religious worker visa
Fee: $190 USD
Foreign nationals who wish to travel to the US for religious activities on a temporary basis. Individuals who are authorized by a recognized entity to conduct religious activities and workers engaging in a religious occupation are considered religious workers.
Domestic employee visa
Fee: $160 USD
Personal or domestic servants who visit the United States with their employers can apply for a B-1 Visa. Here is the list of domestic employees considered for this type of visa:
Housemaids
Valets
Footmen
Cooks
Butlers
Chauffeurs
Nannies
Mother' helpers
Gardeners
Paid companions
Domestic servants accompanying a foreign diplomat or a government official can get an A-3 or G-5 visa, in accordance with their employer's visa status.
Media and journalist visa
Fee: $160 USD
The media (i) visa is a nonimmigrant visa issued to representatives of foreign media traveling to the United States on a temporary basis to pursue their profession. The applicants must meet specific requirements to qualify for the media (I) visa. Media visas are issued to members of the press, radio, film industries, such as reporters, editors, film crews and persons in similar occupations traveling to the United States to practice their profession.
A visitor visa is granted if a foreign citizen wants to travel to the US for the following purposes:
Attending a conference or meeting
Guest lecture or academic activity
Purchase of media equipment
Vacation
A temporary work visa is granted to foreign nationals to enter the US for the following activities:
Filming material for advertisement and commercial entertainment
Roles such as proofreaders, librarians, set designers
Artistic media content production
Stories that are staged events, television and quiz shows
Dependents of the principal holder like spouses and children under the age of 21 can accompany in the United States are eligible for visitor visas (B-2).
How to check my visa status
You can check nonimmigrant US visa status online on USCIS website, using the case number or CEAC barcode on the DS-160 confirmation page.
Also Read: Indian Passport for NRI: Renewal vs Reissue
You can contact US Embassy in India to ask any questions regarding a US visa. If you're looking for any assitance for NRI services such as NRI account opening, NRI Demat account, NRI investment or taxation, experts at SBNRI can help you out with everything. Download SBNRI App from the Google Play Store or App Store to ask any questions related to NRI services. Also visit our blog and Youtube Channel for more details.
FAQs on Types of Visas offered by US
Will I get a money refund if my visa application gets rejected?
No, the money will not be refunded, since the visa application got processed. The fees you paid while applying for a visa, involve the cost of processing a visa application. Anyone, who wishes to apply for a US visa, needs to pay this amount, irrespective of where they stay in the world.

Is the visa a guarantee to enter the United States?
No, a visa does not guarantee entry into the States. It only allows you to travel until the port-of-entry (airport or land border). After reaching there, you need to seek permission from the Department of Homeland Security, US Customs and Border Protection (CBP). These officials have the authority to allow or reject your stay request. The US immigration inspector gives you an admission stamp or paper Form I-94, arrival/departure record in your passport. It is important to keep this paper in your passport during your stay in the States, as it shows that you are a legal immigrant.

For how long can I stay in the United States?
The immigration officer records the duration period or a date on the admission stamp paper. You must abide by it and leave the States by that date. It is very important to keep paper Form I-94 or admission stamp in your passport as it is proof that you are permitted to stay in the US.

What should I do if my visa gets damaged?
You will have to reapply for a new visa at a Consulate abroad or at the US Embassy.

What should I do if my immigrant visa expires before I travel to the United States?
You may have to apply again for visa and pay the immigrant visa processing fee. You may also be required to submit new documents, like a police certificate and medical examination for the process. Do contact the Consulate or the US Embassy that issued your visa for detailed information. While submitting a new application, you may be asked to submit your expired, unused visa and there is no guarantee that your visa will get reissued.

Can I know the visa application status of my friend?
The visa records are confidential under the Immigration and Nationality Act (INA) 222(f) of the US laws. Therefore, you cannot check the application status on behalf of your friend. The applicant should call up the US Embassy or the Consulate abroad to check for necessary the information regarding the visa.