A common doubt that troubles NRIs all over the world is whether they should opt for Renewal or Reissue of their Indian Passport as it reaches its expiry date. Let's focus on the fundamentals: An Ordinary Indian Passport is issued with a validity of 10 years which can be renewed for another 10 years. So, if your passport is nearing its 10 year expiry date, it is suggested that you renew it for another 10 years. Now, you should aim for renewal within 1 year before expiry as your passport must have a validity of at least 6 months for seamless travelling. Now, if your passport has reached its expiry and by any chance you didn't renew it then in that case you need to apply for reissue of passport.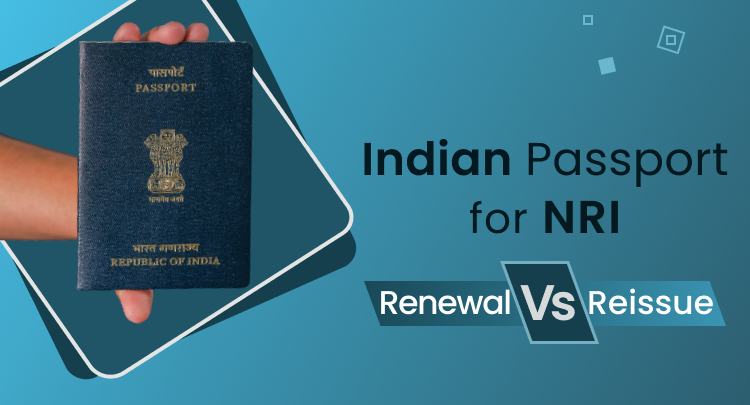 Making it clear for NRIs, once again:
| Situations | Renewal | Reissue |
| --- | --- | --- |
| Passport reaching expiry | Yes; can be renewed for another 10 years. Apply within 1 year before expiry | No; but reissue necessary if you fail to apply for renewal and passport expires |
| Expired Passport | No; Can't renew | Yes |
| What happens to Passport Number | Unchanged | New Passport number granted |
Indian Passport for NRI: Renewal vs Reissue
Indian Passport for NRI: Renewal vs Reissue
Now, renewal of passport will only be done before expiry but there are various reasons for Reissue of Indian Passport, which are:
Validity Expired/Due to expire
Change in personal particulars
Exhaustion of pages
Damage/Loss of Passport
Having cleared the basic doubts, let's move ahead and understand the processes involved with Renewal and Reissue of Indian Passport for NRI. Fundamentally, the process for renewal and reissue is the same: Apply online, Visit PSK (Passport Seva Kendra), Verification (Police Verification is subject to changes required). Let's explore these steps:
Applying Online: Fill the application form online on Passport Seva Portal as a new user (if not registered as existing user) and opt for Renewal/Reissue while submitting the details. You'll need to fill the following details:
Type of Application (Normal or Tatkal passport application)
You can fill the application online or download it and upload after filling
You'll have to book an appointment along with time slot at your nearest PSK 
Pay online or through challan and schedule the appointment
Print Application Receipt and carry it to the PSK accompanied by other documents
Visiting Passport Seva Kendra (PSK): You need to be present at the PSK along with all the required documents at the selected time slot. There you will have to follow the process through 3 counters A, B & C following initial verification of documents.
Counter A: Your Photograph and biometrics taken/updated
Counter B: Original Documents verified
Counter C: Application status check with further guidance and approvals
Police Verification: Under normal applications, Police verification is done before the passport is issued and for Tatkal applications, passports are issued first followed by Police Verification. But in case of reissue and renewal, police verification is not always necessary. Let's understand when it is required:
If your address and other particulars are unchanged in case of renewal or reissue of passport (reissued within 3 years of expiry), no police verification is required
For passports reissued after 3 years of expiry, police verification is necessary
If you want to change your permanent address in the renewed/reissued passport, then police verification will take place
Also, if your application has any discrepancy, then police verification will be required
Short Validity Passport (SVP) Renewal
There are some passports that are issued with a short validity (1 year to 5 years) and are issued to the following people:
Students going out for international examinations
In case of non delivery of passport
People with pending criminal cases
Indians Residing overseas planning a short trip to India
Note: These SVPs can also be renewed and the validity of passport would be decided by Assistant Passport Officer /RPO.
Also Read: How to check Passport Status in India
Documents Required for Renewal/Reissue of Passport
Renewal
Reissue
1. Old Passport original
2. Educational Qualification Proof
3. Permanent address proof in India
4. Marriage certificate (in case if you are married)
5. Spouse passport ( for endorsing spouse name in your passport)
6. Travel tickets (in case of Tatkal Passports)
7. Overseas Address Proof (Utility Bill, Residence Permit etc.)
8. In case of a name change or address change, proof documents supporting the new details are required.
1. Old Passport in original
2. Self-attested photocopy of its first two and last two pages, including ECR/Non-ECR page (previously ECNR) and the page of observation (if any), made by Passport Issuing Authority and validity extension page, if any, in respect of short validity passport
Documents Required for Renewal/Reissue of Passport
Charges for Renewal/Reissue of Indian Passport for NRI
There are no charges for renewal of Indian Passport for NRI. Reissue charges are Rs.2000 and Rs.4000 for Normal and Tatkal categories respectively.
The process of renewal and reissue of passport for NRI is simple if there are no changes in the details. If the address or any other detail has to be changed then a police verification might follow. So, it is advised that you stay prepared and have the basics cleared out. In this article, we had a similar motive: To clear the basic doubts of our NRI Friends all around the globe. If you have any more queries, contact our experts for instant query resolution.
GREAT NEWS! Now connect with our expert directly on WhatsApp using the button below.
Indian Passport for NRI: FAQs
Can an NRI renew passport in India?
Yes. An NRI can renew his/her passport in India by following a simple 3 step process: Apply online, Visit PSK, Police Verification (if necessary).
How can I track my NRI passport status?
How to Check Passport Status in India:
1. Visit the official passport website and select the 'Track Your Application Status' tab.
2. From the drop-down menu, select the type of application from among the options listed.
3. Enter the 15-digit file number (given to you while submitting the application) and your date of birth in the format prescribed and click on 'Track Status'.
What is the fees for passport in India?
The fee for application of passport in India is Rs. 1000 (for minors under Normal option) and Rs. 2000 (for adults under Normal option) with additional Rs.2000 tatkal fee (in case of tatkal applications).  
Can I renew my expired passport India?
You can apply for a re-issue of passport up to 1 year before the expiry or within three years after the expiry of the existing passport without fresh police verification, provided there is no change in personal particulars and there is clear police report with respect to your previous passport and there is no adverse entry in the system. You can also apply for re-issue of passport if your previous passport expired more than three years ago, but fresh police verification would take place.
Can Indian passport be renewed abroad?
Yes. Indian passports can be renewed abroad by contacting the respective Indian consulate in your country of residence. However, every country will have slightly different processes, document requirements and charges. Therefore, it is advised to report the consulate directly or visit its website.