The H1B visa is an employment-based nonimmigrant visa issued to foreign nationals who wish to work in a specialty occupation in the United State of America for a specified period. Unlike other visas, it is an employer-sponsored visa i.e. for this visa an employer must offer a job to the visa holder and apply for his/her visa petition with the US Immigration Department under the Immigration and Nationality Act.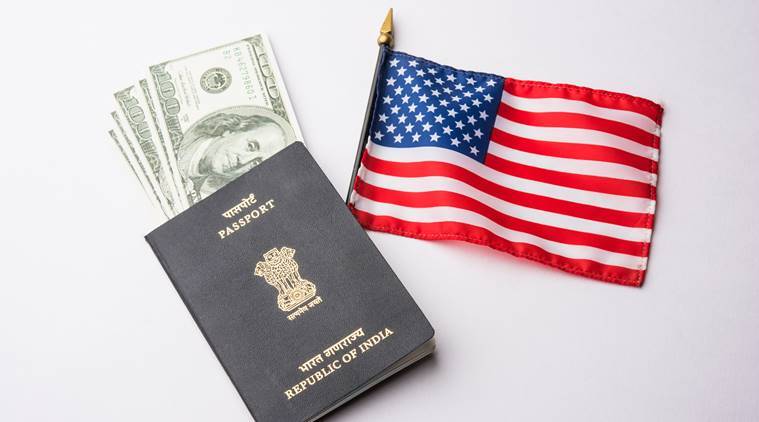 Also Read: Visa Status: Check Visa Status with Passport Number
H1B Visa Eligibility Criteria for Indians
You need to meet the H1B visa requirements as under:
For specialty occupations, theoretical and practical application of a body of specialized knowledge is required.
A bachelor's or higher degree or its equivalent from an accredited college or university is normally the minimum requirement for a particular position.
United States Citizenship and Immigration Services will evaluate if the job offered can be categorized under a specialty occupation and if she/he is qualified to perform the services.
Employer of the applicant should obtain Labor Condition Application (LCA) approval from the Department of Labor in the US.
LCA includes the terms and conditions of the contract of employment with the applicant.
Each applicant must have a valid passport and appear for the visa interview at the nearest US consulate in the home country.
Your purpose to visit the US must be clear that you are visiting the US for employment and earning, and have no intention to pursue hobbies or any humanitarian services.
H-1B visa application process
You are not allowed to apply for the H-1B visa, but a US employer, also called the H1B Sponsor, who wants to hire you will file for your H-1B visa petition with USCIS. The registration process for H-1B visa will commence from 9 March and continue till 25 March for the fiscal year 2022, as per the United States Citizenship and Immigration Services.
H-1B visa petition is a 3-step process as under:
Labor certification for H1B visa
The prospective employer needs to file the Form ETA-9035, LCA (Labor Condition Application), with the Form I-129, Petition for Nonimmigrant Worker. LCAs must be submitted electronically through the ICERT website.
Filing for H-1B visa petition with USCIS
The employer needs to file the USCIS Form I-129, filing cost and other supporting documents including the DOL-certified LCA with the USCIS.
Application for Visa and/or admission
Once Form I-129 has been approved, you can apply with the US embassy or consulate abroad for an H-1B visa, if required.
Documents required for H1B visa application
Here is the checklist of documents for H-1B visa for Indians:
Copy of passport
Copy of educational degree/ certificate/ transcripts
Letter of the current appointment
Copy of previous appointment/ experience
Labor Certificate Approval (LCA)
Tax returns paper of the company
Copy of the letter received from the Department of Justice
A copy of the letter sent to the Consular General of the Indian Consulate
Short description of job responsibilities with the sponsoring US company
Copy of the current or temporary US License
Resume with supporting certificates
Demand drafts for processing fee and issuance fee
2-3 passport size colored photographs
Copies of marriage certificate and birth certificate in case of dependent members
Here is the checklist of documents required to apply for an H-1B visa when you are already living in the US:
Copy of front page and visa pages of the current passport
Current address in the US
Address in the home country
Phone number
Email address
Form I-94 card copy
Prior H1-B approval notices copy
Updated resume with employment history
Copy of educational degree/ certificate
Copy of credentials evaluation
Your current designation with the sponsoring U.S. Company
Description of your job responsibilities
Social security number
Recent W2 copy
Recent payslip copy
Photo specification for H-1B visa
Your photo must meet the specific standards set by USCIS. The photo specifications are: square, colored, and the minimum size 600×600 pixels and maximum size 1200×1200 pixels in a JPEG file format with a file size of fewer than 240 KB.
H-1B Visa application fee for Indians
The H1B visa fees can range from $1,720 to $6,470 or more depending on various types of fees such as attorney fees, optional fees, and employer criteria. However, the registration fee is $10, only lottery selected petitions will pay more than this. Here are the various charges applicable to an H-1B visa application.
Fee
Amount
Paid By
Registration Fee
$10
Employer
Basic Filing Fee (I-129 form)
$460
employer
Premium Processing (Optional)
$2,500
Employer or applicant
Attorney Fee
Variable
Employer
Public Law 114 – 113 fee
$4000
Employer
USCIS Anti-Fraud Fee
$500
Employer
ACWIA Education & Training Fee
– Less than 25 Employees: $750
– More than 25 Employees: $1500
Employer
H-1B Visa Application Fee
Validity of H1B visa
The H-1B visa is normally granted for a period of 3 years and the tenure is extendable but not beyond 6 years. H1B visa extension is granted under the American Competitiveness in the Twenty-First Century Act. Individuals whose permanent residence application is pending can apply for a limited extension. Also, if your H-1B visa is not extended before the end of the 6th year, you will have to stay outside the US for 1 year.
The H-1B2 holders who are working in the Defense Department projects may work in the United States for 10 years.
Dependents of the H-1B visa holders are allowed to stay in the US. Spouse and unmarried children below the age of 21 can apply for the H4 visa and stay as long as your visa is valid. However, they are not allowed to seek employment in the US but can attend school in the US.
Servants are also allowed under the B1 visa.
H1B Visa Cap
USCIS can issue a maximum of 65,000 new statuses/ visas each fiscal year. An additional 20,000 petitions filed on behalf of beneficiaries who have earned a master's degree or higher from the US institutions of higher education are not subject to this numerical cap. Additionally, H-1B visa workers employed at or petitioned for an institution of higher education or related non-profit entities/ organizations or a government research organization are exempt from the annual cap.
Benefits of H1B Visa for Indians
You can apply for as many numbers of H-1B visas as you need throughout your lifetime.
H-1B visa holders are eligible to apply for Green Card or Lawful Permanent Residency for themselves and their family as well.
If an H-1B cardholder is terminated before the end of the negotiated employment period, the employer will be liable to pay a reasonable cost of the transportation for the visa holder to return to his/her home country.
H1B Visa Transfer
Individuals with H-1B visa status can transfer to a different employer. For this, the visa holders don't need to seek permission from the previous sponsoring company for the H-1B visa transfer. However, a visa holder will need valid employment in the US. Individuals don't need to follow non-compete laws or any other contractual agreements they might have conceded with the employer.
The new employer will have to file an H-1B visa transfer petition with the USCIS. The H-1B visa holder should not have indulged in any unlawful activities in the US or violated his/ her status. Otherwise, the petition is most likely to be declined.
Also Read: Indian Passport for NRI: Renewal vs Reissue
You can contact US Embassy in India for more clarity on H-1B visa. If you're looking for any assitance for NRI services such as NRI account opening, NRI Demat account, NRI investment or taxation, experts at SBNRI can help you out with everything. Download SBNRI App from the Google Play Store or App Store to ask any questions related to NRI services. Also visit our blog and Youtube Channel for more details.
FAQs
When should I apply for an H-1B visa?
Individuals can apply for an H-1B visa once the visa petition has been approved by the USCIS. You can't file a visa petition for yourself, the sponsoring US company will file the visa petition for you. The USCIS starts accepting H-1B visa petitions for next year from 1st April. For example, it will start accepting Visa petitions for 2022 from 1st April 2021. 
Can H1B visa holders apply for a Green Card?
Yes. The H1B visa serves dual purposes, not only it enables foreign nationals to work in the US, but they are also eligible for permanent residency by applying for a green card. Hence, if you are interested in settling in the US, start the process of applying for your green card. Once your H1B visa has expired, you may face difficulties with applying for a green card.
How can one apply for an H1B visa from India?
Individuals can't file an H1B visa petition for themselves. H1B is an employer-sponsored visa i.e. for this visa an employer must offer you a job and apply for your visa petition with the US Immigration Department under the Immigration and Nationality Act. However, you will have to meet the H1B visa requirements for Indian citizens and provide the required documents. After the approval of the petition, you can apply for the visa at the US Embassy or Consulate in India.