The full form of KYC is Know Your Customer or Know Your Client. Through the KYC process, a company verifies the customer's identity, suitability and risk involved with maintaining a business relationship. The KYC process is also undertaken by companies to make sure their proposed customers, clients, agents, consultants, or partners are actually who they claim to be.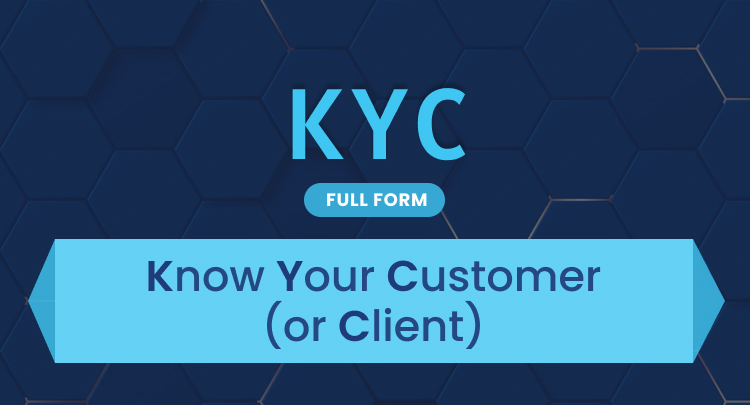 Also Read: MRP Full Form | IRDA Full Form | SEBI Full Form
Objective of KYC
The objective of KYC is to prevent a business from being used by frauds, scammers and other criminal elements for money laundering and many other illegal activities. KYC also helps companies to better understand their clients and financial dealings. Which enables businesses to manage their risk efficiently. Banks and other online businesses frame their KYC policies incorporating the following key elements.
Customer identification process
Customer identification policy
Transactions tracking
Risk management
To complete the KYC process, customers/ clients/ distributors/ agents/ consultants must provide banks and other companies with authentic information, so that banks can recognize and improve customer satisfaction. Here are some of the basic documents required as identification and address proof for KYC process:
Aadhaar card
Voter's ID card 
Passport
Driving license
If the documents provided by you don't have address proof, you can share other documents like electricity bill, telephone bill, gas bill or water bill for KYC verification.
Who needs KYC
KYC is required by financial institutions and other related businesses. Financial institutions and non-financial institutions must abide by the KYC regulations else they may be penalized by authorities. Here are some business entities that need to incorporate KYC:
Banks, NBFC and other financial institutions
Insurance companies
E-commerce
Virtual currency businesses
Real estate businesses
Casino and online gaming
Dealers of precious metals
Also Read: CIBIL Full Form | INR Full Form | IFSC Full Form
There are several financial abbreviations and acronyms used in daily life. If you have difficulty in comprehending these terms, we at SBNRI, are here to help you out. You can get in touch with our expert directly on WhatsApp using the button below to resolve your doubts and queries. Also visit our blog and YouTube Channel for more details.