What is the full form of CIBIL?
Credit Information Bureau India Limited is the full form of CIBIL. A part of TransUnion, CIBIL is a credit information company operating in India since August 2000. CIBIL, also known as the credit bureau, gathers and maintains credit records of individuals and business organizations. It aggregates borrowing and payment information of consumers and businesses for the purpose of assessing loan risk and interest rates.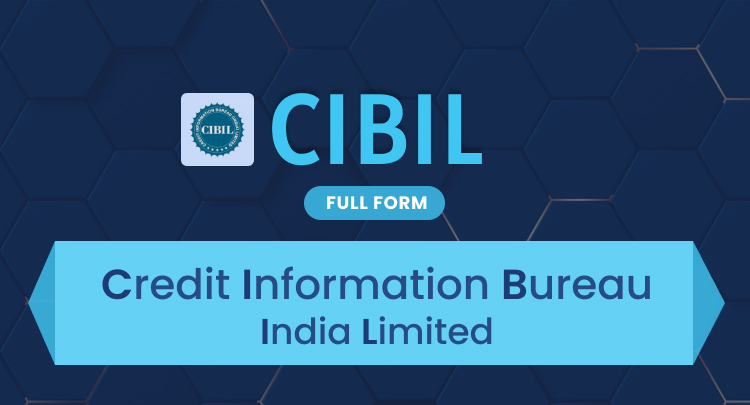 Also Read: IRDA Full Form | SEBI Full Form | MSME Full Form
History of TransUnion CIBIL in India
In 2000, Credit Information Bureau India Limited (CIBIL) was incorporated.
In 2004, credit bureau services were started in India.
In 2006, commercial bureau operations commenced.
In 2007, India's first risk scoring model for banks and NBFCs, CIBIL score, was introduced.
In 2011, CIBIL score was made available to individual consumers.
In 2016, TransUnion acquired 92.1% stake in CIBIL to become TransUnion CIBIL.
CIBIL Score
A CIBIL score is a 3-digit number that ranges from 300 to 900 based on a level analysis of an individual's credit history. CIBIL (Credit Information Bureau India Limited) collects financial data of an individual such as loan and credit card information from banks and other financial institutions in India to prepare a credit report. Individuals who have a higher credit score are considered responsible and creditworthy borrowers.
Importance of credit score
Credit score is one of the most important factors considered by banks and NBFCs to offer a loan and credit card.
If your credit score is low or poor, banks may reject your loan application.
On the other hand if the credit score is strong, your loan application will be approved.
A good credit score helps you get a loan at lower interest rates.
In case of a good credit score, the loan sanction will be fast and simple.
Also Read: RTGS Full Form | NEFT Full Form | IFSC Full Form
There are several financial abbreviations and acronyms used in daily life. If you have difficulty in comprehending these terms, we at SBNRI, are here to help you out. You can get in touch with our expert directly on WhatsApp using the button below to resolve your doubts and queries. Also visit our blog and YouTube Channel for more details.