What is the full form of MRP?
The full form of MRP is Maximum Retail Price. It is the highest price that can be charged by manufacturers for a product before the sale in India. Maximum retail price must be labelled on every product sold in India. Maximum retail price printed on products is inclusive of all taxes. Retailers can't charge customers more than the MRP. However, some shops may charge slightly below to attract more customers to their stores.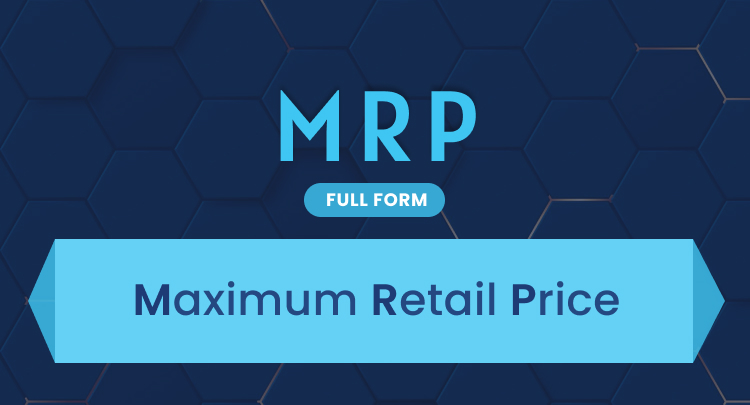 Also Read: ATM Full Form | INR Full Form | GDP Full Form
How GST affects MRP?
Since the implementation of GST (Goods and Services Tax) from July 2017, lots of changes have been seen in the rates of tax on various products. Because of which the maximum retail price of various products has increased and decreased. In some cases, a taxpayer can't claim ITC (Input Tax Credit) under GST. In such cases, the price doesn't reduce.
GST rules for manufacturers to address changes in MRP due to GST
Both original and revised maximum retail price should be clearly printed on the product and the revised price should not be overwritten on the original one.
The change in MRP can't be more than the net price increase of the product due to tax.
But if there is reduction in price due to reduction in GST rates, then the manufacturer doesn't need to publish it in the paper.
Revision of maximum retail price should be published in one or more newspapers. And change in the price should be communicated to the Director, Controller of Legal Metrology in the states.
Whether an increase or decrease in the price, manufacturers are required to put a sticker of the revised MRP along with old MRP.
Penalty for selling products at more than the maximum retail price
Selling packaged items for more than the printed MRP would attract a penalty of Rs. 5,000 to Rs. 15,000 for the first time and up to Rs. 1 lakh for repeat offence.
Also Read: SEBI Full Form | IRDA Full Form | SENSEX Full Form
There are several financial abbreviations and acronyms used in daily life. If you have difficulty in comprehending these terms, we at SBNRI, are here to help you out. You can get in touch with our expert directly on WhatsApp using the button below to resolve your doubts and queries. Also visit our blog and YouTube Channel for more details.