What is the full form of INR?
The full form of INR is Indian Rupee. The Indian Rupee (INR) is the currency of India. The new currency symbol for the Indian Rupee – '₹' – was introduced on 15 July 2010. Before the adoption of the new symbol, the most commonly used symbols for Rupee were Rs. and Re. in texts. INR is approved and monitored by the Reserve Bank of India (RBI). The Indian Rupee is divided into paise; a paise is 1/100th of a Rupee.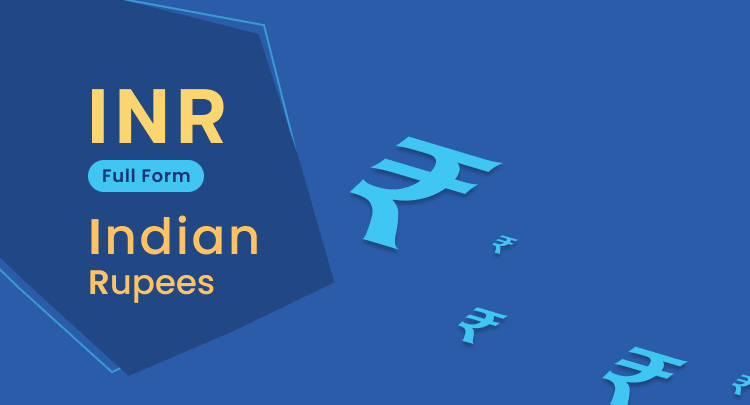 Also Read: EUR to INR: Convert Euro to Indian Rupee | MYR to INR: Convert Malaysian Ringgit to Indian Rupee
The Reserve Bank of India also issues coins in denominations of ₹1, ₹2, ₹5, ₹10 and ₹20. Banknotes are issued in denominations of ₹1, ₹5, ₹10, ₹20, ₹50, ₹100, ₹200, ₹500 and ₹2,000. Denominations are printed in 15 languages on the reverse side of paper rupees and in Hindi and English on the front side.
The RBI frequently updates the banknotes with new designs and colors, like from the old Mahatma Gandhi series of banknotes to the new ones that include various themes of India's rich heritage.
Also Read: Can I invest foreign currency in India?
Security issues in INR
India is a cash-based economy and because of which fake currency is circulated by money launderers and terrorists. Counterfeit cash could be the reason for the Indian economy's decline. Hence implementation of security features is very critical to ensure legitimate transactions and do away with a chance of duplication of Indian Rupee notes. The Reserve Bank of India has to update the notes with new security features.
The following security features are adopted to avoid the duplication of INR:
Using identification tags
Usage of watermark
Using security thread
Usage of optically variable ink or color-changing ink
Also Read: NEFT Full Form: National Electronic Fund Transfer | RTGS Full Form – Real-Time Gross Settlement
There are several financial abbreviations and acronyms used in daily life. If you have difficulty in comprehending these terms, we at SBNRI, are here to help you out. You can get in touch with our expert directly on WhatsApp using the button below to resolve your doubts and queries. Also visit our blog and YouTube Channel for more details.