What is the full form of SEBI?
Securities and Exchange Board of India is the full form of SEBI. Established in 1992 under the Securities and Exchange Board of India Act, 1992, SEBI is a statutory regulatory authority of the securities and commodity market in India. It is responsible to protect the interests of investors by regulating the securities market.
Headquartered in Mumbai, it has offices in New Delhi, Kolkata, Chennai and Ahmedabad for north, east, south and west regions respectively.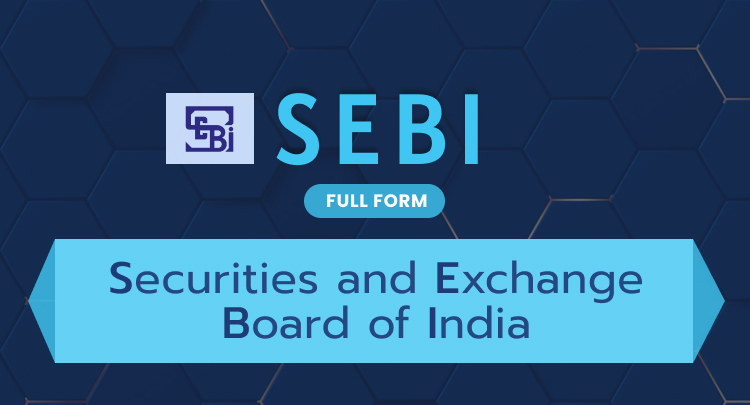 Also Read: Indian Stock Market: NRI Investment in India in 2021
Organization structure
Ajay Tyagi is the current chairman of SEBI. The organization consists of 20 departments to regulate the Indian financial market. All departments are led by their respective supervisors.
Human Resources Department (HRD)
Information Technology Department (ITD)
Office of International Affairs (OIA)
Market Intermediaries Regulation and Supervision Department (MIRSD)
Corporation Finance Department (CFD)
Commodity Derivatives Market Regulation Department (CDMRD)
Investment Management Department (IMD)
Department of Economic and Policy Analysis (DEPA)
Department of Debt and Hybrid Securities (DDHS)
Enforcement Department – 1 (ED-1)
Enforcement Department – 2 (ED-2)
Enquiries and Adjudication Department (EAD)
General Services Department (GSD)
Integrated Surveillance Department (ISD)
Investigations Department (ID)
Legal Affairs Department (LAD)
Market Regulation Department (MRD)
Office of Investor Assistance and Education (OIAE)
Office of the Chairman (OCH)
Regional Offices (ROs)
SEBI members
SEBI members consist of the following members:
The chairman nominated by the Government of India
Two members from the Union Finance Ministry
One member from the Reserve Bank of India
Five members are nominated by the Union Government of India, out of them, three should be whole-time members
Functions and responsibilities
Safeguard the interest of investors and traders
Registration of brokers and sub-brokers
Approve by-laws of Securities Exchange
Inspect the books of accounts of financial intermediaries
Request the Securities Exchange to amend their by-laws
Also Read: PINS Account: NRI Stock Trading in India
There are several financial abbreviations and acronyms used in daily life. If you have difficulty in comprehending these terms, we at SBNRI, are here to help you out. You can get in touch with our expert directly on WhatsApp using the button below to resolve your doubts and queries. Also visit our blog and YouTube Channel for more details.