What is the full form of COO?
The Chief Operating Officer is the full form of COO. The COO is a senior executive responsible for overseeing a company's day-to-day administrative and operational functions. Typically, the COO directly reports to the CEO (Chief Executive Officer) and is considered the second highest position in the management hierarchy.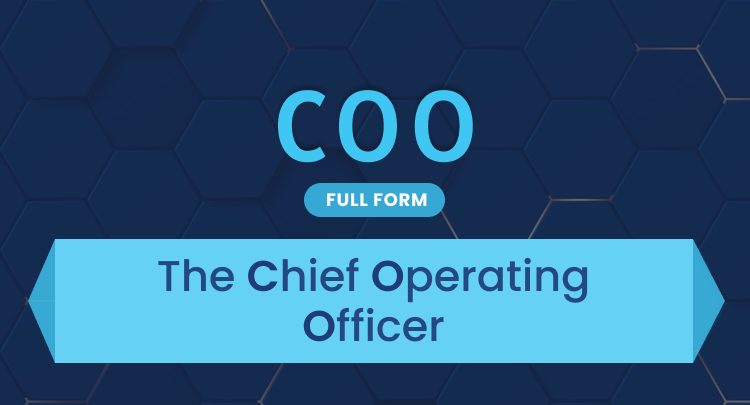 Also Read: CFA Full Form | KYC Full Form | IRDA Full Form
Some corporations also use terms like 'Executive Vice President of Operations', 'Chief Operations Officer', and 'Operations Director' to refer to the COO. The COO primarily focuses on executing a company's business plan as per the business model and handles the company's internal affairs.
Skills required to be a COO
Strong analytical, managerial, communication and leadership skills.
A degree in business administration or related sector.
Problem solving and decision-making skills.
Good understanding of the positions within the organizations i.e. Growth, HR, Accounting, HR, etc.
Relevant professional experience and proven track record in similar posts.
Responsibilities of COO
Implement the strategies made by the CEO and the Board of Directors by team engagement and leadership.
Oversee the administrative and operational activities of the company.
Supervise the planning of corporate budgets and review the routine business output indicators.
Actively participate in all company decisions to promote leadership and ownership, and offer success.
Participate in the budget preparation exercise with the CEO and other decision-makers.
Regularly review financial and administrative activities to determine the progress and difficulties faced during the same.
What is the difference between a CEO and a COO?
A Chief Executive Officer (CEO) is the top-most ranking position within a company, while a COO comes second in the hierarchy and reports to the company CEO. The CEO acts as the public face of the company and handles all outward-facing communication. A COO is tasked with overseeing the day-to-day operations of the company.
Also Read: NEFT Full Form | RTGS Full Form | INR Full Form
There are several financial abbreviations and acronyms used in daily life. If you have difficulty in comprehending these terms, we at SBNRI, are here to help you out. You can get in touch with our expert directly on WhatsApp using the button below to resolve your doubts and queries. Also visit our blog and YouTube Channel for more details.