What is the full form of ATM?
The full form of the ATM is automated teller machine. ATM, also known as an automated bank machine or cash machine, is an electronic banking outlet that customers can use to complete basic transactions without the assistance of a branch representative. Debit and credit cardholders can withdraw cash at most ATMs.
ATMs allow consumers to perform quick transactions like cash withdrawal, deposits, bill payments, and fund transfers between two accounts. Fees may be charged by the bank where the account is held or by the operator of the ATM if cash withdrawals exceed certain amounts or numbers.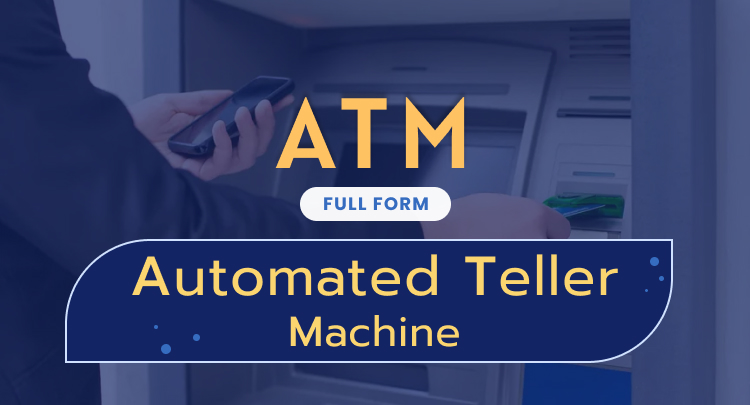 Also Read: INR Full Form | IFSC Full Form
Which bank started the first ATM?
The first ATM was set up at a branch of Barclays Bank in London in 1967. The interbank communication networks that allowed customers to use one bank's card at another bank's ATM was started in 1970. Now ATMs can be found in almost every country around the world.
Types of ATM
There are two primary types of ATMs. Basic units that allow users to withdraw cash and check updated account balance. While ATMs with advanced features accept deposits, facilitate fund transfers and allow customers to check account information.
Functions of ATM
Cash withdrawal
Cash deposit
Fund transfer
Account information
Mini statement
Account balance details
Bill payment
Pin code generation
Mobile recharge
Benefits of ATM
24*7 service availability
Transactions are done without the assistance of a bank representative
No room for errors
Very useful for travelers to access cash anytime anywhere
There are several financial abbreviations and acronyms used in daily life. If you have difficulty in comprehending these terms, we at SBNRI, are here to help you out. You can get in touch with our expert directly on WhatsApp using the button below to resolve your doubts and queries. Also visit our blog and YouTube Channel for more details.