What is the full form of IATA?
International Air Transport Association is the full form of IATA. Founded in 1945, IATA is the successor to the International Air Traffic Association and is a trade association of the world's airlines that supports airline activity and helps formulate industry policy and standards, promoting cooperation in ensuring the safety, security and reliability of air services.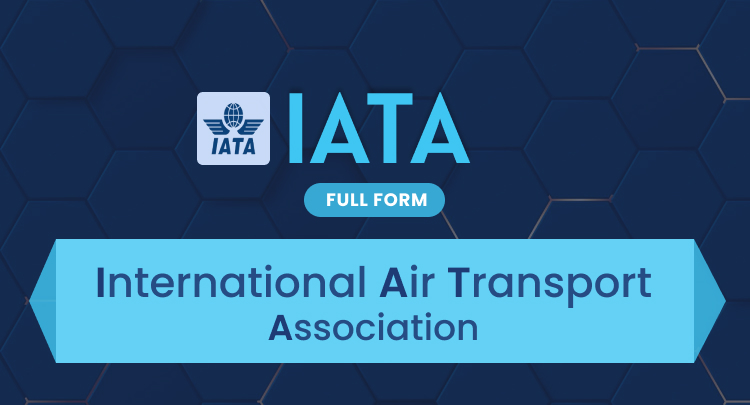 Also Read: IMF Full Form | INR Full Form | GDP Full Form
History of IATA
IATA was formed in April 1945 in Havana, Cuba.
In 1982, IATA was known as "the world aviation cartel" and it enjoyed immunity from antitrust law in several nations.
In March 2021, Muhammad Ali Albakri was appointed senior vice president for financial, digital and customer services at IATA.
IATA has announced it will launch its mobile app The IATA Travel Pass in mid-April 2021 to help travelers.
Focus areas of IATA
Safety: Passenger's safety is the number one priority of IATA. In June, IATA set up a special panel to study measures to track aircraft in flight in real time.
Simplifying the business: ITA has introduced a number of crucial concepts to simplify operations including electronic tickets and the bar-coded boarding pass. Many other innovations are in the process as a part of the Fast Travel initiative.
Environment: IATA is working to meet environmental goals – average improvement in fuel efficiency, a cap on net carbon emission from aviation and 50% reduction in net aviation carbon emission by 2050 as compared to 2005.
Also Read: SENSEX Full Form | SEBI Full Form | IRDA Full Form
There are several important abbreviations and acronyms used in daily life. If you have difficulty in comprehending these terms, we at SBNRI, are here to help you out. You can get in touch with our expert directly on WhatsApp using the button below to resolve your doubts and queries. Also visit our blog and YouTube Channel for more details.