What is the full form of NEFT?
The full form of NEFT is the National Electronic Fund Transfer. NEFT is an electronic payment system that allows one-to-one fund transfers across the country. Using this facility, any account holder can electronically transfer funds from any bank branch to any individual having an account with any other bank branch in the country that participates in the NEFT scheme. You can also transfer funds via NEFT using digital modes of internet banking and mobile banking.
NEFT payment gateway is owned and controlled by the Reserve Bank of India (RBI). As per the RBI guidelines, NEFT transactions can be made 24*7, 365 days.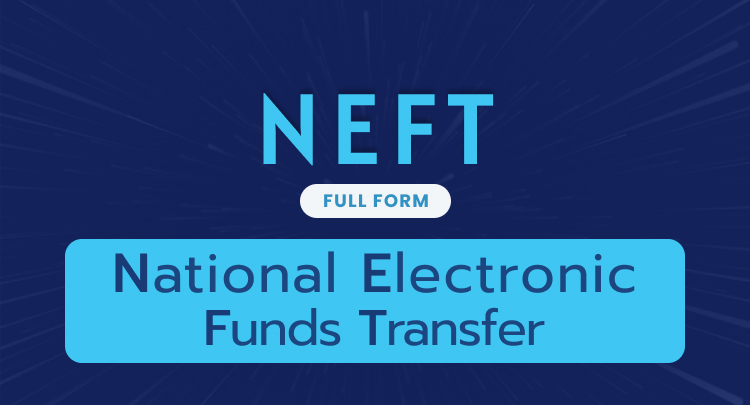 Also Read: RTGS Full Form
Information required to transfer funds via NEFT method
To do an NEFT transaction, it is important that both the sender and receiver branches are NEFT-enabled:
The amount of money to be transferred
Account number of the payee, which is to be debited
Name of the beneficiary bank
Name of the beneficiary
Account number of the beneficiary
IFSC of the destination bank branch
What are the NEFT timings and limits?
In order to promote digital payments, the Reserve Bank of India (RBI) has made NEFT transactions available 24*7 throughout the year. There is no limit on direct account transfers. If you go to a bank branch to transfer money via NEFT, the limit is set at Rs. 50,000 per transaction.
NEFT charges
No charges are levied on NEFT transactions initiated via the internet or mobile banking channels. However, if you make an NEFT transfer from a bank branch, you will need to pay certain charges as under:
Up to Rs. 2.50 + GST for transactions up to Rs. 10,000.
Up to Rs. 5 + GST for transactions above Rs. 10,000 and less than Rs. 1 lakh.
Up to Rs. 15 + GST for transactions above Rs. 1 lakh and less than Rs. 2 lakh.
Up to Rs. 25 + GST for transactions above Rs. 2 lakh.
Note: The transaction charges may slightly vary from bank to bank and you should check with your bank regarding the same.
Also Read: Top 5 mediums for sending money abroad online: 2021
Benefits of NEFT
No need to be physically present to any of the parties to complete a transaction.
NEFT fund transfer mechanism is owned and controlled by the Reserve Bank of India, hence it is fully secured and safe.
Simple and instant process. It can be done even within a minute without many formalities.
Account holders can send money to any part of India through NEFT without any hassle.
There are several financial abbreviations and acronyms used in daily life. If you have difficulty in comprehending these terms, we at SBNRI, are here to help you out. You can get in touch with our expert directly on WhatsApp using the button below to resolve your doubts and queries. Also visit our blog and YouTube Channel for more details.