What is the full form of ESI?
Employees' State Insurance is the full form of ESI. It is a social security and health insurance scheme designed to provide medical and cash benefits to Indian workers. The ESI fund is managed by the Employees' State Insurance Corporation (ESIC) in compliance with the ESI Act 1948. ESIC is a Statutory and Autonomous Body under the Ministry of Labour and Employment, Government of India.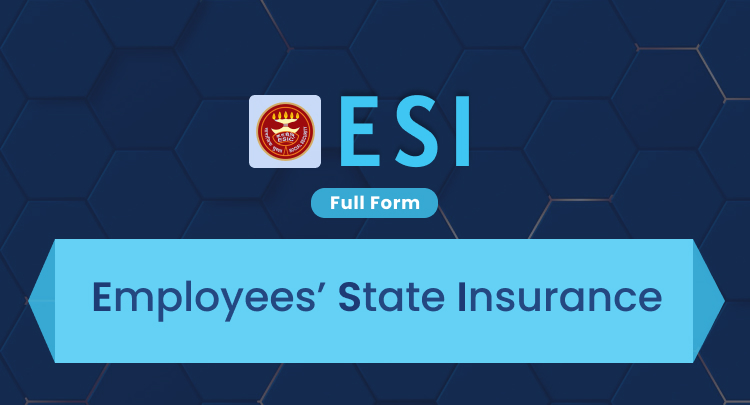 Also Read: NRI Life Insurance Policy: Which one to opt? | NRI Health Insurance: The Ultimate Guide 2021
Key objectives of ESI
The ESI was established with the following objectives:
The ESI Act, 1948 was introduced to protect the health and welfare of workers in contingencies including sickness, temporary or permanent physical disablement, death due to occupational hazard resulting in loss of wage or earning capacity.
The Act guarantees medical care to workers and their immediate family members.
The Act was originally formulated for only factory workers but it became applicable to employees from all establishments.
Organizations covered under the ESI Act, 1948
The scheme is extended to entities and establishments like shops, hotels, restaurants, cinemas, road motor transport undertakings and newspaper agencies employing 20 or more persons.
ESI facility is available for workers/ employees with an existing wage limit Rs. 21,000 per month.
The ESI scheme has been implemented in different areas in all states except Nagaland, Manipur, Tripura, Sikkim, Arunachal Pradesh and Mizoram, and union territories i.e. Delhi, Chandigarh and Pondicherry.
Documents required for ESI registration
Here is the list of necessary documents for ESI registration:
PAN card of the company or establishment
Address proof of the company
Copies of the registration certificate should be mandatorily submitted in case the company is private limited
Details of directors, associates and shareholders of the company
Detailed list of employees along with their monthly wages
Financial statements of the company along with the proof of operation commencement
Benefits of ESI
An ESI cardholder can enjoy the following benefits:
Medical benefits
Sickness benefits
Maternity benefits
Disablement benefits
Rehabilitation allowance
Funeral expenses
Dependents benefits
Also Read: SEBI Full Form | IFSC Full Form
There are several insurance abbreviations and acronyms used in daily life. If you have difficulty in comprehending these terms, we at SBNRI, are here to help you out. You can get in touch with our expert directly on WhatsApp using the button below to resolve your doubts and queries. Also visit our blog and YouTube Channel for more details.