What is the full form of IMPS?
The full form of IMPS is Immediate Payment Service. IMPS is an instant payment interbank funds transfer system in India that facilitates fast and hassle-free funds transfer within banks across India. IMPS offers an instant 24*7*365, electronic funds transfer service that could be accessed through multiple channels such as mobile, internet, SMS, in real time.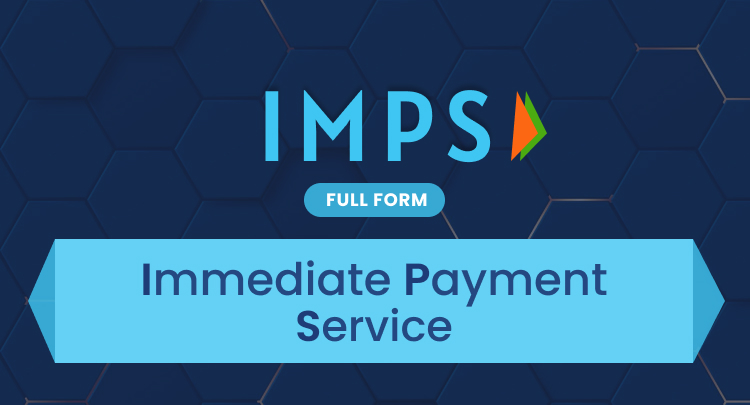 Also Read: NEFT Full Form | RTGS Full Form
Objectives of IMPS
To enable bank account holders to access their accounts and remit funds using their mobile phones.
Making fund transfer simpler just with the mobile number of the beneficiary.
To meet the goal of the Reserve Bank of India (RBI) in the digitalization of retail payments.
To facilitate mobile payment systems in a safe and secure manner.
To build the foundation for end-to-end mobile-based banking services.
Features and benefits
Here is the list of features and benefits of the IMPS payment system:
Instant fund transfer: As the name suggests, you can instantly transfer funds through IMPS. The service makes it possible to access bank accounts and perform interbank funds transfer in a safe and secure manner.
Availability: IMPS is available 24*7*365 enabling users to make transactions anytime from anywhere. You don't need to get in touch with the bank to make payments.
Confirmations: The confirmation notice is sent to both the sender and receiver instantly as the fund is transferred. So, you don't need to wait for confirmation.
Versatility: It is one of the best features of IMPS as it can be used in a variety of ways. You can use IMPS for P2P (person to person) funds transfer using the mobile number or the bank account details of the beneficiary. IMPS can also be used for P2M (person to merchant) payments.
Also Read: Top 5 mediums for sending money abroad online: 2021
There are several financial abbreviations and acronyms used in daily life. If you have difficulty in comprehending these terms, we at SBNRI, are here to help you out. You can get in touch with our expert directly on WhatsApp using the button below to resolve your doubts and queries. Also visit our blog and YouTube Channel for more details.