What is the full form of CFA?
The full form of CFA is Chartered Financial Analyst. CFA is an internationally recognized postgraduate professional certification issued by the US-based CFA institute to professionals of investment and finance. It is the highest level of global recognition of finance-related qualifications.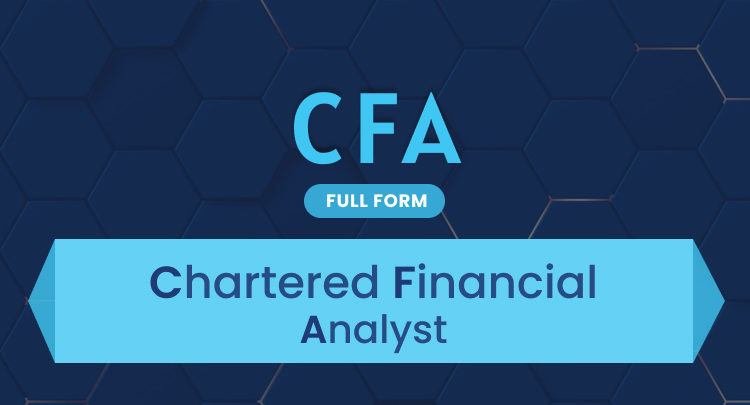 Also Read: IMF Full Form | GDP Full Form
A wide range of subjects relating to statics, advanced investment analysis, security analysis, statics, fixed income, economics, financial analysis, corporate finance, alternative investments, and portfolio management, probability theory, etc. are covered in this program.
Eligibility criteria for CFA
A candidate needs to fulfill the following criteria to become a CFA:
Should have a bachelor's degree (or equivalent), or should be in the final year of a bachelor's degree.
Need to pass all 3 levels of the Chartered Financial Analyst Exam conducted by CFA Institute.
Should have 4,000 hours of qualified work experience in minimum 3 years as accepted by the CFA Institute.
Need to become a member of the CFA Institute.
The applicant should have a mix of a total 4 years of professional experience and education.
After finishing the course, the student will be granted the CFA certificate.
Work profiles for CFA
Because of globalization and industrialization, the requirement for CFAs has been increasing in India. Here are some of the top career opportunities in different sectors in India for a CFA:
Investment banking M&A
Corporate Banking Company
Wealth management
Management of Assets
Quantitative analytics
Trading
Capital Markets
Risk Management
Recommended CFA institutes in India
IIBMS (Indian Institute of Business Management and Studies), Mumbai
CFA Institute (Chartered Finance Analyst Institute), Mumbai
MIFM (Mansukh Institute of Financial Markets), New Delhi
Narayan Institute, Gujarat
CIIMS Raipur (Central India Institute of Management Studies), Chhattisgarh
Also Read: INR Full Form | SENSEX Full Form | MSME Full Form
There are several financial abbreviations and acronyms used in daily life. If you have difficulty in comprehending these terms, we at SBNRI, are here to help you out. You can get in touch with our expert directly on WhatsApp using the button below to resolve your doubts and queries. Also visit our blog and YouTube Channel for more details.