The DS-160, online Nonimmigrant US Visa Application Form, is an electronic application form that each applicant – including children – must complete for temporary travel to the United States from India, and for K (fiancé(e)) visas. The form includes questions related to personal information, contact details, passport information, family information, etc. of the applicant. You need to complete and submit the DS-160 Form online prior to your interview at the US Embassy or Consulate in India. The printed confirmation page must be brought to the interview. You won't be allowed to attend your interview without the Form DS-160 confirmation page.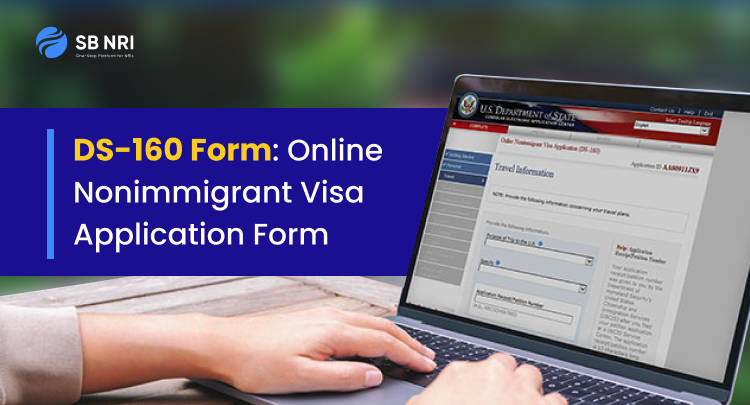 The DS-160 online form also asks security-related questions on your background. The Embassy or Consulate will not accept handwritten or typed applications. Fill the DS-160 Online Form and bring the confirmation page to the interview.
DS-160 Form Sample and Filling Instructions
Filling out the DS-160 Form is a simple and short task. You need to answer a few simple questions to fill out the DS 160 Form online without making any mistakes. 
Steps to Fill DS-160 Form Online 
Here is the DS 160 Form PDF sample. Visit the Consular Electronic Application Center website and follow the instructions given below:
Log in to Your Account
Log in to your account and fill up the US visa Form DS-160. Make sure you pay attention to every detail to complete the form correctly. First of all, select the location where you will be applying for this visa. If you are applying for the first time, click on 'Start and Application' button.
Get a Unique Application ID
Answer security questions to get a unique application ID and for online security reasons. Remember the answer that you provided as you may need them when you log in next time.
Answer all Questions
After completing the first two pages of DS-16 Form, you will have to answer questions about your application as under:
Personal questions
Family information
Work/education/training information
Security-related questions
Personal Questions
Personal questions include:
Full name
Marital Status
Date and place of birth
Nationality
Nationality other than the one mentioned?
Are you a permanent resident in any other country apart from country of origin?
Home Address
Phone number – work and personal
Email address
Passport details: Number, date and place of issue, date of expiration
Purpose of the trip to the US
In case of any specific travel plans, share travel itinerary
If you ever traveled to the US, held a US visa, or your visa was rejected, give the information on previous trips to the US
Point of contact in the US, if applicable, your relationship to them, home address, etc.
Family Information
Parents' full names
Do you have any relatives in the US?
Your spouse's name, date and place of birth
Work/Education/Training Information
Following are questions related to your work, education, certification, etc.
Provide primary occupation, address, joining date, monthly payment in local currency, brief description of your duties.
Were you employed prior to this?
Have you attended any school/ institution at a secondary level or above?
What language do you speak?
Did you travel in the last five years?
Did you work with or contributed to any professional, social or charitable organizations?
What exceptional skills or training do you have, like explosives, firearms, nuclear, biological or chemical experience?
Have you ever served in the military or been a member of a paramilitary unit, vigilante unit, rebel group, guerrilla group or insurgent organization?
Security Related Questions
Do you have any contagious disease of public health significance?
Communicable diseases include chancroid, gonorrhea, granuloma inguinale, infectious leprosy, active tuberculosis, infectious leprosy, lymphogranuloma venereum, infectious stage syphilis, etc. as stated by the Department of Health and Human Service. 
Are you suffering from a mental or physical disorder that is likely to pose a threat to the safety or welfare of yourself or society?
Have you been a drug abuser or addict?
Have you ever been sentenced for any offense or crime, amnesty, or other similar action? Arrests or detentions within the country or border by any Customs and Border Patrol also constitute offense or crime.  
Have you ever engaged in a conspiracy to violate any law concerning controlled substances?
Are you visiting the US to engage in prostitution or unlawful commercialized vice, or have you ever been part of prostitution or procuring prostitutes in the last 10 years?
Have you ever done money laundering or do you seek to engage in the same?
Have you ever committed human trafficking offense in the US or outside the US?
Have you knowingly helped, abetted, or colluded with individuals who have committed or conspired to commit a serious human trafficking crime in the US or outside?
Do you have any relationship with an individual who has been convicted of committing or conspiring to commit a human trafficking offense in the US or outside the US?
Have you knowingly got benefits from the trafficking activities?
Do you have a relationship with a person who has been identified by the President of the United States as an individual who plays a significant role in trafficking, and have you knowingly benefited from the trafficking activities in the last five years?
Do you wish to engage in espionage, export control violations, sabotage or any other illegal activities in the United States?
Are you going to engage in any terrorist activity while living in the United States, or have you ever engaged in terrorist activities?
Have you ever, or do you seek, to financially or in other ways support terrorists or terrorist organizations?
Are you a member or representative of a terrorist organization?
Have you ever incited, committed, helped, or been a part of genocide?
Have you ever incited, committed, helped, or been a part of torture?
Have you ever committed, ordered, assisted, or otherwise participated in political killings, extrajudicial killings, or other such acts of violence?
Have you ever recruited or used child soldiers?
As a government official, have you ever been responsible for or directly committed, at any time, severe violations of religious freedom?
Have you ever been directly involved in the enforcement of popular controls – like forcing a woman to go through abortion against her free will of men or women to undergo sterilization against their free choice?
Have you ever been directly involved in a forceful human organ or bodily tissue transplantation? 
Have you ever assisted others to obtain a US visa, entry into the United States, or any US immigration benefits by fraud, wilful misrepresentation, or other unlawful means? 
Have you ever challenged or stopped custody of a US citizen child outside the US to a person granted legal custody by a US court?
Have you ever voted in the USA, violating any laws or regulations?
Have you ever renounced your US citizenship for avoiding taxation?
Upload DS-160 Form Photo
You will need to upload a digital photo at the end of the DS-160 Form. The photo should not be older than 6 months and meet the US visa photo requirements and specifications.
Submit the Form
Once you have successfully uploaded the photo, you will see the location where to submit your application for a US nonimmigrant visa. Note down the location somewhere. Then e-sign the application by clicking on the 'Sign and Submit Application'.
Print DS-160 Barcode Page
After you have successfully submitted the form, you will get a confirmation page, which you need to print, and bring with you on the day of your US visa interview. You won't be able to attend your interview without the DS-160 Form confirmation page.
DS 16 Form requirements
You will need the following documents when filling out the Form:
Your Indian passport
Travel itinerary
Dates of every international trip you went on in your last five years, including to the US
Information about your education and work experience
DS 160 Fee
There is no DS 160 Form fee. However, you will have to pay for the US visa application fees you are applying for from India. Fees for most US nonimmigrant visa applications are $160 or higher.
US visa holders of Indian origin may have several India-related queries. To get tailor-made answers/ solutions, you can download SBNRI App from the Google Play Store or App Store. You can also use the SBNRI app for investment in stock market/ mutual funds, NRI account opening, tax filing, etc. To ask any questions, click on the button below. Also, visit our blog and YouTube channel for more details.