You need to obtain a student visa to USA from India to pursue academic courses and non-academic or vocational studies in the United States. There are different types of student visas issued by the US Government to international students. The M1 visa is for students who want to enroll in vocational programs in the US. Since there is no cap on M1 visas, any applicant who meets the eligibility criteria could be granted a visa without any restriction on the number of students.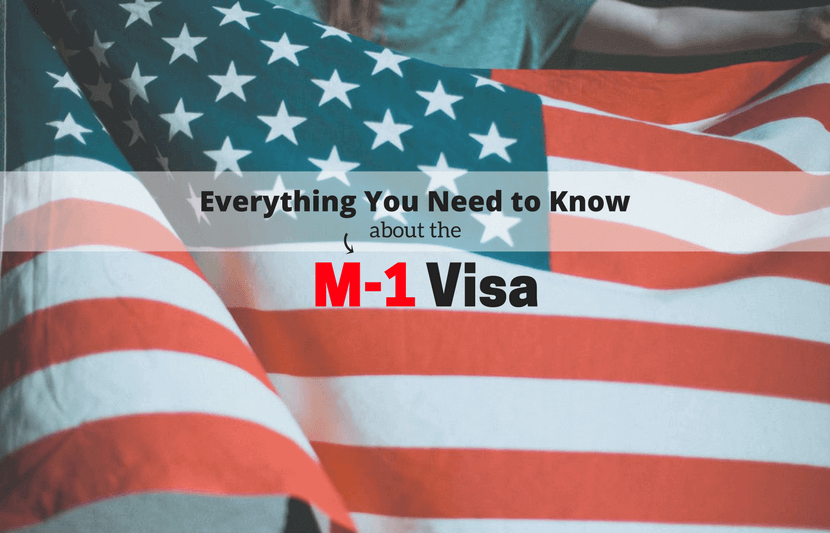 What is an M1 visa
A US M1 visa is a type of nonimmigrant visa issued by the USCIS for nonacademic or vocational studies, such as cooking classes, mechanical classes, technical courses, flight school, cosmetology, etc. The M1 visa applicants are required to furnish evidence of sufficient funds to pay all tuition and living costs for the entire period.
Eligibility for M1 visa
Not everyone is eligible to get a US M1 visa for a vocational course. M1 visas are issued to a certain category of foreign students who meet the following conditions:
Students applying for nonacademic or vocational training courses in the United States.
Who meet the minimum educational qualifications required for the vocational courses they are applying for.
Students who have been accepted by a US-based vocational institution and have received Form I-20.
You should have a good comprehension of the language. Your English proficiency level, both written and verbal, should be high enough as required by the educational institutions.
You need to show evidence of sufficient funds to cover your tuition and living costs for the entire period.
You have a permanent residence in your home country and have no intention of staying in the US after completion of your studies.
M1 visa requirements
To apply for an M1 visa for USA, you need to submit the following documents:
Your original passport that is valid for at least six months after your visa expires 
Your DS-160 confirmation form
Appointment letter
One US visa photograph
Receipts of fee payment 
Your original I-20 form and a copy
Proofs of your educational qualifications, such as:

Transcripts
Degree and diploma transcripts
Standardized test scores, etc.

Financial statements, such as:

Bank account statements for the last 3 years
Tax information for the last 3 years
Scholarship for your studies in the US
Loans/ advances to finance your stay in the US (if applicable)
If your education is sponsored by an individual in the US, submit Form I-134, Affidavit of Support and bank statements and tax return information of that person for the last 3 years.
M1 visa application
The M1 visa application process is similar to the application process of the F-1 visa. Here are the steps you need to follow:
Get your I-20 Form
Pay the M1 visa application fee
Pay the SEVIS I-901 fee
Schedule your interview
Collect your documents
Attend the interview
Get your I-20 Form
To process an M1 student visa application, you need to get admission in a vocational school. They will give you the I-20 Form. You can initiate the application process with that form.
Complete DS-160 visa application
Your DS-160 is your visa application. Indian or other international students must complete a DS-160 visa application to obtain an M1 visa. You need to fill in all the required information related to your background, objective in the US and course of study.
Once you submit your DS-160, you will receive a printed confirmation with a barcode on it. You will need the same for your visa interview.
Pay the application fee
The US M1 student visa fee is $160. It is a non-refundable fee. You need to pay the fee and get a receipt for your interview documents. Based on your country of origin and US Embassy, you may have to pay additional fees.
Pay the SEVIS I-901 fee for M1 Visa
Since foreign students in the US need to be registered in SEVIS, they need to pay a fee for the same. The SEVIS I-901 fee for the M1 visa is $200. Don't forget to collect the SEVIS fee receipt, which you will need for your visa interview.
Schedule your M1 visa interview
After filing the DS-160 form and fee payment, you can schedule your visa interview. The interview is a mandatory step before your student visa is issued. You can find the nearest US Embassy or Consulate to schedule your visa interview. After you schedule it, you will receive an interview appointment letter. Wait times vary depending on the country and can take months – so you should schedule your interview as soon as possible.
Attend the M1 visa interview
In the M1 visa interview, the visa consular will ask several questions to confirm you are coming to study in the US as a serious and legitimate student. Visa interview questions revolve around your reasons for going to the US and the educational institution you are going to. The interviewer will also try to find out whether you intend to return to your home country after the completion of your education.
How to check M1 visa status
You can check M-1 US visa status online through CEAC Visa Status Check portal, using the case number or CEAC barcode on the DS-160 confirmation page.
Visa processing time
The interview is the last step of the US M1 visa application process. The M1 visa processing time is short, in most cases, you get a response immediately after the interview ends. This visa official will congratulate you for getting the visa or will tell you the reason for visa denial. However, you should expect a processing time of a minimum of 4 weeks. If the Embassy has a heavy workload, it can take more time. You need to wait for some time if it is the case.
Also Read: Visa Status: Check Visa Status with Passport Number
NRI students and employees living in the US may have several India related queries. To ask any questions related to the rights of NRIs, PIOs, and OCIs, you can download SBNRI App from the Google Play Store or App Store. You can also use the SBNRI app for investment in stock market/ mutual funds, NRI account opening, tax filing, etc. To ask any questions, click on the button below. Also, visit our blog and YouTube channel for more details.
FAQs
How long can an M-1 visa holder stay in the US?
The validity of an M1 student visa depends on the duration of your vocational program. You can get a visa for the entire duration of your studies, or for a shorter time. However, Form I-20 is valid for only one year. The M1 student visa and the Form I-20 can be extended for a maximum of 3 years. 

You can file the Form I-539 application to extend the visa or change nonimmigrant status to USCIS and your Form I-20.  

Can I work in the US with my M-1 student visa?

The M1 visa allows some employment with restrictions. The visa holder can work on campus, part-time when school is open and full-time during breaks. You can work for a maximum of 6 months. You need to get your Employment Authorization Document (EAD) or M-1 visa work permit to become eligible for work.