What is the full form of ICICI?
The full form of ICICI is Industrial Credit and Investment Corporation of India. Formed in 1955 as a joint-venture of the World Bank, the Government of India and representatives of Indian businesses, ICICI is the parent company of ICICI Bank. Primarily the company was established to provide medium-term and long-term project financing to Indian industries.
After the liberalization of the financial market in India, ICICI transformed its business from a provider of only project finance to a diversified financial provider. After that, the bank was incorporated as the Industrial Credit and Investment Corporation of India Bank, later the name was changed to ICICI Bank.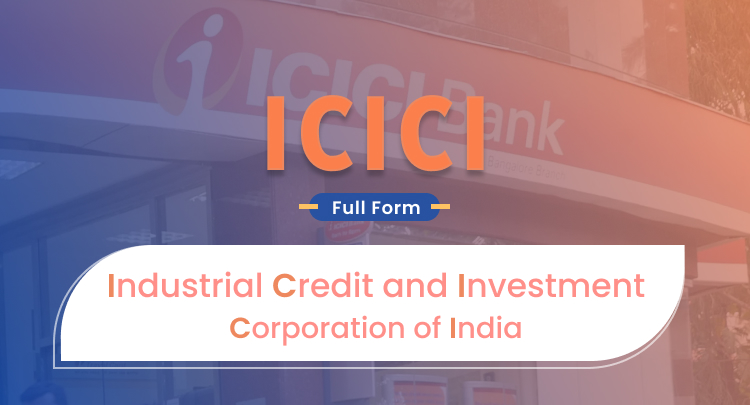 Also Read: HDFC Full Form | IDFC Full Form
Important events
In 1955 ICICI was formed at the initiative of the World Bank and the Government of India.
In 1994 ICICI Bank was incorporated as a part of the ICICI group.
In 1999 ICICI became the first Indian bank or financial institution from (non-Japan) Asia to be listed on the New York Stock Exchange.
In 2001 ICICI acquired the Bank of Madura Limited.
In 2002 ICICI merged with the ICICI Bank.
In 2004, it opened an office in Bangladesh and in 2005 it also set up a branch in Hong Kong and Dubai.
In 2006 it opened a branch in Belgium, Antwerp and representative offices in Kuala Lumpur, Jakarta and Bangkok.
In 2008, ICICI transformed its New York branch into a branch of ICICI Bank and opened an office in Frankfurt.
In 2013, it became the first private sector bank to open a mobile branch in Maharashtra with an ATM.
Products and Services
ICICI Group specializes in retail and corporate banking. The bank also offers a wide variety of investment banking, insurance, wealth management and other financial services to its customers. In addition, it also extends NRI banking services such as home loans, NRI FDs, and NRE, NRO and FCNR accounts, etc. Here are the key products and services offered by the bank.
Accounts: Savings account and current account
Loans & advances: Personal loan, home loan, education loan, auto loan, two-wheeler loan
Deposit schemes: Fixed deposit and recurring deposit
Cards: Credit card, debit card and business card
Investment schemes: Mutual funds and PPF
Insurance: Health, life and general insurance
Business banking: Current account, internet banking, mobile banking, etc.
Also Read: OCI Full Form | NRI Full Form |
There are several financial abbreviations and acronyms used in daily life. If you have difficulty in comprehending these terms, we at SBNRI, are here to help you out. You can get in touch with our expert directly on WhatsApp using the button below to resolve your doubts and queries. Also visit our blog and YouTube Channel for more details.