What is the full form of RBL?
The full form of RBL is Ratnakar Bank Limited, which is an Indian private sector bank. Headquartered in Mumbai, the bank currently caters to 9.08 million customers through a network of 403 branches and 412 ATMs spread across 28 Indian states and Union Territories. RBL Bank offers banking and financial services across six business verticals as under: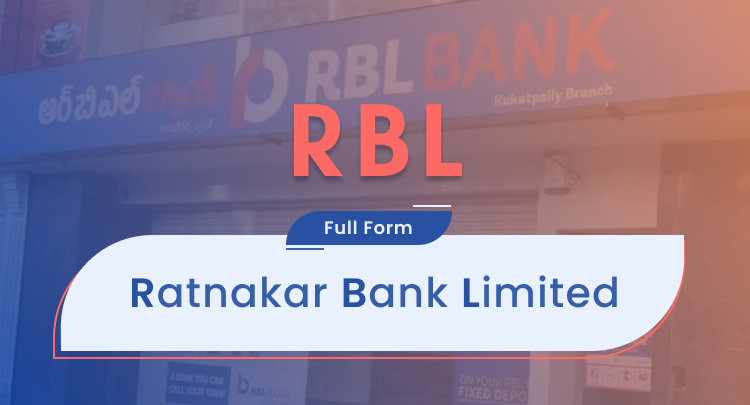 Also Read: HDFC Full Form | ICICI Full Form
Corporate & Institutional Banking
Commercial Banking
Branch & Business Banking
Retail Investments
Development Banking and Financial Inclusion
Treasury and Financial Market Operations
History of RBL Bank
In June 1943, RBL Bank was incorporated in Maharashtra with two branches.
In 1959, RBL Bank was listed in the category of the scheduled commercial banks.
In 1970, the bank received a banking license from the Reserve Bank of India.
In August 2014, the name of the bank was changed to RBL Bank Limited.
In August 2016, RBL Bank was listed on the NSE (National Stock Exchange) and BSE (Bombay Stock Exchange).
Services offered by RBL Bank
Here is a list of key products and services offered by RBL Bank:
Cards: Credit cards, debit cards
NRI deposits: NRE fixed deposits, NRO fixed deposits, FCNR deposits
Accounts: Savings account, current accounts, doctors account, Demat account
Fixed deposits: Recurring deposits, tax saving fixed deposits, senior citizen fixed deposits, etc.
Loans: Housing loans, loan against property, OD against property, business loans, personal loans, car loans, etc.
Insurance: Life insurance, health insurance, general insurance
Investments: e-ASBA, National Pension System
NRI accounts: ACE NRE savings account, ACE NRO savings account, NRI individuals current account
There are several financial abbreviations and acronyms used in daily life. If you have difficulty in comprehending these terms, we at SBNRI, are here to help you out. You can get in touch with our expert directly on WhatsApp using the button below to resolve your doubts and queries. Also visit our blog and YouTube Channel for more details.