What is the full form of SENSEX?
The full form of Sensex is Stock Exchange Sensitive Index. The Sensex, also known as BSE (Bombay Stock Exchange Sensitive Index), is the first and one of the largest securities markets in India. BSE Sensex is a free-float, market-weighted stock market index of the 30 biggest financially sound Indian companies listed on BSE.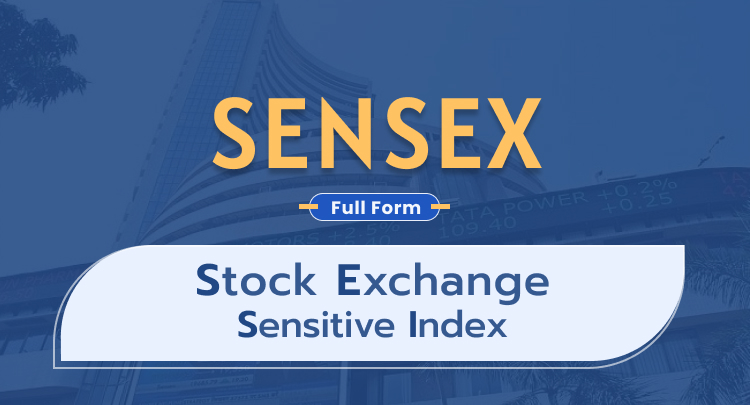 Also Read: Indian Stock Market: NRI Investment in India in 2021 | PINS Account: NRI Stock Trading in India
List of BSE Sensex Companies
The base year of the Sensex was taken as 1978-79 with the base value of 100. The Sensex Index has been modified many times since its inception. The 30 constituent companies include some of the largest and most actively traded stocks, which represent various industrial sectors of the Indian economy.
1. Sun Pharmaceutical Industries Ltd.
2. Hindustan Unilever Ltd.
3. Titan Company Ltd.
4. HCL Technologies Ltd.
5. Tech Mahindra Ltd.
6. Oil & Natural Gas Corporation Ltd.
7. Bharti Airtel Ltd.
8. Kotak Mahindra Bank Ltd.
9. Tata Consultancy Services Ltd.
10. Power Grid Corporation of India Ltd.
11. Bajaj Auto Ltd.
12. ITC Ltd.
13. Housing Development Finance Corporation Ltd.
14. Nestle India Ltd.
15. Infosys Ltd.
16. Maruti Suzuki India Ltd.
17. Bajaj Finserv Ltd.
18. State Bank of India
19. HDFC Bank Ltd.
20. Mahindra & Mahindra Ltd.
21. Reliance Industries Ltd.
22. Larsen & Toubro Ltd.
23. Asian Paints Ltd.
24. IndusInd Bank Ltd.
25. Axis Bank Ltd.
26. ICICI Bank Ltd.
27. NTPC Ltd.
28. Ultratech Cement Ltd.
29. Tata Steel Ltd.
30. Bajaj Finance Ltd.
Benefits of Sensex
Sensex depicts the conditions of the market succinctly to help investors discover patterns in the market. Key benefits of Sensex include:
Helps investors to pick the right stocks
Offers clearer visibility of a company's reputation
Convenient metric for beginners
Reflects sentiments of investors
Helps companies to raise their share capital
Offers growth opportunities like expansions, mergers and acquisitions
Also Read: SEBI Full Form | IRDA Full Form
There are several financial abbreviations and acronyms used in daily life. If you have difficulty in comprehending these terms, we at SBNRI, are here to help you out. Even if you want to invest in the stock market, you can get in touch with our expert directly on WhatsApp using the button below to resolve your doubts and queries. Also visit our blog and YouTube Channel for more details.