What is the full form of IMF?
The International Monetary Fund is the full form of IMF. The IMF is an international organization working to foster global monetary cooperation, encourage international trade, secure financial stability, promote sustainable economic growth, promote high employment and reduce poverty. Headquartered in Washington, D.C. the United States, the International Monetary Fund consists of 190 member countries, each of which has representation in the IMF's executive board in proportion to its financial contribution.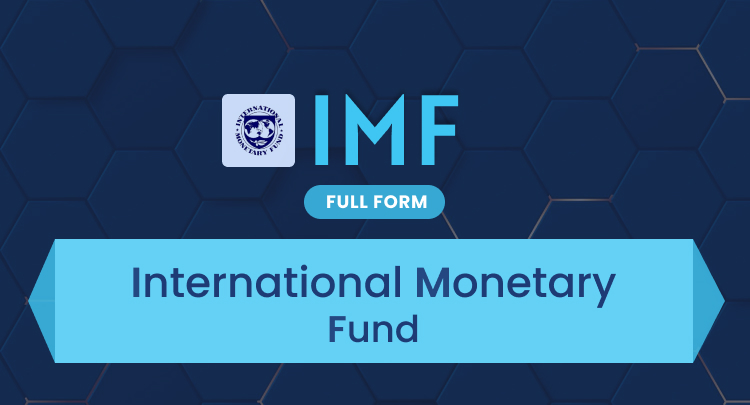 Also Read: GDP Full Form | INR Full Form
History of the IMF
The IMF was originally established in 1945 as part of the Bretton Woods Agreement in 1944 to encourage international financial cooperation by introducing a system of convertible currencies at fixed exchange rates. After the Bretton Woods system collapsed in the 1970s, the IMF introduced the system of floating exchange rate.
Functions of IMF
To collect massive amounts of data on national economies, international trade and the global economy in aggregate.
To provide regularly updated economic forecasts at national and international levels.
To provide technical assistance, training and policy advice to member countries through its capacity building programs, such as data collection and analysis.
Lending advances to countries that are experiencing economic distress to minimize the financial crisis.
To enable member countries to minimize the balance of payment deficit by lending or selling foreign currencies to participants.
To enable member countries to borrow in exchange for their own currencies from the IMF.
To prevent fluctuations in the exchange rate and preserve exchange stability.
To encourage its member nations to adjust the par value of their currencies if there are fundamental changes in the economies of its representatives.
To designate a currency as a scarce currency in high demand and raise its availability by borrowing it from or purchasing it in exchange for gold for the country concerned.
Also Read: SENSEX Full Form | IRDA Full Form | SEBI Full Form
There are several financial abbreviations and acronyms used in daily life. If you have difficulty in comprehending these terms, we at SBNRI, are here to help you out. You can get in touch with our expert directly on WhatsApp using the button below to resolve your doubts and queries. Also visit our blog and YouTube Channel for more details.