What is the full form of DCB?
Development Credit Bank is the full form of DCB. Headquartered in Mumbai, Maharashtra (India), it is a technology-enabled new generation private sector bank. DCB Bank received the scheduled commercial bank license from the Reserve Bank of India (RBI) in May 1995. The bank operates through a network of 347 branches in 18 states and 2 union territories across the nation.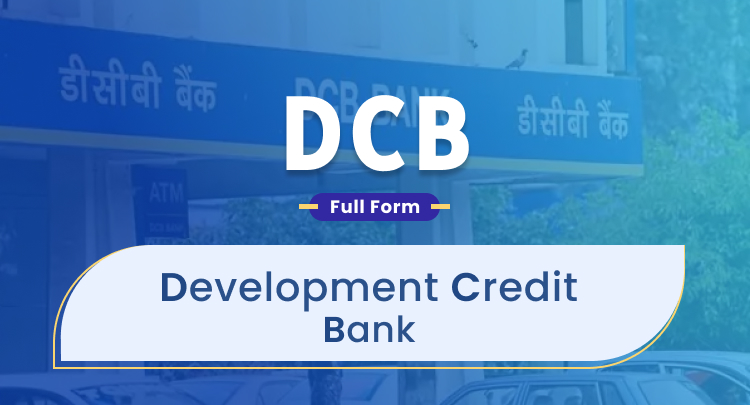 Also Read: ICICI Full Form | HDFC Full Form | IDFC Full Form
DCB Bank has approximately 600,000 customers across business segments including MSMEs, SMEs, mid-corporates, commodities, government, public sector, agriculture, Indian banks, co-operative banks and non-banking finance companies (NBFCs).
DCB Bank Vision
DCB Bank has the vision to become the new-age bank that is the most innovative, accessible and responsive in the country serving a wide range of customers including entrepreneurs, individuals and businesses.
Principles of DCB Bank
Treat everyone with respect and dignity
Comply with ethical principles
Support the society
Walk extra miles for customer satisfaction
Be transparent and simple
Simplify banking and financial services in the country
Improve continuously
Services offered by DCB Bank
Here are some of the products and services offered by DCB Bank:
Savings account
Current account
Credit cards
Debit card
Fixed deposits
Home loan
Gold loan
Personal loan
Car loan
Internet banking
Trade finance
Insurance
Investment
Remittances
Phone banking
Mobile banking
NRI banking
Also Read: RBL Full Form | INR Full Form | IMF Full Form
There are several financial and legal abbreviations and acronyms used in daily life. If you have difficulty in comprehending these terms, we at SBNRI, are here to help you out. You can get in touch with our expert directly on WhatsApp using the button below to resolve your doubts and queries regarding banking and financial services. Also visit our blog and YouTube Channel for more details.