What is the full form of NPCI?
The full form of NPCI is the National Payments Corporation of India. An initiative of the Reserve Bank of India, NPCI is an umbrella organisation for operating retail payment and settlement systems in India. It has been established by the Reserve Bank of India (RBI) and Indian Bank's Association (IBA) as a "Not for Profit" company under the provision of Section 8 of Companies Act 2013, for creating a robust physical as well as electronic payment and settlement infrastructure in India.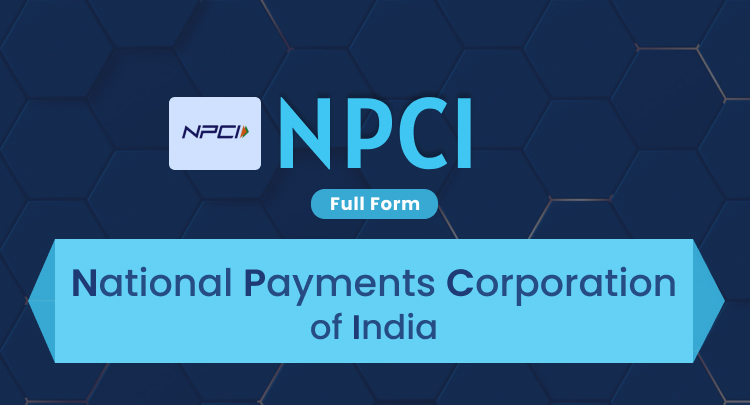 Also Read: NEFT Full Form | RTGS Full Form | IFSC Full Form
Ten core promoters of NPCI include State Bank of India, Punjab National Bank, Canara Bank, Bank of Baroda, Union Bank of India, ICICI Bank, HDFC Bank, Bank of India, Citibank and HSBC Bank. There are many other shareholders including public sector banks, private banks, multi-state cooperative banks, regional rural banks and 1 foreign bank.
Objectives of NPCI
To offer improved infrastructure for the entire banking industry to create a robust physical and digital payment and settlement system.
To simplify, merge and incorporate various payment systems with varying standards of coverage into a single national standard uniform and business process for all retail money transactions.
To design and promote an effective financing process or system that saves time and cost for individuals who make retail transactions on a daily basis.
Services of NPCI
Service portfolio of NPCI includes:
Aadhaar Enabled Payment System
Bharat Bill Payment System (BBPS)
BharatQR
BHIM
Cheque Truncation System (CTS)
Immediate Payment Service (IMPS)
National Automated Clearing House (NACH)
National Common Mobility Card – Rupay Contactless
National Electronic Toll Collection
National Financial Switch
RuPay
Unified Payment Interface (UPI)
*99# USSD
Also Read: Top 5 mediums for sending money abroad online: 2021
There are several financial abbreviations and acronyms used in daily life. If you have difficulty in comprehending these terms, we at SBNRI, are here to help you out. You can get in touch with our expert directly on WhatsApp using the button below to resolve your doubts and queries. Also visit our blog and YouTube Channel for more details.
FAQs
What is the role of NPCI?
National Payment Corporation of India is an initiative of RBI and IBA that enables digital payment and settlement systems in India. NPCI conducts audits on members participating in UPI and calls for data, information and records of their participation in UPI. 
What is NPCI Bharat BillPay Limited?
Bharat BillPay Payment System (BBPS) is a subsidiary of NPCI that was created to augment growth, especially in the business-to-consumer segment for small businesses.