NRI Life Insurance: Getting a life insurance policy is one of the most important steps of Financial Planning. The overall process involves ensuring your: Emergency Funds, Investments and Life Insurance. In this article, we will explore the different options available for NRIs considering Life Insurance Policies and compare the top 3 leading insurance providers in India: LIC, SBI and ICICI.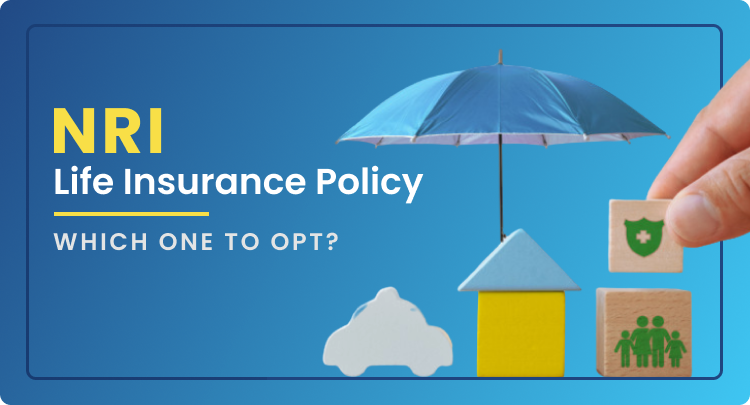 Types of Life Insurance Policies in India
NRI Life Insurance Policy: Which one to opt?
Term insurance plans are protection-oriented and offer the policy buyer a life cover for the duration of the policy tenure. Thus, if the policyholder passes away while the policy is still active, the insurer will pay a lump sum death benefit to the nominee. Term insurance plans are popular since they offer a high sum assured at a relatively low premium rate. However, under a term insurance plan, no benefit is typically paid out if the policyholder survives till the end of the policy tenure.
Benefits:
Flexible Payment Options
High sum assured on low premiums
Choice of plan
Death Benefit
Add-on Benefits
Term Life Insurance Comparison
An endowment insurance plan, on the other hand, is a policy that provides a risk cover against death on the life of the policyholder and also provides a lump sum benefit at maturity of the policy. Thus endowment plans provide the policyholder both protection cum savings features, making them useful when it comes to long-term wealth creation.
Benefits:
Sum assured in an endowment policy is payable either on survival to the term or on death occurring within the term
Endowment policies are available as 'With Profit' and 'Without Profit' plans
Under Endowment policies, bonus for the full term is payable on the date of maturity or in the event of death, whichever is earlier
Premiums for endowment policies can be limited to shorter term or can be paid as single premium
Premiums cease on death or on expiry of the term, whichever is earlier
Endowment Insurance Plan Comparison
ULIPs (Unit Linked Insurance Plans) offer customers insurance cover as well as a flexibility in investment. The cash value of a policy under ULIP varies according to the current Net Asset Value (NAV) of the underlying investment assets. The double benefit of protection combined with freedom to choose your investment avenue makes ULIPs a truly popular financial instrument among customers.
Benefits:
Flexible
Risk appetite
Tax benefits
Low charges
Long term investment
ULIP Insurance Plan Comparison
Whole Life Insurance provides coverage throughout lifetime. They also have a cash value component that increases over time. You can withdraw your cash value or take out a loan against it. In case of deaths before the loan is repaid, reduction will follow in the final benefit paid to beneficiaries.
BENEFITS:
Guaranteed Whole Life Coverage
Periodic Payments
Source of Cash
Tax Benefits
Loan Facility
Benefits to dependents
Whole Life Insurance Comparison
Money Back Policy gives you money during the policy tenure as a percentage of sum assured at regular intervals. If you live beyond the term of the policy, you will receive the remaining portion and bonus. But in the case of death before term, the entire sum assured is paid to beneficiaries irrespective of the paid out installments.
Benefits:
Secure Investments
Tax Savings
Guaranteed Returns
Income on Maturity as well as in case of death
Bonus amount
Returns accrues only after a few years
Money Back Policy Comparison
Savings and Investment Plans provide assurance of lumping some funds for you and your family's future expenses. For your short-term and long-term finance goals, this plan also ensures a certain sum by means of an insurance cover. It is a broad category covering traditional and ULIP Plans.
Benefits:
Systematic and Disciplined
Investment as per own suitability and risk appetite
Insurance Coverage
Death Benefit
Backed by government
Secured
Low-risk instruments with good returns
Savings and Investment Plans Comparison
Retirement Plans are also called Pension Plans. It is a type of investment plan, which helps you to accumulate a part of your savings over a long-term period so that you can have a secured financial future. Pension Plan helps you to deal with the uncertainties post-retirement and ensures a steady flow of income after retirement.
Benefits:
Secured Financial Future
Regular Pension or Annuity
Power of Compounding
Independence post retirement
Retirement Plans Comparison
Compare and Contrast between the above mentioned plans and choose the best suited plan for yourself. NRI Life Insurance Policies are very extensive. For a detailed advisory around investments in Life Insurance in India, contact experts at SBNRI using the button below. For more information, visit our blog.
Ask SBNRI Insurance Expert Now
NRI Life Insurance Policy: FAQs
Can NRI have LIC policy?
Yes; Non-Resident Indians (NRIs), People of Indian Origin (PIOs) can buy a life insurance plan in India. Foreign Exchange Management Act (FEMA) allows NRIs to buy any plan that meets their requirements of protecting themselves and their family whether he is currently residing in India or not.
Is LIC maturity amount taxable for NRI?
Yes, tax will be deducted at source (TDS) under Section 195 of the Income Tax Act, 1961 on any sum paid under a life insurance policy to Non-Resident Indians ONLY if the policy is not exempt under Section 10(10D).
Can NRI take term plan in India?
If you are a non-resident Indian (NRI), you can purchase term insurance plans designed specifically for people who reside outside India. You can purchase a plan which would secure the future of your loved ones and protect them in your absence. Term insurance is offered to the NRIs.
How can I pay LIC premium from abroad?
Yes. You can pay the premium in any of the following modes: by direct remittance from abroad through banking channels in approved manner (preferably by Indian Rupee drafts drawn in favor of the insurer) or by remittances through postal channels like Foreign Money Order.