People on an H4 visa are dependents of working H1B visa holders. H4 visa holders are allowed to study and work in the U.S. If they have any reasons to change from an H4 visa to an H1B visa, it can be done. There is a procedure in place for this. We are here to explain the H4 to H1B conversion process.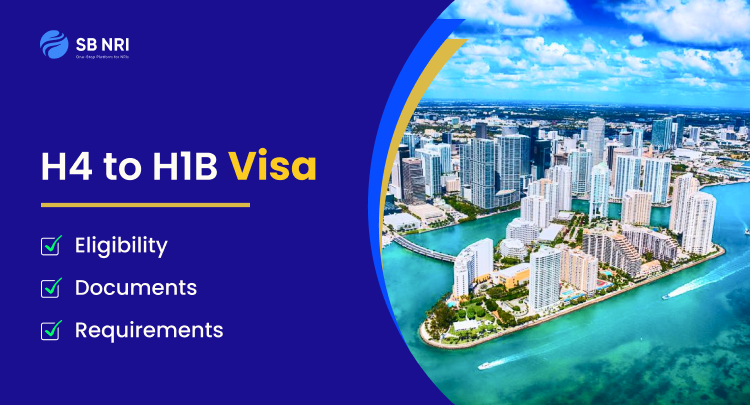 Eligibility for H4 to H1B Visa
In order for an H4 visa holder to convert to an H1B visa they need to fulfill the following criteria:
The H4 visa holder needs to have applied for an H1B visa earlier and have been selected in the H1B lottery. This makes the H4 visa holder exempt from the H1B cap.
The H4 visa holder must have a job offer from an H1B cap exempt employer. The employer could be:
A not for profit institution of higher education
A not for profit entity related or affiliated to an institution of higher education
A not for profit organization or a governmental research organization
H4 visa holder has an employment offer from an H1B petitioning employer and is selected in the H1B visa lottery.
Required Documents for H4 to H1B Visa
In order to convert from an H4 visa to an H1B visa, the applicant must submit the following documents. The documents for the H1B application are also required.
Form I-539, Application to Extend/Change Nonimmigrant Status
Supporting documents such as employment offer, support letter, and labor condition approval, (LCA)
All of the documents required for the H1B visa must also be submitted.
Here is the checklist of documents required to apply for H-1B visas from outside the US:
Copy of passport
Copy of educational degree/ certificate/ transcripts
Letter of the current appointment
Copy of previous appointment/ experience
Labor Certificate Approval (LCA)
Tax returns paper of the company
Copy of the letter received from the Department of Justice
A copy of the letter sent to the Consular General of the Indian Consulate
Short description of job responsibilities with the sponsoring US company
Copy of the current or temporary US License
Resume with supporting certificates
Demand drafts for processing fee and issuance fee
2-3 passport size colored photographs
Copies of marriage certificate and birth certificate in case of dependent members
Here is the checklist of documents required to apply for an H-1B visa when you are already living in the US:
Copy of front page and visa pages of the current passport
Current address in the US
Address in the home country
Phone number
Email address
Form I-94 card copy
Prior H1-B approval notices copy
Updated resume with employment history
Copy of educational degree/ certificate
Copy of credentials evaluation
Your current designation with the sponsoring U.S. Company
Description of your job responsibilities
Social security number
Recent W2 copy
Recent payslip copy
Photo specification for H-1B visa
Your photo must meet the specific standards set by USCIS. The photo specifications are: square, colored, and the minimum size 600×600 pixels and maximum size 1200×1200 pixels in a JPEG file format with a file size of fewer than 240 KB.
Requirements
The sponsoring employer of the H4 visa holder must file his or her H1B petition. The H1B sponsoring employer must submit the following along with Form I-129.
Evidence of labor condition application certified by U.S. Department of Labor
Evidence showing that proposed employment qualifies as a specialty occupation
Evidence that beneficiary has required degree by submitting a copy of degree certificates (U.S. degree or foreign degree), evidence of specialized training/progressively responsible experience
A copy of required license or official permission to practice the occupation in the intended state of employment.
Applying for an H1B visa from an H4 visa is the same as applying for an H1B from outside the United States, except that the H4 visa holder must also file Form I-539 to change nonimmigrant status.
To ask any questions related to the rights of NRIs, PIOs, and OCIs, you can download SBNRI App from the Google Play Store or App Store. You can also use the SBNRI app for investment in stock market/ mutual funds, NRI account opening, tax filing, etc. To ask any questions, click on the button below. Also, visit our blog and YouTube channel for more details.
FAQs
Can an H4 visa holder convert to an H1B visa ?
Yes they can, provided they satisfy the requirements.
Are H4 visa holders allowed to study and work in the United States ?
Yes they are.
Who has to file the H1B petition for the H4 visa holder ?
The sponsoring employer has to file the petition.
Is it necessary to submit all the H1B visa documents ?
Yes along with certain other documents.