Indian nationals and people of Indian origin are spread across the world, especially for employment. Most of them regularly send money back in India to their loved ones or invest in the Indian market. There are several options for NRI investment in India such as NRI mutual funds, equity, FDs, bonds, CRE, etc. NRIs need to open a Demat account to invest in the Indian stock market. Here is a complete guide on Demat accounts for NRIs that includes the best Demat account for NRIs, account opening process, and documents required.
What a Demat account for NRIs
An NRI Demat account is an investment account opened by NRIs and PIO & OCI cardholders. A Demat account is mandatory for NRIs who wish to invest in the stock market, mutual funds, ETFs, and convertible debentures in India. It holds your stocks, mutual funds, ETFs, debentures, bonds, etc. in electronic format.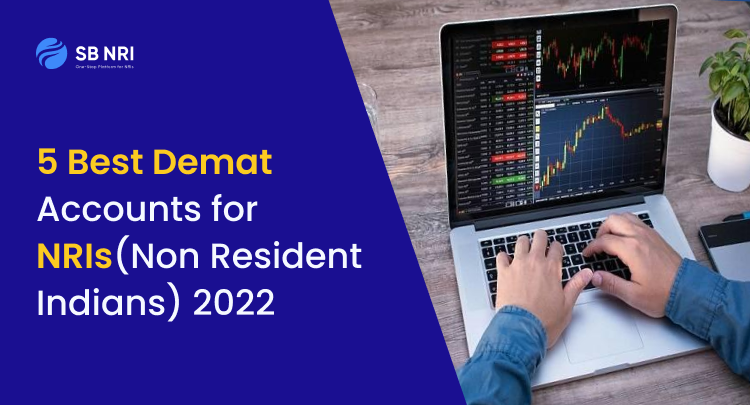 Can NRI open a Demat account in India?
Similar to resident Indians, Non-Resident Indians or NRIs can hold a Demat account in India to trade in equity. You need to adhere to the rules of the Foreign Exchange Management Act (FEMA) to open a Demat account for NRI in India. NRIs need to get Portfolio Investment Scheme (PIS) licences from a designated bank to operate a demat account for investing in the Indian market. Demat accounts are maintained by a depository company.
To open a Demat account for NRIs, you can click the button below:
A Demat account stores securities in an electronic format, and hence there is no need for physical share certificates. A Demat account for NRI is available in two forms – NRE Demat account and NRO Demat account. To invest in Initial Public Offers (IPOs) on repatriable basis, you need to open an NRE Demat account and an NRO Demat account is used for investment in IPOs on a non-repatriable basis.
Best Demat accounts for NRIs (Non-Resident Indians) 2022
Here is the list of 5 best Demat accounts for NRIs:
| Ranking | NRI account provider |
| --- | --- |
| 1 | Zerodha |
| 2 | IIFL |
| 3 | ProStocks |
| 4 | Sharekhan by BNP Paribas |
| 5 | Kotak Securities |
Best Demat accounts for NRIs
Zerodha Demat account for NRIs
Zerodha is the largest and one of the most trusted discount brokers with a user base of more than 35 lakh. Zerodha is very popular for NRI services. It has dedicated customer support teams to onboard NRI customers and provide them with the best possible service in the industry. While the brokerage is Rs. 20 for resident Indians, it is Rs. 200 per executed order for NRI customers due to additional formalities. This fee is very nominal as compared to other traditional brokers like Angel Broking and Sharekhan. Zerodha is considered one of the best Demat accounts for NRIs.
Key features of Zerodha Demat account for NRI customers
Zerodha is a partner of HDFC Bank, Axis Bank and yes Bank for NRE account opening.
There is no restriction for NRO accounts.
Delivery is totally free.
No minimum cap of brokerage per transaction.
Provides a margin from 4 to 15 times.
IIFL Demat Account for NRIs
IIFL or India Infoline Financial Limited is one of the biggest full-service stockbrokers with a large number of clients. India Infoline has been in the brokerage industry for more than 3 decades. IIFL Demat account is ideal for NRIs who need guidance and research to make informed investment decisions.
Key Features of IIFL Demat Account
Research advisory.
Demat account opening through video validation.
Variety of investment products.
Dedicated relationship manager.
Wealth and financial management.
ProStocks Demat account for NRIs
Based in Mumbai, ProStocks is a discount broker that offers Demat accounts for NRIs. customers. The brokerage is Rs.100 per executed order.
6 different charts with real-time updates at various time frames like minute, hour, day, week, month half-yearly and yearly basis.
Intraday trading backed by more than 150 technical studies.
Alerts with customization are set for price and percentage based triggers.
Any number of scrips can be added to the market watch.
Sharekhan NRI Demat account
Sharekhan is one of the leading online brokerage companies in India with a large number of active clients. In terms of the customer base, Sharekhan ranks 3rd after Zeridha and ICICI Direct. Sharekhan has a huge network of branches and franchises over 550 locations in India. The company operates through more than 1800 offices and also has a presence in the UAE and Oman.
Key features of Sharekhan NRI Demat account
Integrated RBI approved bank account with HDFC Bank.
Free fund transfers from banks to trading accounts or vice versa.
Free online training for beginners and advanced traders.
One of the finest trading platforms in India (Trade Tiger)
Kotak Securities NRI Demat account
Kotak Securities is a brokerage arm of Kotak Mahindra Bank. As it is a Kotak Bank linked demat account, fund transfers between bank account and trading account are automatic. As compared to Zerodha and ProStocks, brokerage charges are high.
Key features of Kotak Securities Demat account
It offers 3 in 1 trading account for seamless transfer of funds.
All investment avenues under one roof.
Funds transfer can be done via Kotak netbanking gateway.
Detailed research report and recommendation.
Online chat facility with support team.
How to open Demat account for NRIs
NRIs can open a Demat account and trading account with stockbrokers or banks registered with NSDL and CDSL. For that you need to have either NRE or NRO bank account. You need to select either a repatriable Demat account or a non-repatriable Demat account depending on your. NRIs can open a Demat account online or offline. Here are the steps to open Demat accounts:
Download and fill the Demat account opening form.
Attach all the required documents.
All documents should be self-attested and notarized by the Indian Embassy/ Consulate or any other competent authority.
Submit the filled form with documents to depository participants or stockbrokers.
Also Read: PINS Account: NRI Stock Trading in India
Documents required to open NRI Demat account
Here is the list of documents required to open NRI Demat account:
Duly filled account opening form signed by the applicant
PIS (Portfolio Investment Scheme) letter of approval issued by the RBI to NRI applicant
Photocopy of valid Indian passport
Photocopy of visa
PAN card
Passport size photograph
Canceled cheque of NRE or NRO account
Proof of respective bank and depository accounts
Overseas address proof such as utility bill, bank statement, driving license, government-issued identity card
Types of Demat Account for NRIs
A Demat account for NRIs is available in two forms:
NRE (Non-Residential External) – Repatriable Demat Account
NRO (Non-Residential Ordinary) – Non-Repatriable Demat Account
NRE Demat account
NRIs can link their Demat account with an NRE account to manage funds earned abroad. An NRE Demat account is a repatriable account. Hence, you can transfer the proceeds from the sale of securities abroad.
NRO Demat account
NRO demat account is linked with NRO bank account. An NRO account is opened to manage funds earned in India. An NRO Demat account is a non-repatriable Demat account. This means all money in this account can't be transferred out of India. As per the RBI guidelines, you can transfer up to $1 million of funds abroad during a financial year. The principal amount can be transferred after payment of taxes and the interest earned is repatriable after TDS is deducted.
NRIs can open separate NRE and NRO accounts to trade on repatriable and non-repatriable basis.
Living away from India, it is not easy for NRIs to open a Demat or Trading account and make the right decision about investment in India. At SBNRI, we understand that there are many obstructions faced by NRIs while investing in India. You can download SBNRI App to connect with our experts and get end-to-end assistance related to an NRI investment.
You can also click on the button below to ask any questions. Visit our blog and YouTube Channel for more details.
FAQs
Can NRIs hold shares in India?
Yes, NRIs are allowed to hold shares in India by participating in equity investments. They can also receive shares in the form of a gift or purchase in the capacity of resident Indian. To participate in Indian equity market, NRIs will require an NRI Bank account, NRI trading account and NRI Demat account. 
What will happen to my Demat account after I become an NRI?
Once you become an NRI, you can:

– Convert your resident account Demat account to an NRO Demat account. All holdings will be transferred to the new account and you can sell these shares on a non-repatriable basis. 
– Transfer holdings to a family member in India and close the resident Demat account.
– Or continue holding them on a non-repatriable basis in your resident account. 
Can I open an NRI trading account online?
The process of NRI account opening is partially online. Fill the account opening form online, download the PDF file, print it, sign it and send it to the bank. 
To invest in the Indian stock market, NRIs require 3 accounts: 
– PIS enabled NRI savings bank account (NRE/NRO account)
– NRI Demat account
– NRI trading account
What types of charges are applied for an NRI Demat account?
NRI Demat account charges include:
1. Demat account opening fee
2. Demat account AMC (Yearly)
3. Debit transaction charges
4. Other charges i.e. pledge fees, fees for updating personal info
Are NRI allowed to invest in ETFs (Equity Traded Funds)?
Yes, NRIs can invest in Equity Traded Funds in India. They can invest on both repatriation basis and non-repatriation basis.  
Can NRI have multiple Demat accounts in India?
NRIs can have many Demat accounts. There are two types of Demat accounts NRIs can open – NRE Demat account for repatriable transactions and NRO Demat account for non-repatriable transactions.  
Can NRI open a Demat account online?
Yes, NRIs can open a Demat account online. They need to submit basic KYC documents, including their PAN card, passport, visa, etc. along with a filled-out account opening form, and canceled cheque. They also need to produce a PIS letter from the Reserve Bank of India to open an NRI Demat account online and trade on stock markets. 
Non-resident Indians can access NRI Demat accounts through an NRE account, or an NRO account. 

What are the benefits of NRI Demat account?
NRIs can enjoy following benefits by opening a Demat account:
– A Demat account enables NRIs to trade/ invest in stock market in India from any part of the world.
– Transactions made by NRIs immediately reflect in the NRI Demat account.
– The Demat account holds shares, convertible debentures, ETFs, mutual funds, etc. in electronic format.
– NRI Demat account can hold a minimum of one share.