Here are 12 options for you
Axis Bank
Park your income earned in India
Convenient depositing and management of funds
Parents/relatives can operate the account in your absence
Citibank
Park your income earned in India
Convenient depositing and management of funds
Parents/relatives can operate the account in your absence

Easy, Convenient & Fastest account opening

Apply for NRO Account with minimum documentations
Dedicated relationship officer for account opening and support
Up-to 4.75% Savings Interest & 6.5% on Fixed Deposits
Your funds upto 5Lakhs are insured by RBI
RBL Bank
Account can be opened jointly with another NRI
Ease of account operation by a resident Indian through a power of attorney(mandate holder) mode
Funds in the account can be repatriated upto USD 1 million dollars per financial year per customer upon submission of relevant documents

Easy, Convenient & Fastest account opening

Apply for NRO Account with minimum documentations
Dedicated relationship officer for account opening and support
Up-to 4.75% Savings Interest & 6.5% on Fixed Deposits
Your funds upto 5Lakhs are insured by RBI
Kotak Bank
Higher Yield post tax by availing DTAA benefits
Can be jointly opened by NRIs/PIOs and Resident Indian
Easy and Economical Remittances into India by Cheque or Wire Transfer or Click2Remit
HDFC Bank
Transfer funds from abroad in a freely convertible foreign currency
Directly remit from your overseas bank to your NRO account
Transfer funds from an existing NRE / NRO account with another bank in India
ICICI Bank
Free mandate card & cheque book for your family in India, giving them anytime, anywhere access to your account.
Easy redesignation of your resident account to NRO Account when you become a NRI. Your account number remains the same.
Earn higher post tax return through reduced TDS rates by applying for DTAA facility on your NRO Savings account.

Easy, Convenient & Fastest account opening

Apply for NRO Account with minimum documentations
Dedicated relationship officer for account opening and support
Up-to 4.75% Savings Interest & 6.5% on Fixed Deposits
Your funds upto 5Lakhs are insured by RBI
DBS
Interest earned on an NRO account is taxable
Foreign currencies deposited into these accounts are auto-converted into INR at prevailing foreign exchange rates
You can open this account jointly with a resident Indian on a former or survivor basis
Bank of Baroda
Close relatives can become joint account holders
Provision for nomination
Avail remittance & cheque book facilities
SBI Bank
Funds deposited in the account will be in the form of transfer from NRE / NRO / FCNR (B) accounts or fresh remittance from overseas
Account can be opened either individually or jointly with other NRIs / PIOs / OCIs
Rupee loan available against NRO Deposits
One-stop Platform for NRI
Making NRI lives easier by solving Banking, Investment, Tax & all other India related needs. Download SBNRI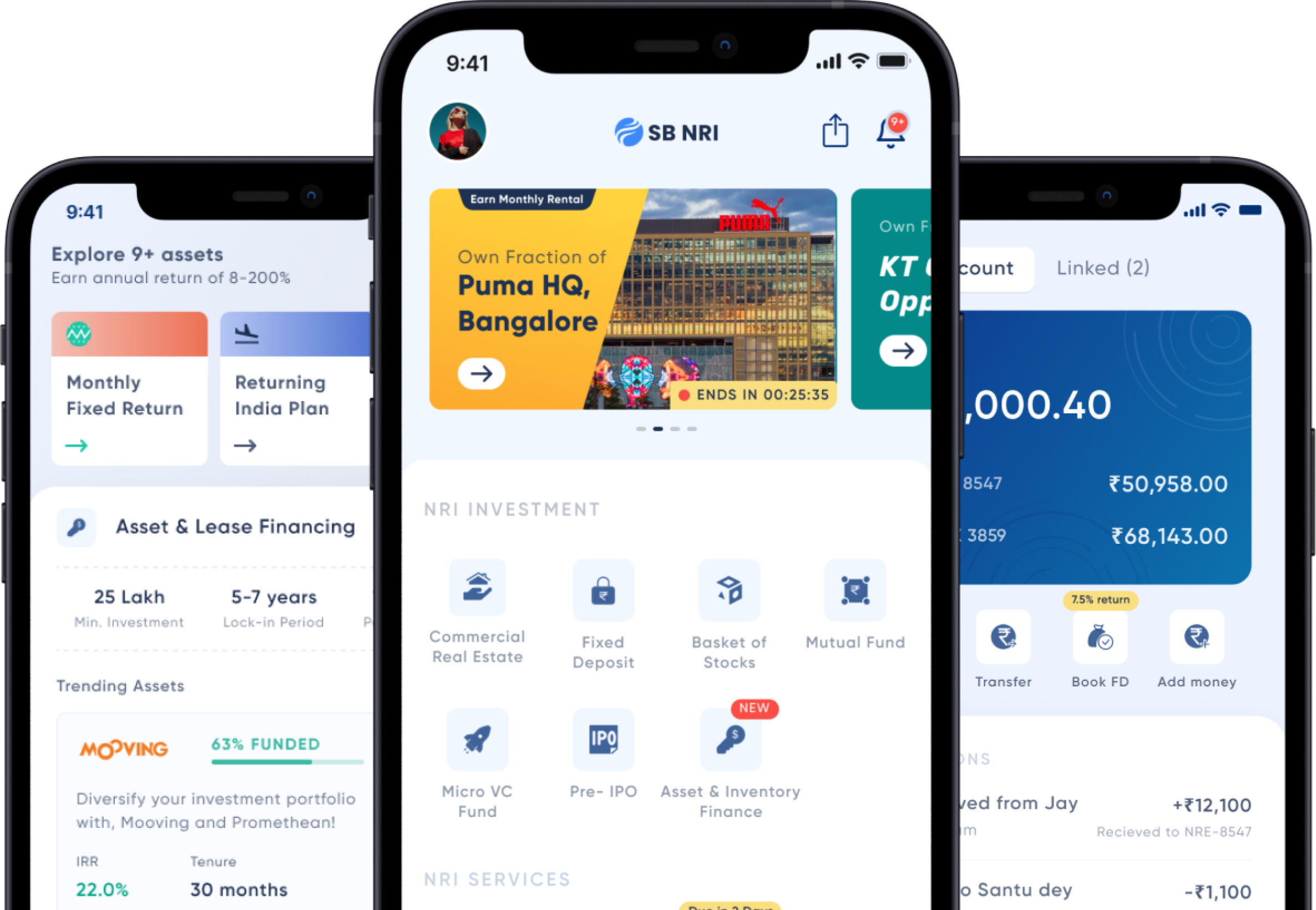 Frequently Asked Questions
What is an NRO account?
An NRO (Non-Resident Ordinary) account is a bank account ope… Show More
What are the benefit of NRO account?
Following are the benefits of an NRO account: … Show More
What is difference between NRE and NRO account?
NRIs or OCIs or PIOs can open an NRE account with a bank aut… Show More
Is money deposited in NRO account taxable?
Interest earned on an NRO account is taxable at the rate of… Show More
Who is eligible for NRO account?
Non-Resident Indians (NRIs), OCIs (Overseas Citizens of Indi… Show More
Can I deposit cash in NRO account?
Yes, you can deposit cash in an NRO account after sharing th… Show More