As we all know, India is famous for its arts, mainly Madhubani painting. Art is a sign that makes use of cultural signs. Art, sculpture, poetry, literature, and other forms of expression are perceived as the archive of a culture's collective memories. Art retains what fact-based historical papers do not: at certain times, it was like to live in a certain period.
In this blog, we will learn about the famous Madhubani designs of India. Most of the areas of Nepal and Bihar practise this art. And it is now the most famous and unique art form in India. The Madhubani paintings are also called Mithila. This is because this painting style arose from a place called Mithila (now Bihar).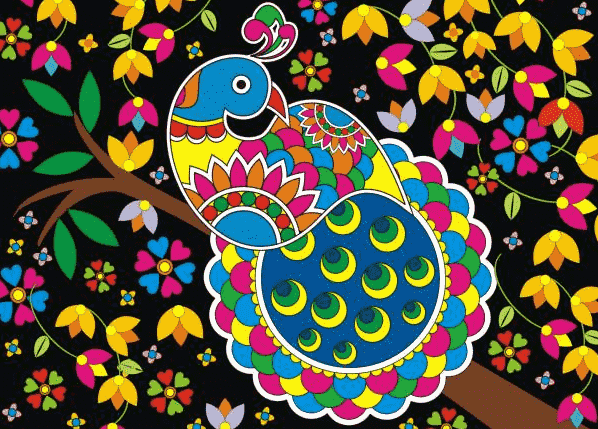 History
As we already learned, the Madhubani painting was created in the Mithila region of Bihar. Some primary eyes to the Madhubani painting can be found in the Hindu epic Ramayana. It was the time during Sita's wedding Sita's father, King Janaka, ordered Madhubani paintings to be painted for her.
These art facts passed from era to era, and the Madhubani designs started adorning the area's houses. Furthermore, women of the village love to rehearse these paintings on the walls of their separate homes. However, their artworks depict their ideas, hopes and goals.
As time passed, Madhubani painting became a vital part of festivals and more famous in special events like weddings. This art lured experts in art as many modern Indian artists took the art onto a global stage. It wasn't long before handmade paper, cloth, and canvas became the default basis for walls rather than plastered mud walls. Although the paintings have been limited to a limited geographic region, there are similar themes and styles in the paintings.
Main Themes of The Madhubani Painting
There are three famous themes in Madhubani designs: Social scenes, parts of nature and faith.
Social Scenes
In Madhubani painting, scenes from daily rural Indian life are beautifully rendered, from yields to markets to children playing. There is a unique appeal to wedding rituals, which give messages of love and fertility.
Religion
Hindu mythic busts and sets from holy texts are ubiquitous topics. It has famous Gods like Shiva, Ganesha, Radha and Krishna, Laxmi and Saraswati.
Nature
The unique beauty and plenty of spirits are vital to the Madhubani painting. There are many holy images in Indian culture, including the sun, moon, birds, beasts, the Tulsi plant, and Banyan trees.
Raw Material Utilised by Madhubani Painting
Paper
In the past, Madhubani painting was done on wall walls by applying cow dung and mud. However, after 1966-68 it was easy to create this painting on handmade paper. To make handmade paper, mix cow dung, Multani Mitti and Neem juice. This gives the paper a light yellowish look that resembles a mud wall. In addition, durability of paintings by saving them from insects and termites. But now you can easily buy handmade paper of light-yellow colour from the market. Then you can use it for making a beautiful Madhubani painting.
Colours
Madhubani paintings use natural and bold colours like red, yellow, blue, and black. Below is a list of some colours and their natural sources.
Black
Mixing soot with cow dung creates a black colour. To create borders and outline shapes, black is used.
Yellow
Turmeric is responsible for the yellow colour.
White
Rice powder gives the white colour.
Green
A wood apple tree's leaves provide a green colour.
Blue
Indigo produces a blue colour.
Red
Kusum flowers or red sandalwood produce the red colour.
Orange
These flowers from the Palash tree give the orange colour.
The popularity of fabric colours has led to replacing natural colours with fabric colours because fabric colours last for a long time. Despite this, there are still many artists who traditionally make Madhubani designs.
Tools
Outlining the images is done with nib pens and brushes of different sizes. With brushes, twigs, matchsticks, and fingers, drawings are coloured with natural colours or fabric colours.
A List of Notable Madhubani Artists
This unique art form is kept active because of the efforts of many artists who continue to practice Madhubani painting. However, many famous Madhubani artists have gotten National and global credit. Some of them are described below.
Mahasundari Devi
Born in Madhubani Bihar, Mahasundari Devi was a famous Madhubani artist. Her aunt taught her the art form when she was young. She played a vital role in helping and growing not just Madhubani designs but also various other art styles of Bihar by making a joint club. She was felt to be a living legend and was kept with different reputable awards during her life. She was honoured by the president of India with the national award in 1982.
The Government of Madhya Pradesh then awarded her the reputed Tulsi Samman in 1995. The Indian government feted her work with the Padma Shri award in 2011. On 4 July 2013, Mahasundari Devi breathed her last, but she left behind a lasting gift. In addition to being an award-winning Madhubani painter, her daughter-in-law is also a famous artist.
Ganga Devi
Ganga Devi is another famous artist mainly known for popularising Madhubani painting. Ganga Devi hyped this old art form in foreign countries and India. Ganga Devi also started learning Madhubani painting in childhood, as she was born in Mithila, Bihar. She was an artist who practised the Katchni style and belonged to the Kayastha community. She then visited various nations in an attempt to hype this art form all over the world. She even participated in an event organised in the United States of America called the 'Festival of India.' Many international artists came to view her paintings and appreciated them. Her efforts were recognised with the National Award for Crafts by the Indian government. In 1984, the President of India presented Ganga Devi with the Padma Shri award.
Summary
This blog mentions some vital things about Madhubani painting everyone must know. These Madhubani designs are so famous all over the world. And every year, many tourists visit Bihar to see unique paintings. These paintings are specially made, so there is no chance of colour fading. Buy these paintings and make your home more appealing.
You can also click on the button below for more information. Visit our blog and YouTube Channel for more details.
How can I buy these Madhubani paintings?
You can buy them online or visit Bihar to buy these.
Are there chances of colour fading?
There is no chance of colour fading as it uses fabric colours. These colours shine during their whole life.
Why should I buy these paintings?
It is best to buy paintings of Hindu Gods to have always been blessed by them.