Whether you intend to gift or add to your collection, there are certain things that you must purchase if you are paying a visit to India. With its rich cultural heritage, there is a thing or two that you can gift as a Souvenir for NRI or purchase for yourself if you are an NRI. Here are some souvenir ideas for NRIs visiting India.
So, before you begin hunting high and low for the perfect souvenirs, let's look at a few exciting souvenir ideas that one must consider when one visits India. Guess what? Most of these indigenous and homegrown items are things you will find while you travel around and visit the local markets.
Exciting souvenir ideas for NRIs
Traditional Indian Artwork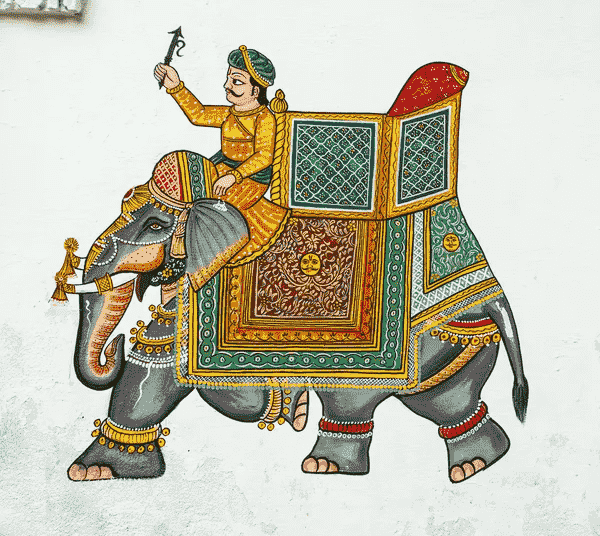 The culturally vibrant country also has a rich history of documented artwork. The great land of artisans has produced some of the most significant rock structures, cave art, and monuments known to mankind. It is no exception when it comes to paintings.
If you are an NRI Visiting India, you might have already heard about the fascinating authentic Indian painting styles such as the Tanjore, Warli, and Madhubani paintings. One can go to the most reputed art stores in the city you are visiting and catch a glimpse of some extraordinary paintings. The distinct geometric patterns, vivid colours, and simple iconic compositions are bound to make your jaws drop.
Although these paintings are not very expensive, their value holds its weight in gold. So, be sure to pickup up your favorite piece of painting.
Authentic Indian Curry Powder
India also happens to be the land of many exotic spices. Hence, it is no surprise that it offers the world this global standard of cooking flavored powder. So, if you are an NRI whose heart and taste buds still lie in your homeland, then purchasing a whole jar of this savoring Indian curry powder is surely a Souvenir for NRI to have.
It will serve as a definite break from the typical junk food that you have been eating for ages. Even if you have been using curry powder in your foods, purchasing an authentic one right from the motherland offers an entirely different aroma, taste, and freshness. Go to a government-owned store to purchase a high-quality curry powder packet, and pick the flavor or flavors that you would like to try.
Kolhapuri chappals
If you are a globe trotter of an NRI Visiting India then you must be fond of collecting ethnic footwear, right?
The Kohapuri chappals are almost a part and parcel of a kurta and pajama. So, if you are on a kurta shopping spree, then you will automatically come across a store selling these regal-looking ethnic footwear. Club your Kolhapuri's with your favorite kurta and jeans and these hand-crafted leather slippers and going to take your style quotient to the next level. These are the quintessential souvenir to take home. So, buy a couple of pairs for your relatives and friends as well.
Assam silk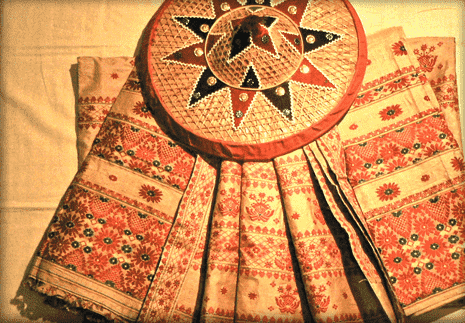 If you happen to visit the northeastern state of Assam then your visit would be incomplete without visiting a store that sells Assam silk. As a very unique gift option in the form of a Souvenir for NRI, the famed Indian silk is found only in Assam, hence the name.
There is the Muga silk which has a golden yellow hue. It is mostly used to make sarees with fine details. The material only tends to get more vibrant with time, but you must only put it through dry cleaning.
Next, there is the Paat silk which is an indigenous silk variety. It is mainly used to make the Mekhela Chador. Available in a variety of colors, the signature Mekhela Chador comes in a milky white tone with stunning gold and silver embroidery. So, purchase one for the Mrs to have her stand out in any gathering.
Ethnic Indian Jewelry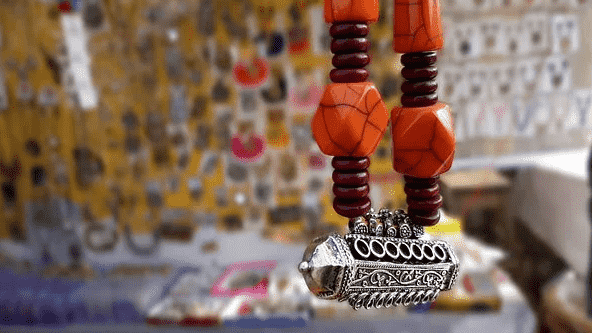 Indian jewelry has its place in the global jewelry pantheon. Set apart by its intricate and elaborate hand-crafted designs and shapes, Indian jewelry differs significantly from state to state. So, if you are an NRI Visiting India after a long time, then spending lavishly is justified.
You can gift such jewelry to elderly women, young and married women, or just keep it for collection or investment purposes. While most traditional jewelry is made of only silver or gold, some jewelry makers add diamonds and other precious stones to up the style and value of the item. So, buy such jewelry only from a reputable store so that you get only pure silver or gold.
You can also click on the button below for more information. Visit our blog and YouTube Channel for more details.
What to buy as a souvenir for my wife in the cold climate?
One can purchase one of the most beautiful and delicate Indian souvenirs that one can offer, the Pashmina shawl. These shawls are super soft to the touch and are known to keep you warm and cozy in cold climates or weather conditions.
What should I gift my NRI friend on New Year's Eve?
There are several things manufactured in India that can serve as the perfect New Year's Eve gift to gift an NRI.
One can gift ethnic Indian clothing such as kurtas, or salwar kameez. Moreover, there are very intricate pieces of tribal jewelry made from wood, incense sticks, Darjeeling tea, and arts and crafts. These are all highly suitable for the occasion.
What food items can I bring back from India?
One has the option to bring back a variety of food items that will stay fresh through the course of the plane journey. If you have a sweet tooth then you must pack a few boxes of ladoos or gulab jamun. Other than that, you can bring along pickles, namkeens, dry fruits, and honey.