Distance and miles should never get in the way of the undying love of parents for their children or vice versa!"

SBNRI (Simplifying Banking for NRIs)
This new year, wish your parents in a unique way with SBNRI Greeting Card exclusively designed for NRI parents.
According to a report of the Ministry of External Affairs, 32 million NRIs (Non-Resident Indians) and PIOs (Persons of Indian Origin) are residing abroad. Millions of Indians migrate every year for higher education, better job opportunities and to live with their spouses abroad. Studying and working abroad is a shared dream of Indian children and Indian parents. Parents whose children settle abroad are often perceived as the lucky ones.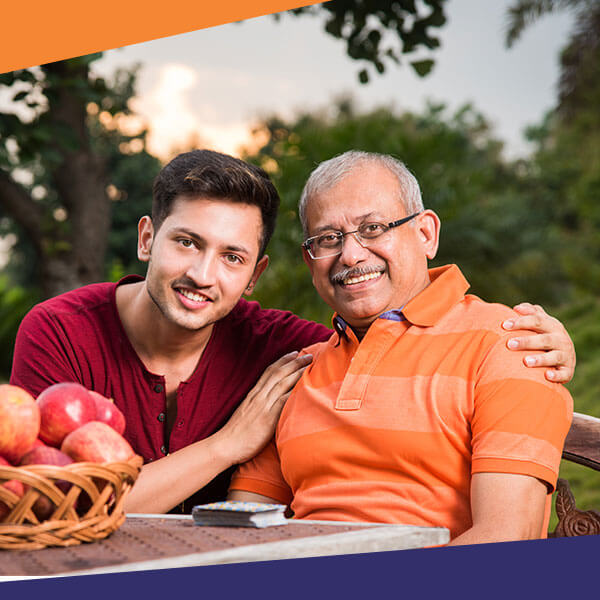 However, when children move abroad to chase their dream of quality higher education, lucrative jobs or better lifestyle, they also leave behind their biggest treasure – their parents. These are the folks who toiled several years tirelessly, paid loan EMIs and walked extra miles to send their offspring abroad. But behind the pride and happiness about the success of their children lies the anxiety of being away from their children during special occasions like New Year, birthdays, Mother's Day, Father' Day, religious festivals, etc.
Living thousands of miles apart and several hours of travel time away, it is not possible for every NRI to visit their parents back in India on every occasion. Moreover, travel restrictions on account of the Covid-19 pandemic added to the problems of individuals residing away from their families.
But distances and miles shouldn't stop NRIs from expressing their deeply felt emotions and undying love for their parents.
One-of-a-kind greeting card for NRIs to wish their parents
The very concept of starting SBNRI was to bridge the distance for NRIs with their roots in India. SBNRI strives to make NRIs feel at India when staying thousands of miles away from their homeland. We ensure that NRIs and their loved ones never feel financially or emotionally alienated by offering them a host of investment, financial, legal and NRI parents care services.
This new year, NRIs can wish their parents in India in a unique way using SBNRI's one-of-a-kind virtual greeting card exclusively designed for NRI parents. This greeting card enables you to express how much you missed them every moment with a customized message and a beautiful photograph of your parents.
Also Read: Can NRIs buy health insurance for their parents in India?
Bridging the gap for NRIs with Indian market
Now NRIs living around the world can access an array of online financial, legal, investment and parents care services available in India. With SBNRI, they can open an NRE/NRO account and NRI FD accounts; remit money to or/and from India; invest in Indian stock markets & mutual funds, real estate and commercial real estate, and get investment advisory; file NRI income tax; apply for home loans, personal loans and business loans; buy health and life insurance to their parents and other dependents; buy NRI parents care services; and a lot more.
You can download SBNRI App from the Google Play Store or App Store to avail all these services. To ask any questions, click on the button below. Also, visit our blog and YouTube channel for more details.