What is the full form of PMC Bank?
The full form of PMC Bank is Punjab & Maharashtra Co-operative Bank. PMC Bank is a multi-state scheduled urban cooperative bank headquartered in Mumbai, India. The bank operates in several states including Maharashtra, Delhi, Karnataka, Goa, Gujrat, Andhra Pradesh and Madhya Pradesh. Founded in 1984, today the bank has a network of 137 branches across six states.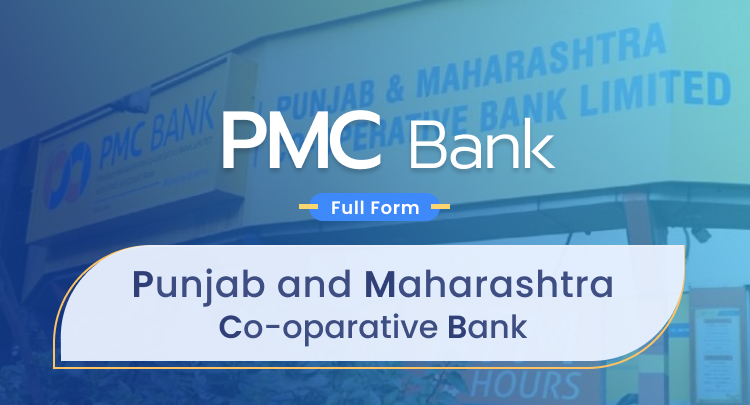 Also Read: ICICI Full Form | HDFC Full Form | IDFC Full Form
History of PMC Bank
In 2000, PMC Bank was conferred with Scheduled Status by the Reserve Bank of India (RBI).
In 2004, the bank achieved Multi-State Status from the Central Registrar and thus made an entry into the national platform.
The Reserve Bank of India (RBI) gave the Authorised Dealer Category I license to PMC Bank for Forex business in 2011.
The Reserve Bank of India imposed operational restrictions on PMC Bank for 6 months on 23rd September 2019 and account holders were not allowed to withdraw more than Rs. 1,000 from their accounts during this period.
On 26 September, the restrictions were relaxed and customers were allowed to withdraw up to Rs. 10,000 from their accounts.
Products and services offered by PMC
Savings account, Sapphire savings account
Loans
MSME loans
Demat account
Credit cards and offers
Internet banking like NEFT, RTGS
Mobile banking (IMPS)
Any branch banking
ATM
Electronic clearance service (ECS)
National electronic clearance service (NECS)
E- Tax payment
Lobby banking
Cheque deposit machine
Kiosk machine
Also Read: RBL Bank Full Form | ATM Full Form | INR Full Form
There are several financial abbreviations and acronyms used in daily life. If you have difficulty in comprehending these terms, we at SBNRI, are here to help you out. You can get in touch with our expert directly on WhatsApp using the button below to resolve your doubts and queries. Also visit our blog and YouTube Channel for more details.