What is the full form of IDFC?
The Infrastructure Development Finance Company is the full form of IDFC. Incorporated in 1997, IDFC provides finance and advisory services for infrastructure projects, asset management and investment banking. IDFC is headquartered in Chennai and has many subsidiaries viz. IDFC Project Equity, IDFC Bank, IDFC Securities, IDFC Pension Fund Management and IDFC Foundation.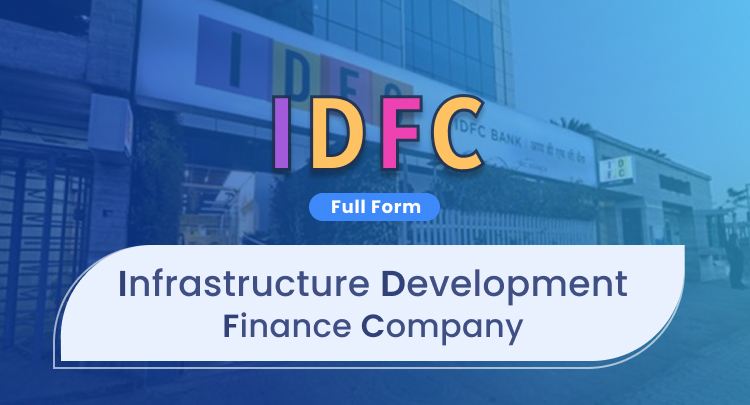 Also Read: ICICI Full Form | HDFC Full Form | RBL Full Form
History of IDFC
IDFC was incorporated on 30 January 1997 and started operations on 9 June 1997.
Its equity shares were registered at the National Stock Exchange of India (NSE) and Bombay Stock Exchange (BSE) in 2005.
In 2008-09 IDFC Limited subscribed 100% of equity shares of IDFC Capital (Singapore) Pvt. Ltd.
IDFC Bank started banking operations on 19 October 2015.
About IDFC First Bank
Formerly known as IDFC Bank, IDFC First Bank is an Indian banking company and a subsidiary of IDFC Limited. IDFC First Bank received a universal banking license from the Reserve Bank of India in July 2015 and the bank started banking services in October 2015. The bank is headquartered in Mumbai, Maharashtra (India) and extends a wide range of banking and financial services to its customers in India. IDFC Bank is the first bank in India to launch Aadhaar-linked cashless merchant solution.
Key products offered by IDFC First Bank
Home loans, personal loans, vehicle loans, loans against property and consumer durable loans
Consumer banking products
Business loans, micro enterprises loans
Credit cards, debit cards
Savings accounts
Fixed deposits
NRI banking
Private banking
Wealth management
Investment banking
Corporate banking
Wholesale banking
Also Read: ATM Full Form | INR Full Form | IFSC Full Form
There are several financial abbreviations and acronyms used in daily life. If you have difficulty in comprehending these terms, we at SBNRI, are here to help you out. You can get in touch with our expert directly on WhatsApp using the button below to resolve your doubts and queries. Also visit our blog and YouTube Channel for more details.