What is the full form of HDFC?
The full form of HDFC is Housing Development Finance Corporation. HDFC is an Indian financial service company headquartered in Mumbai, India. It is a major housing financial institution, offering housing loans to individuals and corporates for the purchase and construction of residential houses. HDFC caters to its customers through a network of 396 outlets in approx 2,400 towns and cities spread across India. HDFC has offices in London, Singapore and Dubai and associates in Middle East countries to cater to NRI customers.
HDFC Bank Limited, HDFC Standard Life Insurance Company Limited, HDFC ERGO General Insurance Company Limited, GRUH Finance, HDFC CRED and Credila Finance Services Private Limited, are some of the key associate and subsidiary companies of HDFC.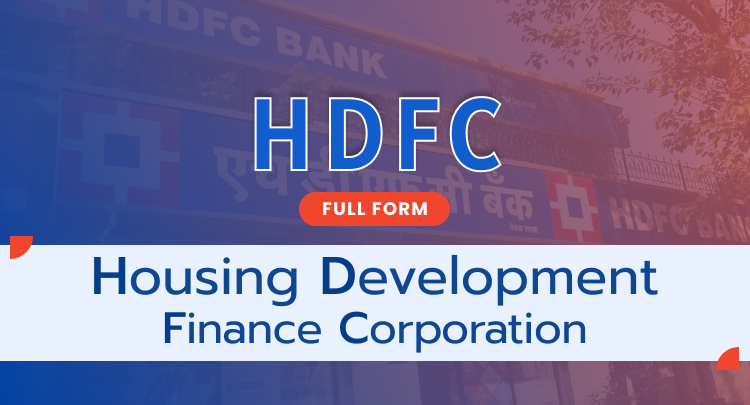 Also Read: ICICI Full Form | RTGS Full Form
HDFC Bank
HDFC Bank is one of India's leading private sector banks with a network of 5,485 branches and 14,533 ATMs spread across 2,866 cities and towns across the country. The bank was incorporated in August 1994 and offers a host of retail and wholesale banking products.
Key products and services of HDFC Bank
Accounts: Savings account, salary account, current account, Demat account
Cards: Credit card, debit card, forex card, prepaid cards and commercial card
Loans: Home loan, personal loan, business loan, auto loan, lifestyle loan
Wallets: Payzapp and SmartBUY
NRI Banking products: NRI fixed deposits, NRE, NRO and FCNR accounts, NRI home loan
Funds: Mutual funds, equities and derivatives
Insurance: Travel insurance and home insurance
There are several financial abbreviations and acronyms used in daily life. If you have difficulty in comprehending these terms, we at SBNRI, are here to help you out. You can get in touch with our expert directly on WhatsApp using the button below to resolve your doubts and queries. Also visit our blog and YouTube Channel for more details.