All non-British citizens are required to apply for and obtain a UK visa to enter the United Kingdom. On applying for a visa to go to the United Kingdom, you can track your UK visa status online. Some applicants might find that UK immigration authorities have refused their visa application. A visa could be rejected due to a variety of reasons. Here we have listed the most common reasons for UK visa refusal and chances of getting a UK visa after refusal.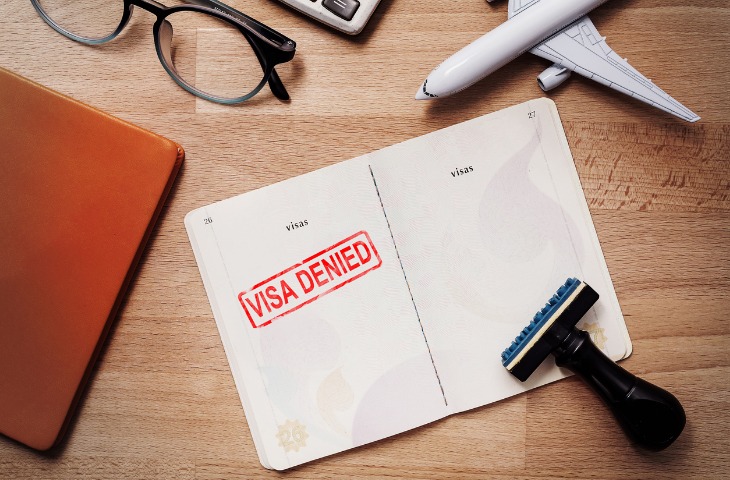 Also Read: How To Track Your UK Visa Status Online?
Important points to remember while applying for a UK visa
Before we delve into the most common reasons for a visa refusal, here are the most extreme cases that make legal entry to the United Kingdom impossible.
For providing false information in a visa application form, you will be banned from entering the British Isles for 10 years.
A member of a political or religious organization that is considered by some nations as encouraging terrorist activities becomes a persona non grata in the UK even if he/she is not covered in blood or be on public notice. Or you could have extended support to extremism on the internet once.
The applicant must have a 100% clean record in terms of criminal and civil law both in the UK and abroad. For example, no bankruptcy, driving offenses, civil court judgement and debt proceedings against the applicant.
If your visa application has been refused previously to other countries, including refusal of an entry at the border and measures being taken to remove you from the territory of relevant jurisdiction, from a court notice to deportation order.
A visa refusal to another country will not automatically result in a refusal to a UK visa, but the UK Immigration Authorities will be extra careful with your application and documents.
Most common reasons for a UK visa refusal
Applying for the wrong type of visa is one of the most common reasons for refusal of a UK visa. For example, an applicant applies for a standard visitor visa while the real purpose is private medical treatment.
Submitting false or insufficient documents to support the information provided in the visa application.
Discrepancies between the details mentioned in a visa application form and at the time of UK visa interview questions and answers.
On conviction for a crime that carries a sentence of 4 years or more imprisonment.
Not disclosing information or withholding documentation of a criminal record.
Financial inability to fund a trip to the UK. The immigration authorities carefully check if you have enough money to support your UK trip and buy return tickets.
The applicant has a bad track record of overstaying or submitting false documents on a previous UK trip.
The applicant didn't go through the necessary visa application process such as submitting photographs, biometric scans or sharing a medical report.
The applicant doesn't have a valid passport or travel document.
The UK Immigration Office may reject a visa application if it doesn't find the appropriate reason for the applicant to visit the UK based on the provided information in the visa application form.
What to do when a UK visa is refused
Your chances of getting a UK visa after refusal are not yet over. If your visa is refused, you have a few options to set things right. When a visa is rejected, the applicant is notified of the same in writing through a UK visa refusal letter, with the reason for the refusal. There are 3 main courses of action to take after you get a refusal of a UK visa – administrative review, a new application, and an appeal against the decision.
Administrative review
If you think that your application for a UK visa or the supporting documents have been assessed incorrectly, leading to refusal of the UK visa, you can request an administrative review. The review is applicable to already submitted documents, you can't submit new documents. Here are the deadlines to apply for an administrative review:
14 calendar days for a visa application from within the UK.
28 calendar days if applied from other countries.
Appeal
A visa can be refused under the UK's point-based immigration management system. If your visa has been rejected under this system, you have the right to appeal that decision. The visa appeal process takes around 12 weeks that includes submission of the appeal application to the hearing and decision by the judge. Here are the steps you will need to follow:
To appeal a Home Office decision regarding the refusal of a visa, fill in Form IAFT-2.
Submit the duly filled and signed form along with supporting documents to the First-Tier Tribunal (Immigration and Asylum Chamber).
You will receive a receipt from the Chamber and the documents will be forwarded to the relevant authorities for review.
The original decision – whether upheld or overturned – will be communicated to you in writing.
An immigration judge will review all documents relevant to the case and make a decision within 10 days from the date of hearing.
If the decision is made in your favor, the visa office will complete the visa application process.
If the visa rejection is upheld, you will have to file a fresh application.
A new application for a UK visa
Once your application has been rejected by the UK Immigration Authorities and the immigration judge, you can reapply for the visa. When reapplying for a UK visa, do the homework, fill the application correctly and provide all relevant information to avoid another rejection.
Also Read: Indian Passport for NRI: Renewal vs Reissue | Visa Status: Check Visa Status with Passport Number
Conclusion
If you make no mistakes in the application or don't mislead the Immigration Authorities, the whole UK visa application process should be really smooth. However, if you still get a UK visa refusal, you don't need to be disappointed. You can correct mistakes and appeal in a tribunal (Immigration and Asylum Chamber) against wrong decisions.
You can contact UK Embassy in India for more clarity on a visa. If you're looking for any assitance for NRI services such as NRI account opening, NRI Demat account, NRI investment or taxation, experts at SBNRI can help you out with everything. Download SBNRI App from the Google Play Store or App Store to ask any questions related to NRI services. Also visit our blog and Youtube Channel for more details.