At such times, when the world is in chaos, India has launched the Vande Bharat Mission that aims to bring back all the Indians stranded abroad back to their home country. But, not all Indians staying abroad have the same needs. Some are happy that they can finally come back, while others are contemplating their hard earned life and the after effects of returning to India for good. A sense of doubt, confusion and fear has grasped these people. In this article we will firstly understand about the Vande Bharat Mission followed by exploring how India prepared to tackle the issues of the Indian Residents and NRIs returning to India.
In this Article: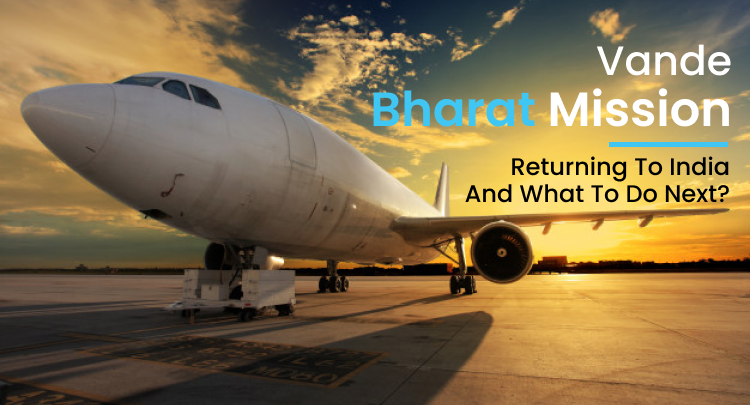 Already in the third phase, the Vande Bharat Mission is a multi phased mega evacuation exercise that has already brought in over 165,000 Indians back to India in the first two phases. The third phase will last till 2nd July where 432 flights will evacuate Indians from 43 countries. "This has widened our reach by including more countries, increasing the number of entry points, by expanding on the number of connecting flights and using hub and spoke model at both ends," says Anurag Srivastava, Spokesperson in the Ministry of External Affairs. Amongst the 165,375 people who returned, "These include 29,034 migrant workers, 12,774 students and 11,241 professionals. More than 61,000 Indians have returned through land border immigration checkpoints from Nepal, Bhutan and Bangladesh," he adds.
As a result of higher demand, the number of flights from the USA and Canada has been increased. "There are 53 flights from the USA and 24 flights from Canada. We would also have 16 flights each from Paris and Frankfurt which are to be used as hubs in Europe. There are 170 flights from GCC (Gulf Cooperation Council) countries," he said.
The phase wise flight details can be found at the Ministry of External Affairs website of the Government of India.
In the next segment, let's cover the basic FAQs that revolve around the Vande Bharat Mission:
Where to register?
You can register yourself for Vande Bharat Mission at the local Indian Embassy website in the country where you are.
How will the embassy contact you?
They will contact you either via call or email. Keep your phone close.
What is the luggage allowance?
As per Air India's website, the standard luggage allowance is two check in bags 23 kgs each and one hand baggage of not more than 7 kgs. Extra luggage is chargeable as per the airline guidelines
What are the charges of quarantine?
The charges can vary between Rs.3500- Rs.5000 per person per day. The standard period is 14 days. In some cases, the prices are set by the respective state government
Who will be allowed to travel?
Only asymptomatic passengers can travel. Medical Screening is compulsory.
What is the procedure of booking tickets?
The Embassy/Consulates will share the details of passengers selected through an electronic random selection method with Air India Offices that will contact the passengers directly regarding booking of tickets and mode of payment
What is the criteria of selection?
Selection of passengers will be determined through an electronic random selection method. Priority will be given to compelling cases such as those facing medical emergencies or requiring return due to treatment in the family, students (facing closure of educational institutions/hostels), pregnant women, elderly or those facing expiry of visas. Prioritization lists for the non-scheduled commercial flights have numerous factors that include your compelling reasons for urgent travel, flight availability, the ability of your domicile state to quarantine you, and an algorithm that randomly selects in prioritization categories.
What is the reporting time at the airport?
4 hours before departure. Check-in closes 75 minutes before departure
Do I need additional clearance/pass to reach the airport?
Normally your ticket should be sufficient permission for enabling travel to the airport. However you may check if there is any additional clearance required from the local District Authorities in your area
I am already holding an Air India ticket for the sector I want to travel on. Can I use the same?
For passengers already holding valid Air India tickets (ticket nos starting with 098) for the sector of travel, an additional charge would be applicable. Please contact Air India Booking offices / Call Centre for details
The Vande Bharat Mission is the first step. You might come back to India but what next? Let's consider the different types of people who are returning to India and what are they concerned about? What can be the next step considering their individual problems? How well is India prepared? Let's dig into it.
The group of people returning to India is scattered into working class, students and tourists. These can be the broadest categories to segregate the Indians Returning to India via Vande Bharat Mission. Let's understand their plights and explore what can be done post their return:
The Working Class: Most of the NRIs who are working abroad want to evacuate. Job loss is a major plight for most of them as the majority of NRIs working abroad fall in the category of blue collar jobs. The NRIs with white collar jobs are comparatively less affected but the need to return home is constant irrespective of job profiles. In the first two phases, India has already evacuated 29,034 migrant workers and 11,241 professionals. The problem with their return is that most of them are out of jobs. Some of them might even find it difficult to pay for their tickets and then continue their life in India. India as we know isn't well prepared with employment opportunities for everyone and this is a major setback.
The surge in the real estate sector in South India is a major effect of the people returning to India especially from the GCC. Finding jobs is still a major challenge. So for people evacuating, applying and looking for jobs will be the most sought after thing. With the recent news of banning of the H1-B visas in the USA, a major segment of Indians in the USA are re-thinking to return because of the associated uncertainty. This is also a big challenge, especially for Indian companies, to accommodate these specific people because of their high packages as an effect of the US Dollar being much stronger.
So, for solutions as few as they are, these white collar individuals might set out on a new venture, or they might get the opportunity to join the Indian Businesses. This can be a blessing in disguise for the Make in India Campaign as India can finally try to include the major brains who are earning abroad and paying their taxes for the growth of the nation. Also the workers can be accommodated in the ongoing construction works, under both private and public sector. It will take some time to settle in for sure, but it can settle for good.
Students: This has not been the best year for students. Probably, they will be remembered in times to come as a special class that graduated amidst the lockdown. The problem here is that most of these students are studying on loans and have a plan to earn money abroad to pay them back. But now, because of the situation, they are getting evacuated and are worried about their future. The gap in the investment associated with education abroad and the returns in India will surely add to their concerns.
Having already established the situation of employment in India, these are unprecedented times to accommodate more and more individuals. Although, the global shift towards India where major companies are shifting their businesses from China to India might open up more opportunities for these students as a foreign degree will make them more employment worthy. However, times are uncertain and the class of 2020 will have to work harder than any other class.
Tourists: Indians are all over the gobe, some working, while some exploring. The tourists who are stranded abroad might run out of their visas, will have to overspend their budgets and can be stuck badly if they are abroad for any medical emergency. Especially in the USA, where the COVID-19 cases have surged too much, the hospitals are overbooked along with a rebellion going on. It can be hard for Indian tourists.
With the efforts of the government, everyone is on the list for evacuation but yes! preference is given to people who need immediate evacuation so the tourists might need to spend some extra time abroad and that too without travelling.
These tourists can come back to their homes, rejoin their jobs and can eventually fall back to normalcy, if there will ever be one. They still have that chance compared to other people stranded abroad. But then again, it's not the same for everybody. There can be family emergencies, job-loss, etc. that springs them up on the evacuation lists.
While they come back, it is essential for everybody to help fight the spread of the COVID-19 virus and bring back the lost normalcy of the world. It can take time for sure, but your safety and health is above everything else. It's about coming back to your family and friends. It's about returning home. We can all find solutions to problems, being together in the first place is important.
The Government of India is doing splendid work with the evacuation and in the next phase of Vande Bharat Mission it is adamant to bring home every individual who registered for it keeping in mind the emergencies. A total of 3,99,081 persons registered requests with Indian missions for repatriation to India on compelling grounds.
As per the government's policy for evacuation, Indians having "compelling reasons" to return like pregnant women, elderly people, students and those facing the prospect of deportation are being brought back home on a priority basis.
And as Late Sushma Swaraj, Former External Minister of India used to say "Even if you are stuck on Mars, Indian Embassy there will help you."