The Schengen visa is a European short stay visa that allows its holders to travel throughout the Schengen Area or stay in any of the Member States within the Schengen Zone. The Schengen Short stay visa is issued by one of the Schengen States for a duration of up to 90 days in total within a period of 180 days. India is one of the largest tourist markets for Schengen countries with millions of Indians visiting Schengen areas each year. An Indian passport holder planning to visit the Schengen Area must obtain a Schengen visa for Indians.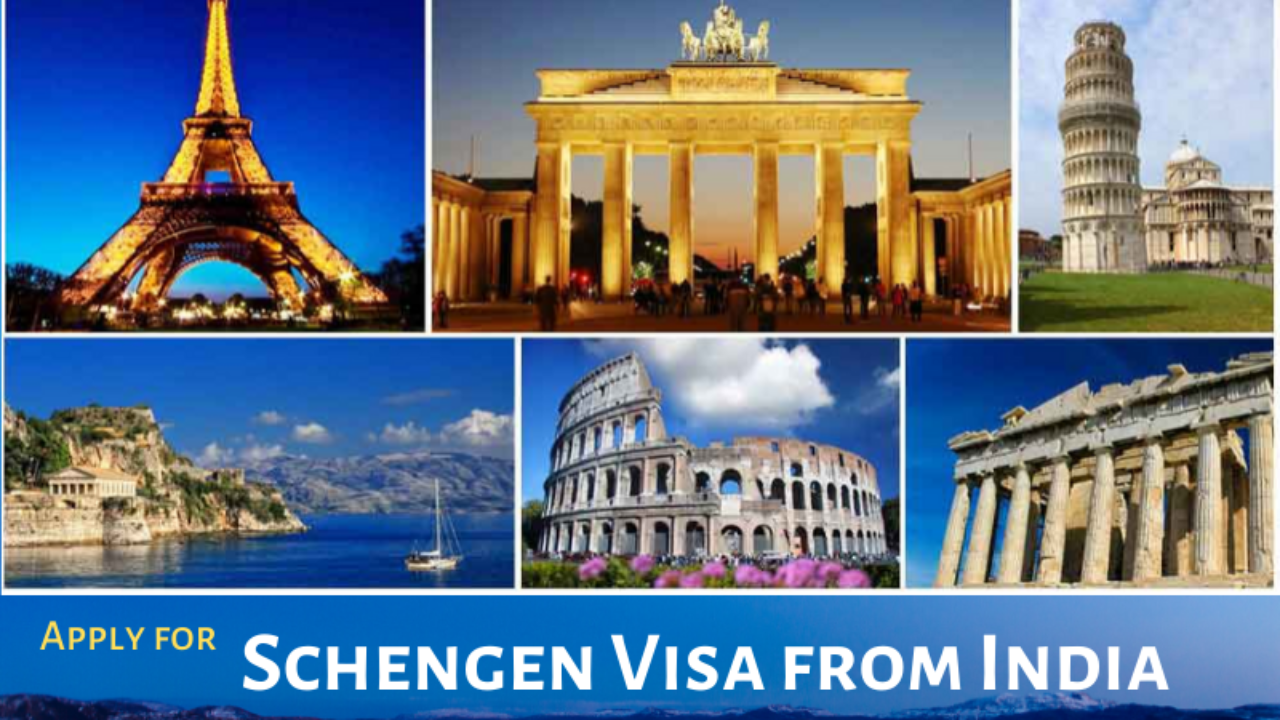 Also Read: UK Visa for Indians
There are 26 countries in the Schengen Area without border controls between them. While there might be slight differences in the application process and documentation, these countries have a common visa policy.
Schengen visa for Indians
Citizens of each country that is not a part of the Schengen Area and doesn't have a Visa Agreement with the EU need to apply for a Schengen visa to enter any of the member countries. Indian nationals and nationals of other countries who legally reside in India can apply for a Schengen visa from India. A Schengen visa is an authorization issued by a Schengen State for:
An intended stay in the territory of the Member States for a duration of up to 90 days in any 180 days period.
Transit through the international transit areas of airports of the Member States.
Countries you can visit with a Schengen visa
There are 26 Schengen countries including 22 members from the European Union Member States and four from the European Free Trade Association (EFTA). The Members countries signed the Schengen Agreement to abolish all internal borders and share a common visa policy. You can visit all these member countries with a Schengen visa:
| | | |
| --- | --- | --- |
| Austria | Hungary | Norway |
| Belgium | Iceland | Poland |
| Czech Republic | Italy | Portugal |
| Denmark | Latvia | Slovakia |
| Estonia | Liechtenstein | Slovenia |
| Finland | Lithuania | Spain |
| France | Luxembourg | Sweden |
| Germany | Malta | Switzerland |
| Greece | Netherlands | |
Schengen Member Countries
There are also non-Schengen countries that allow entry to Schengen visa holders, such as:
Albania
Antigua and Barbuda
Belarus
Bosnia and Herzegovina
Bulgaria
Colombia
Croatia
Cyprus
Georgia
Gibraltar
Kosovo
North Macedonia
Montenegro
Romania
Sao Tome and Principe
Serbia
Turkey
Eligibility for Schengen visa application in India
The following individuals can apply for a Schengen visa at the Schengen embassies/ consulates/ VACs in India.
All Indian citizens
Nationals of other countries living in India under a permanent or temporary residence permit
Who needs a Schengen visa?
If you are a citizen of any of the countries below, you must apply for a Schengen visa before you visit any of the Schengen member states.
| | | |
| --- | --- | --- |
| Afghanistan | Gabon | North Korea |
| Algeria | Gambia | Northern Mariana's |
| Angola | Ghana | Oman |
| Armenia | Guinea | Pakistan |
| Azerbaijan | Guinea-Bissau | Papua New Guinea |
| Bahrain | Guyana | Philippines |
| Bangladesh | Haiti | Qatar |
| Belarus | India | Russia |
| Belize | Indonesia | Rwanda |
| Benin | Iran | Sao Tome And Principe |
| Bhutan | Iraq | Saudi Arabia |
| Bolivia | Jamaica | Senegal |
| Botswana | Jordan | Sierra Leone |
| Burkina Faso | Kazakhstan | Somalia |
| Burma/ Myanmar | Kenya | South Africa |
| Burundi | Kosava | Sri Lanka |
| Cambodia | Kuwait | Sudan |
| Cameroon | Kyrgyzstan | Suriname |
| Cape Verde | Laos | Swaziland |
| Central African Republic | Lebanon | Syria |
| Chad | Lesotho | Tajikistan |
| China | Liberia | Tanzania |
| Comoros | Libya | Thailand |
| Congo | Madagascar | Timor-Leste |
| Cote D'Ivoire | Malawi | Togo |
| Cuba | Maldives | Tonga |
| Dem. Rep. Of Congo | Mali | Tunisia |
| Djibouti | Mauritania | Turkey |
| Dominican Republic | Mongolia | Turkmenistan |
| Ecuador | Morocco | Uganda |
| Egypt | Mozambique | Uzbekistan |
| Equatorial Guinea | Namibia | Vietnam |
| Eritrea | Nepal | Yemen |
| Ethiopia | Niger | Zambia |
| Fiji | Nigeria | Zimbabwe |
Countries that need a Schengen visa
Who can travel to Schengen without a visa
Visa applicants from the following countries/ territories don't need to apply for a Schengen visa to travel through member countries for up to 90 days.
| | | | |
| --- | --- | --- | --- |
| Antigua And Barbuda | Brunei Darussalam | North Macedonia | Japan |
| Argentina | Canada | Georgia | Kiribati |
| Australia | Chile | Grenada | Malaysia |
| Bahamas | Colombia | Guatemala | Marshall Island |
| Barbados | Costa Rica | Vatican City State | Mauritius |
| Bosnia and Herzegovina | Dominica | Honduras | Mexico |
| Brazil | El Salvador | Israel | Micronesia |
| Moldova | Monaco | Montenegro | New Zealand |
| Nicaragua | Palau | Panama | Paraguay |
| Peru | Samoa | San Marino | Seychelles |
| Albania | Andorra | Serbia | Singapore |
| Solomon Islands | South Korea | St Kitts And Nevis | St Lucia |
| St Vincent and The Grenadines | Trinidad and Tobago | Tuvalu | Ukraine |
| United Arab Emirates | United States of America | Uruguay | Vanuatu |
| Venezuela | United Kingdom | | |
Who needs a visa to transit in the Schengen States?
Citizens of the following countries must have an airport transit visa to change the airplane at an airport in the Schengen Area during the course of their travel.
Afghanistan
Bangladesh
The Democratic Republic of the Congo
Eritrea
Ethiopia
Ghana
Iran
Iraq
Nigeria
Pakistan
Somalia
Sri Lanka
How to get a Schengen visa
Following are the simple steps for a successful Schengen visa application from India.
Fill up the Schengen Visa application form
Book an appointment
Collect all necessary documents
Show up at the appointment
Provide biometric information
Verify the documents
Pay the Schengen visa fees
Fill the Schengen visa application form
Fill up the Schengen visa application form online or physically with basic information such as your name, date of birth, passport number, country of birth, nationality, etc. Apart from this, you will be required to provide information regarding your trip, such as how long are you planning to stay in the Schengen area, where are you staying, etc. Print one or two copies of the form and sign at the end.
Book an appointment
Schedule your interview through the website of the consulate or embassy of the country you are visiting, in your country of residence.
Collect all necessary documents
Make sure you have all the necessary documents required for a Schengen visa. Keep two copies of all of them in an organized way so that you will not have a mess in your hands. You will have to leave your passport at the embassy or consulate of the Schengen country where you apply for a visa.
Also Read: Emergency Travel Document for Indian Citizen
Attend the interview
Show up at the appointment centre on time. If you reach the centre late, even a few minutes, your appointment may be canceled. The submission process will be completed in 10 minutes.
Provide biometric information
If you have not applied for a visa to Europe before, you will need to get your fingerprints scanned at the consulate's office. If you have, then you don't have to give your biometrics again as the consulate shall retrieve them.
Verify the details
After the official verifies your application, your information will be fed into the online system and you will receive a printed copy of your application in around 10 to 15 minutes. Read the information in printed form carefully and verify that all the details are correct and sign it.
Minor applicants must be accompanied by their mother/ father/ legal guardian.
Pay the fees
You need to pay the Schengen visa application fee – 80€ for adults and 60€ for children between 6 years and 12 years. Keep the receipt with you to collect your processed application.
Schengen visa fee in Indian Rupee
Listed below is the cost of the Schengen visa for Indians in INR and Euro
| Schengen Visa category | Visa fee in INR | Visa fee in EUR |
| --- | --- | --- |
| Schengen visa for adults | Rs. 7088 | 80€ |
| Schengen visa for a child between 6-12 years | Rs. 5316 | 60€ |
| Schengen visa for children below 6 years | Waived | Waived |
Schengen visa fee for Indians
Note: The Schengen visa application fee in Indian Rupees is subject to the current exchange rates.
Types of visas
There are various types of Schengen visas for Indians based on the validity and limitation of the visit. The validity and rules of the visa may differ depending on the consulate/ embassy of the member country which issues the visa. Here are the three major categories of Schengen visa for Indians:
Uniform Schengen Visas (USV): This type of visa holder can transit through or reside in a Schengen area for a maximum of 90 days in a 180-day period from the date of entry. The visa can be obtained either for transiting through the airport of a Schengen country or for staying in the Schengen Area for a specified period. The airport transit visa falls under the 'A' category and the short-term visa comes under 'C' category. Short-term visas can be obtained under the following schemes.
Single entry visa
Double entry visa
Multiple entry visa
Limited Territorial validity visas (LTV): With this type of visa, you can enter and visit a specific country in the Schengen Zone.
National Visas: Individuals like students and professionals who need to reside in a Schengen member country can get a National visa for a specific period of time. The visa can be obtained under single-entry and multiple-entry schemes.
The following types of visas are issued to applicants under these three categories of Schengen visas:
Business Schengen Visa
Student Schengen Visa
Working Schengen Visa
Transit Schengen Visa
Also Read: Visa Status: Check Visa Status with Passport Number
NRIs living in the Schengen Zone or other parts of Europe may have several India-related queries. To ask any questions related to the rights of NRIs, PIOs, and OCIs, you can download SBNRI App from the Google Play Store or App Store. You can also use the SBNRI app for investment in stock market/ mutual funds, NRI account opening, tax filing, etc. To ask any questions, click on the button below. Also, visit our blog and YouTube channel for more details.
FAQs
Where should I submit my application for a Schengen visa in India?
In India, you can apply for a Schengen visa at the embassy or consulate of the country you are planning to visit. If you are planning to visit more than one country, then you can apply at the embassy of the country you are going to spend more time. In case of equal time, you can apply at the embassy of the country where you will land first. 
When should I apply for a Schengen visa?
You need to apply and book an appointment at least 15 days before the intended trip and the earliest 6 months before.
Can I convert my Schengen multiple entry visa into a single country visa?
No, a C multiple entry visa can't be converted into a D national visa. To get a D visa, you will have to apply from the country of your residence. 
Do I need to make a visa appointment to submit my application?
Yes, Indian citizens need to book an appointment with the embassy or consulate of the specific country in India to submit their visa applications. 
How soon can I get a Schengen visa in India?
Your visa application should be finalized within 15 working days from the date you submitted the visa application in the corresponding embassy or consulate in India. In some cases, this period can be extended up to 30 days. In rare cases, it may take up to 60 days, the maximum. 
What to do if my visa application is declined?
In case you have been refused a Schengen visa, you can appeal. All appeals shall be conducted against the final decision of the concerned member state as the national law of the specified EU member state.
What are the documents I need to carry when travelling on a Schengen visa?
At the external borders, all Indian nationals holding an EU visa can be asked to show the documents that justify the purpose of their stay as well as proof of sufficient means of subsistence for the intended stay as well as for transit to a third country or returning to India. If you are not carrying the specified documents, you must acquire them lawfully. 
Can Indian citizens living in the UK apply for a Schengen visa from the UK?
An Indian passport holder who has been legally residing in the UK for more than three months and holds a valid UK residence permit can apply for a Schengen visa in the UK. Indian travelers or tourists who plan on staying in the UK for three months need to apply for a Schengen visa in India.