When applying for a Schengen visa from India, you need to pay a non-refundable mandatory fee. The costs of a Schengen visa for Indians vary depending on the visa type and age of the applicant. The Schengen visa fee can be paid at the designated consulate/ embassy through debit or credit card, cash, etc. This article will focus on the various aspects of the Schengen visa fee for Indian applicants or others applying for a Schengen visa.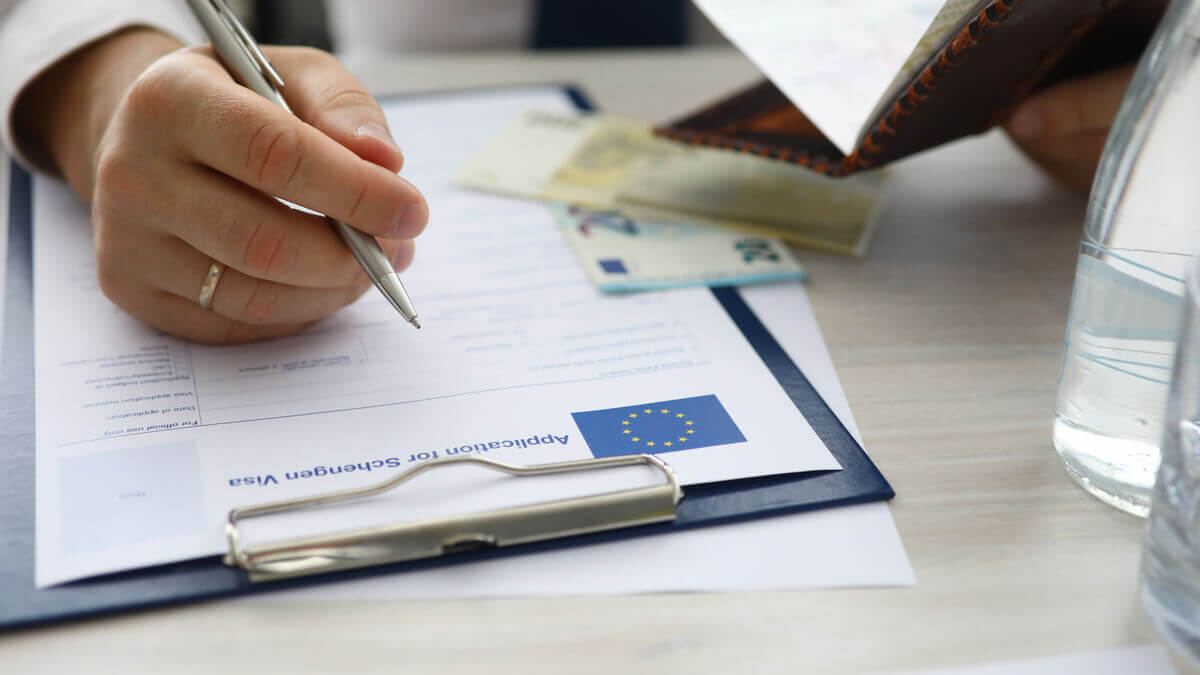 Schengen visa fees for Indian nationals
The Schengen member countries agreed on the cost of the visa fees for individuals applying for a Schengen visa. Here is the list of Schengen visa fees from India in Rupees, USD and Euro:
| Category | Fee in Rupee | Fee in USD | Fee in Euro |
| --- | --- | --- | --- |
| Adults | Rs. 6944.66 | $94.51 | €80 |
| Child between 6-12 years of age | Rs. 3472.33 | $47.25 | €40 |
| Child younger than 6 years of age | Free | Free | Free |
| Diplomatic passport holders travelling for official purposes | Free | Free | Free |
| Family member of an EU/ EEA national | Free | Free | Free |
| Students accompanying teachers during a school trip | Free | Free | Free |
| Researchers travelling to perform scientific research | Free | Free | Free |
Schengen visa in Indian Rupees
Note: Schengen visa fee is subject to the current exchange rates.
Schengen visa fee for Indian waiver
Schengen visa fee may also be reduced or waived for Indian nationals belonging to one of the following categories:
Indian graduate and postgraduate students who are visiting any of the Schengen nations for educational training and study purposes. 
Visa applicants up to 25 years of age who want to travel to the Schengen Zone for non-profit participation in seminars, sports, cultural or educational events. 
Individuals traveling for humanitarian reasons in cases of major accidents, emergencies or similar events.
Diplomatic or service passport holders.
Indian researchers visiting any of the Schengen States to conduct scientific research as defined in Recommendation 2005/761/EC of the European Parliament.
Members of the staff accredited by a diplomatic mission.   
Individual member states may offer other visa fee waivers for Indian applicants. You are advised to check the website or embassy/ consulate of your destination country in India, where you intend to apply, to learn more about the visa waiver schemes.
Schengen Visa fee payment options
The Schengen visa costs include the visa fee and the service fee. Indian applicants can pay the fee in Rupees as per the current exchange rate. You can make the Schengen visa fee payment in the designated consulate or embassy in India. The fee can be paid in cash, checks, or through credit or debit cards.
The fee is non-refundable in case of visa rejection
If your Schengen visa application is rejected or if you decide to cancel your visa application, the fee won't be refunded or reimbursed. Also, if you apply for a Schengen visa again, you will have to pay the visa fee again. If your visa fee and service fee has been accepted it doesn't necessarily mean that your visa application will be approved.
If you apply for the visa through an external service provider, you may have to pay a service fee.
NRIs living in the Schengen countries may have several India related queries. To ask any questions related to the rights of NRIs, PIOs, and OCIs, you can download SBNRI App from the Google Play Store or App Store. You can also use the SBNRI app for investment in stock market/ mutual funds, NRI account opening, tax filing, etc. To ask any questions, click on the button below. Also, visit our blog and YouTube channel for more details. 
FAQs
How much is the Schengen visa fee from India?
The Schengen visa fee in Indian Rupees is as under:
– For adults: Rs. 6944.66
– For a child between 6 and 12 years of age: Rs. 3472.33
– Waived for a child younger than 6 years
How much does a Schengen visa cost?
Rs. 6944.66 for an adult applicant from India and Rs. 3472.33 for a minor child (aged between 6 years to 12 years). 
What is the minimum balance required to apply for a Schengen visa?
The applicant is required to have sufficient funds to support the expenses during the travel, depending on the duration and expenses during the travel. 
What does the travel insurance for a visit to a Schengen country cover?
The travel visa insurance covers several expenses and injuries such as medical emergencies, injury, disablement, repatriation of remains, lost/ stolen/ damaged baggage, overseas funeral expenses, etc. 
Is the Schengen visa fee refundable?
No. Once paid, the Schengen visa fee is non-refundable. 
How can I make the payment for my Schengen visa application?
You can visit the designated embassy/ consulate to pay the fee through cash, debit or credit card. However, at some consulates, you may not be allowed to pay by credit card.