Most people aspire to work in foreign countries such as the USA and UK, but it may seem challenging for those who do not possess the necessary qualifications, skills, and work experience. One can only qualify for certain visas if they have a job, and the employer sponsors their visa. On the flip side, some countries readily offer visas for freelancers, and creative personalities such as musicians, and software engineers.
In this article, we shall discuss the Top Countries to get Work Visa for self-employed individuals. So, read until the end.
The Best Countries to Get a Work Visa Fast
If you are wondering about how to get work visa then the following countries provide multiple visa options and excellent work opportunities for independent work.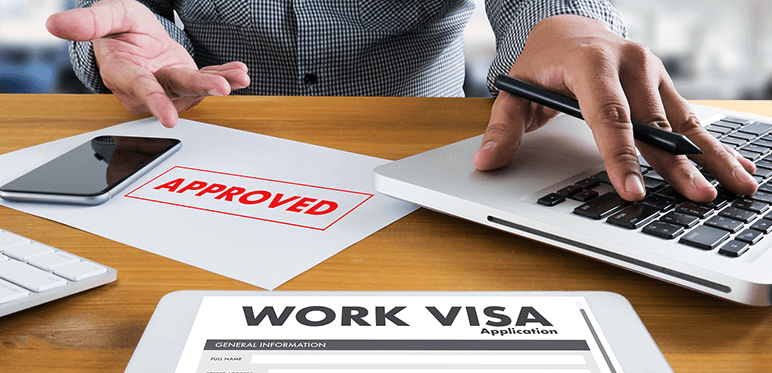 Norway and Svalbard
Svalbard has a great demand for digital nomads. While you do not need a visa to get into Svalbard, you do need to apply for a digital nomad visa to enter Norway. Once you get the visa you can live and work in Svalbard indefinitely, as long as you can prove that you are employed and have enough money to support yourself. However, do keep in mind that Svalbard is a tough country to live in since it has a cold climate and bear population.
Australia
Who can say that the land down under isn't one of the best countries to get work visa? With students flying in from all parts of the globe, there are many visa options to apply for. So, the chance of qualifying for at least one type of work visa is much higher in Australia.
While there are many visa options, there are also many qualifications and criteria that need to be met. Australia accepts people who are between the ages of 30 to 55 years, possess higher qualifications, be an expert in their field, and possess sufficient work experience.
If you meet all of the above criteria, then you do not need to worry about how to get work visa. All you need to do is apply for a sponsored visa if you have found a job in the country. Your employer will support you through the visa application process.
Based on your current situation, you may consider applying for the following visa types:
Skilled Independent Visa
Skilled Recognized Graduate Visa
Skilled Employer Sponsored Regional Visa
Business and investment visa
Employer Nomination Visa
Germany
Germany has a major labor shortage resulting from an aging population. This makes it one of the easiest and Top Countries to get Work Visa.
The country is focused on bringing in young immigrants to fill the void in the labor market, but one needs to be a skilled individual with sufficient work experience to get a work visa in Germany.
In case, you do not have a job offer from Germany right away, you can always apply for a job seeker visa. It will allow you to stay in the country for several months to find work. So, you can apply for a regular work visa the moment you land a job in Germany. Moreover, Germany also has a freelance visa option for people who want to stay self-employed.
Canada
The country is always seeking new residents and skilled professionals through the provision of multiple working visa options.
The Express Entry Program is one of the most popular immigration programs that Canada offers. It is a point-based program where you need to score a certain number of points to qualify for the visa. An applicant is mainly assessed based on his/her skills, age, educational qualification, work experience, and English speaking skills.
In case, one does not qualify for the Express Entry Program, you can apply for other visa options such as a temporary foreign worker program, or a postgraduate visa for international students seeking job opportunities in the country after completion of studies.
If you are thinking about how to get work visa in the USA, you should aim for Canadian citizenship first. People who are Canadian citizens have direct entry into the United States and do not need an American visa.
How to get a work visa for Ireland?
One can qualify for an Irish visa quickly if he/she applies for a working holiday visa. To qualify for such a visa, one must be a citizen of any of the following countries.
● Canada
● Chile
● Hong Kong
● Argentina
● USA
● Taiwan
● South Korea
● Japan
● Australia
● New Zealand
One can stay and work in Ireland with a working holiday visa for up to 12 months. However, Canadian citizens can stay in the country for up to 24 months.
There are also other alternatives such as the General Employment Permit for which you need to find a job in Ireland, and the Critical Skills Employment Permit which is only meant for people with high-level skills. Moreover, you will need to apply for a job in a field that has a shortage of workforce in Ireland.
What is the accepted age for visa applicants in Canada?
While Canada is one of the Top Countries to get Work Visa, there is no age limit for any Canadian immigration program. However, it is often seen that applicants between the age of 25 to 35 receive the most points across most forms of economic immigration.
Which is the easiest country to get a visa for freelancers?
It is very easy to get a work permit in the Czech Republic as the land offers a myriad of opportunities for freelancers. The country has the highest rate of job vacancies in Europe. So, anyone who has a job out there can apply for a regular work visa to go to Czechia.