Canada is one of the most preferred countries in the world for tourism, business and education purposes. It has one of the best educational institutions attracting students from all over the world. Canada is one of the largest economies in the world and offers plenty of employment and business opportunities. A visa is an important document to enter a foreign country. Hence, if you are planning to visit Canada for any purpose, you will need to obtain a Canada visa.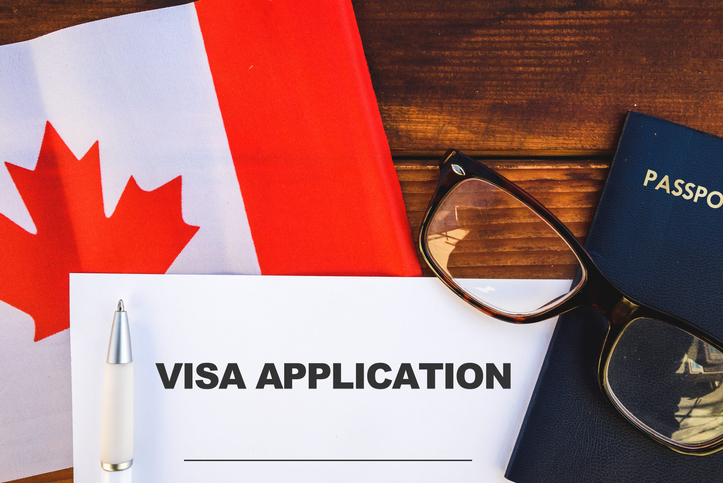 What is Canada Visa?
A visa is a document that allows foreign nationals to visit its shores and stay in Canada for a limited period of time. The visa holders can also transit through the international transit areas of Canadian airports or land borders. Applicants can get a visa at the Canada Embassy and Consulates located in their home country.
Canada Visa Types
Visa types vary based on the applicant's requirements such as study, employment, pleasure, permanent settlement, etc. There are 4 types of visas issued to foreign nationals planning to visit Canada.
Temporary resident visa
Study permit/ student visa
Work permit/ work visa
Transit visa
Permanent resident travel document
Also Read: US Visa Types: All about Nonimmigrant Visas in detail
Visitor visa or temporary resident visa
A temporary resident visa allows a foreign national to travel and stay in Canada for a short period of time. This type of visa can be applied for vacations, business trips and meeting friends and family members staying in Canada. Canada tourist visa or business visa is issued for 6 months. Canada visitor visas can be obtained for both single and multiple trips. The visa applicant needs to fill in the specific form, provide required documents and pay visa fees to complete the visa application process.
Canada temporary resident visa documents required
Duly filled visa application form
Valid passport with two blank pages
Proof of sufficient funds to support the travel and stay in Canada
Letter of invitation from business partner (In case of business visitor visa)
Medical exam certificate from an authorized medical service provider
Study permit or Canada Student Visa
A study permit allows foreign nationals to live and study in an accredited educational institution in Canada for a specific period of time. Level of studies, permission to work, duration of stay, etc. will depend on the applicant's profile. Applicants can get the option to work part-time during the study. Under a visa permit, students are allowed to spend an extra 90 days in Canada after the completion either for visa extension or departure preparation. Indian students who want to study in Canada and obtain a student permit instantly can apply for the same through Student Direct Stream (SDS).
Canada study permit documents required
Valid passport and other travel documents
Acceptance letter from DLI (Designated Learning Institution)
Proof of sufficient funds to support the study and stay in Canada
Canada work permit
The work permit allows foreign citizens to work in an organization located in Canada. A Canada work visa for Indians is not a visa but a work permit and applicants are supposed to apply for it with their Canada visitor visa. There are two types of Canada work permits – Employee-specific work permits and open work permits. Based on factors like nationality, age, language requirements, education and work experience, etc. the applicant can opt for a visa that will allow him/her to work in Canada.
Canada work permit document requirement
Valid passport or any other travel document
Letter of employment
Medical exam certificate from the authorized medical service provider
Financial documents to support travel and stay
Transit visa
A transit visa allows people arriving in Canada to catch a connecting flight to their travel destination. Transit visa holders can transit through the international transit areas of the Canadian airports within 48 hours. A transit visa can be valid for 1 or 2 entries, spending on your travel plan. If you need more than 48 hours to transit from Canada, apply for a Canada visitor visa instead.
Permanent Resident in Canada
A permanent resident is a non-Canadian citizen who has obtained permanent resident status in Canada. The permanent residents are issued the Permanent Resident (PR) Card that allows them to enter Canada by any mode of transport. Most PR cards are valid for a maximum period of 5 years. Certain PR cards are only valid for a maximum of one year. The card holders will be eligible for a wide range of benefits like a Canadian citizen under the law and citizen rights of Canada, such as medical cover. Individuals with a PR status are eligible to apply for citizenship in Canada. However, Canada PR holders can't vote or contest an election and can't apply for a job that requires a high-level security clearance. Foreign nationals will need to fill the form, provide supporting documents and pay the fee to obtain the PR Card.
Validity for Visa
| Visa types | Visa Validity |
| --- | --- |
| Temporary resident visa/ visitor visa | 6 months |
| Study permit | Duration of course + 90 days |
| Work permit | Depends on employment duration |
| Transit visa | Up to 48 hours |
Visa Validity
Who can apply for visa
All Indians need to obtain a visa to enter Canada and its borders. The visa can be obtained from the Canadian Embassies and Consulates located in India. Eligibility criteria and documentation will vary based on the visa types.
Canada visa fees
Each visa will be issued only after the applicant pays the fees. Here is the checklist of fees charged on different types of visas:
| Visa type | Visa fees (Canadian Dollar) |
| --- | --- |
| Temporary resident/ visitor visa | 100 |
| Study permit | 150 |
| Work permit | 155 |
| Transit visa | Nil |
Canada Visa Fees
Also Read: How to check Passport Status in India
How to apply for a visa?
The application procedure for a visas is simple and fast. Applicants can apply for a visa for Canada online and offline. Take the following steps for a Canada visa application online:
Go to the official website of the Canada Government
Click 'Immigration and Citizenship' link
Select the visa category based on your purpose
Select if you are applying from outside and applying online or offline
Create your account and complete the visa application form
Pay your fees
Schedule an appointment with Visa Application Center (VAC)
Keep all documents ready
Visit the VAC for an interview
Once you clear the interview, a Canadian visa will be issued
Also Read: Indian Passport for NRI: Renewal vs Reissue
You can contact Canadian Embassy in India for more clarity on Canada visa for Indians. If you're looking for any assitance for NRI services such as NRI account opening, NRI Demat account, NRI investment or taxation, experts at SBNRI can help you out with everything. Download SBNRI App from the Google Play Store or App Store to ask any questions related to NRI services. Also visit our blog and Youtube Channel for more details.
FAQs
How soon can I get a study permit?
Canada study permit visa is processed within 4 weeks.
Do Indians need a visa to go to Canada?
Yes, all Indian citizens need to obtain a visa to visit Canada. Based on your needs, you can apply for a Canada work permit, study visa, transit visa, etc.