Check your passport status in a quick few steps. You will need the following information:
Date of Birth
Passport File Number (15-digit number provided after submission of passport application)
Procedure to check Passport Status Online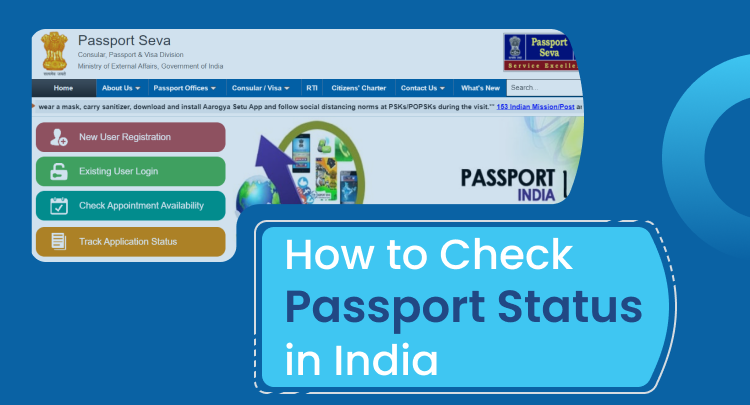 From the drop-down menu, select the type of application from the list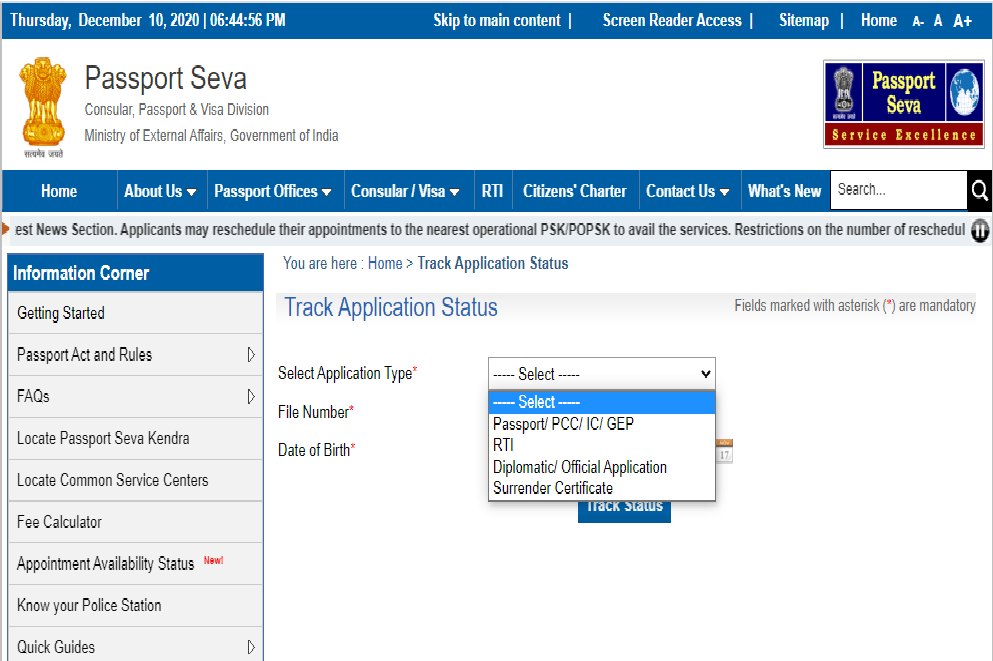 Enter the 15-digit file number and your date of birth in the format prescribed and click on 'Track Status'. The current status of your application will be displayed on screen.
Also Read: Check Visa Status with Passport Number
How to track Passport Application Status Offline
There are various methods to check your passport status offline as well. The methods are:
National Call Centre: You can directly call the National Call Centre on 18002581800 between 08:00 am to 10 pm for an update on your application status. The Automated Interactive Voice Response (IVRS) facility, available 24/7, can also be used during non-working hours.
SMS: Use your Registered Mobile Number for updates by messaging STATUS FILE NUMBER to 9704100100
Note: The SMS service is a paid service to be opted for at the time of submitting your application form.
Helpdesk: You can also visit Passport Seva Kendra (PSK) or contact them by email for updates on your passport application status.
mPassport Seva App Tracking
You can also track the status of your application through mPassport Seva app. Get the app on Android as well as iOS platforms. Access real-time updates on your application status after registering on the app. You will need the following things to access the information:
Application File Number
Date of Birth
Also Read: Indian Passport for NRI: Renewal vs Reissue
Passport Services for NRIs
As NRIs, it can be difficult to keep a track of Indian Passport Services. We at SBNRI, understand this struggle and are here to help you out with everything. Click on the button below to get in touch with our expert for instant doubt resolution. Also, visit our blog and Youtube Channel for more details.
FAQs
How can I check my passport status?
Following steps for passport application tracking:
– Open the official website of Passport Seva and click on the 'Track Application Status' tab.
– Select the type of application from the options listed in the drop-down menu.
– Enter the 15-digit file number and your DOB in the format mentioned and click on the 'Track Status' button. 
Who should I contact if I don't receive my passport?
If your passport is not dispatched on time, you may reach out to the National Passport Information Center at 1-877-487-2778 and ask the instructions on how to request to expedite your passport.