Breakfast options for Indians in Singapore: We all know the fact that breakfast is significantly the most important meal of the day. A wholesome, nourishing preparation in the morning can do wonders for your energy levels and attentiveness because it does set the tone for the rest of the day. And being Indian is not easy when you travel abroad especially when it comes to food. Where you may struggle a bit to find the right balance of taste and health particularly in South- Asian countries like Singapore. But, still, there is a lot you can work with, from the abundance of dishes having superfood spices at your disposal to the gluten-free grains and seeds. Here, we have listed a few simple yet healthy breakfast locations for you, which you can enjoy every morning during your stay in Singapore.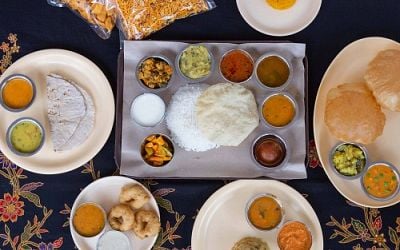 Also Read: 8 Must Visit Places in Singapore 2022
5 Healthy Breakfast options for Indians in Singapore
Here are 5 breakfast options for Indians in Singapore:
1. Ananda Bhavan
Ananda Bhavan is a straightforward vegetarian Indian eatery that has been operating in Singapore since 1924. The best way to start your morning here, is to dip something in coconut milk and then dust it with orange sugar. Here, you can surely try going for Appam, Plain Rava Dosa, and some other calorie-dense and cost-effective breakfast options. Despite Ananda Bhavan having multiple locations, we highly advise you to visit the original one at the entrance of Little India.
Location- Block 663, 01-10, Buffalo Rd, Little India, Singapore
2. Greenleaf Café
It's one of the most nutritious, healthy, and energetic restaurants which uses a perfect blend of selective spices that bring out the rich flavor and aroma of the food. It has a family-friendly casual atmosphere with excellent service. They have plenty of options seasoned with fresh vegetables, exotic herbs, fruits, nuts, and dairy products. Their quite famous breakfast options are Poha, Millet Upma, Curd Rice, Lemon Rice, buttermilk, and healthy milkshakes.
Location- No.43, Cliff Road, Singapore
3. Chat Masala
One of the few restaurants which are located on the East Coast side of the city, and serves the most scrumptious North-Indian and fusion Indo delicacies. Here, to name a few healthy breakfast options one must go for Fish Vada, Eggplant Strips, Sabudana Vada, Masala Tea, and Lassi. However, you must give a shot to vegetable cutlets, served with tasty tamarind and coriander chutney. Whether you are trying to seek out something on the fiery spicy side or a bit milder side you will find everything equally delicious here. This place also offers plenty of options for vegetarians as well.
Location- 158, Upper East Coast Road, Singapore
4. Azmi Restaurant
This place is hugely famous for its Chapattis served with a variety of curries & vegetables and what could be a better breakfast option for an Indian, than having a high-fiber wheat Chapati with some nutritious veggie curry in the morning? They're quite famous for their veggie-infused Keema and Chapati breakfast combo. You can also combine your breakfast with a fresh cup of Black Tea. The restaurant has a unique classic feel to it, with outdoor seating in front of its counter, where you can sit at a small table and they will bring the food for you. So, you just can't go wrong eating here, also don't forget the coconut drink to go along with your Chapatis. The Azmi sign board is quite inconspicuous and many refer to them as the Norris Road Chapati.
Location- 170 Norris/ Upper Serangoon Road, Little India, Singapore
5. Gandhi Restaurant
This place is one of the busiest places in Singapore when it comes to Indian cuisines. So, if you're planning to head towards Gandhi, you better make it early in the morning, soon after they open. Although, they have a huge takeaway section as well. They are also one of the most famous, and the oldest on the street. Also, the moment you step in here, you can feel the incredible aroma of spices and can witness an open food counter, which can make you drool, just by looking at the food itself. Now, coming on to the USP of this restaurant, which is that your food will be served on a big banana leaf in proper South- Indian style. The service here is quick and the food is superbly tasty. You can try Rasam and Veg Brown Rice Biryani, with Urad Dal Papad, and also the best Filter Coffee cannot be missed. Also, whatever you order, you will get a variety of sweet & savory Indian Pickles, and Chutney (Sauces) along with it. You can also go for their Butter Omelet and grilled toast. However, here customers are also encouraged to eat with their right hands, so you better skip that practice of eating with knives and spoons while dining-in here.
Location- 29/31, Chander Road, Little India, Singapore
Again, Singapore has an authentic and extremely delicious Indian food variety and these places could be the best start for your day. So, now that you're well acquainted with the top places to look for Indian Breakfast in Singapore, you know what to do…
NRIs and OCIs living in Singapore can ask any questions related to India. You can download SBNRI App from the Google Play Store or App Store to get in touch with us. You can also use the SBNRI app for investment in stock market/ mutual funds, NRI account opening, tax filing, etc. To ask any questions, click on the button below. Also, visit our blog and YouTube channel for more details. 
FAQs
Where to find multiple Indian food outlets at a single place in Singapore?
You can majorly find Indian food outlets and restaurants inside the Little India area in Singapore, but there are also plenty of options available on the East Coast as well. 
Which Indian food can one easily find in Singapore?
One can easily find South-Indian food, like Idli, Vada, Masala Dosa, Parata, etc in various restaurants at Little India and around other places in Singapore.
When do these places generally open in the morning?
These restaurants open early in the morning, starting from 8 A.M to 11 A.M, but majorly all the restaurants are fully functional by 10 A.M. and serve a great variety of breakfast dishes with customers enjoying these meals.