Breakfast being the most important meal of the day if often rushed which may end up being the cause of fatigue and various nutritional deficiencies.
It is important to have a healthy breakfast in order to stay satiated and avoid binge eating throughout the day.
Below are 5 easy to cook healthy breakfast recipes:
1. 15 Minute+5 Ingredient High Protein Cookies
A favourite among children and adults, these high protein cookies are made with the goodness of whey protein and make for a healthy and delicious breakfast or mid day snack option.
Serves: 4
Ingredients:
Medium ripe bananas, mashed – 2
Quick oats- 1 cup
Whey Protein (vanilla/chocolate), – 2 scoops
Peanut butter, unsalted & softened – 2 tablespoons
Chocolate chips – 2 tablespoons
Directions:
Line a cookie tray with parchment paper and set the oven for preheating at 180 degrees celsius.
Take a big mixing bowl and mash the bananas with the help of a fork. Once mashed, add the 2 scoops of protein powder, oats and peanut butter. Mix thoroughly until combined.
The consistency of the cookie dough should be fairly runny. Add the chocolate chips after checking the consistency.
The consistency could vary depending on the type of ingredients used.
These cookies will not spread hence we can shape them into even-sized cookies.
In case of smaller cookies, bake at 180 degrees celsius for 12 minutes. In case of larger cookies, bake for 14 minutes.
Once baked, let the cookies cool on a cooling rack for around 15 minutes.
2. Tropical grain free Quinoa bars
Serves: 4
Ingredients:
Almonds, finely ground – ½ cup
Quinoa – 1/4 cup
Milk- 1/2 cup of regular milk or ¼ can of coconut milk
Honey – ¼ cup
Egg – 1
Cinnamon – 2 teaspoon
Shredded Coconut, unsweetened – ¼ cup
Whey protein powder – 1 scoop
Sea salt – ½ teaspoon
Sunflower seeds, finely ground – ½ cup
Dried Apricots, chopped – ¼ cup
Directions:
For the quinoa – Soak the quinoa overnight in water. Drain the water and cook with either 1/2 cup of regular milk or 1/4 can of coconut milk. Cook for 30 mins without stirring.
Once the quinoa is cooked, we have to put together all the ingredients and mix them all in a medium sized mixing bowl.
Spread the mixture in a greased baking pan.
Bake for 25 to 30 minutes at 180 degrees celsius until it is firm to the touch in the center and it should be browning on the edges.
Once baked, let it cool completely.
Store upto one week in the refrigerator.
3. Moonglet
Ingredients:
Foodstrong Sprouted Moong Instant Dosa Mix – ½ cup
1/2 capsicum (green pepper)
2 tablespoon coriander leaves
1/4 tablespoon dry mango powder
2 tablespoon butter
1/2 onion
1/2 tomato
1 piece green chilli
2 Pinches asafoetida
salt as required
Directions:
Step 1: Take ½ cup Foodstrong Sprouted Moong Instant Dosa Mix and ½ cup water – mix to prepare the batter
Step 2: to the batter, add finely chopped onion, tomato, capsicum, green chilli and coriander leaves. Add water to adjust consistency. Mix it well. Add asafoetida, salt and dry mango powder. Keep whisking for a few minutes until the batter seems a bit frothy.
Step 3 To Prepare a moonglet:
Heat 1 tbsp butter in a small pan. Pour half of the batter into the pan, spread it evenly and let it cook for a few minutes. Make sure that the pan is small and the batter forms a thick layer. Flip it towards the other side and cook until crispy. Repeat this step to make one more moonglet.
Step 4 Ready to be served
Serve the moonglet hot with ketchup, imli chutney or mint chutney.
4. Crispy Hash Browns
Serves: 4
Ingredients:
Medium russet potatoes, shredded – 2
Medium onion, finely chopped – 1/2 onion
All-purpose flour – 1/4 cup
Egg – 1
Oil – 1 cup
salt and pepper to taste
Directions:
Rinse the shredded potatoes until thoroughly cleaned and the water is clean. Squeeze till dry.
Mix the shredded potatoes, onion, flour and egg until it has all come together.
Heat 1/4 of the oil in a medium to high heat. When the oil is extremely hot, place the mixture in separate piles like pancakes.
It has to be cooked till it has nicely browned on the bottom. Flip over and brown on the other side. The total process should take about 5 minutes per side.
Once cooked, remove from the pan and remove excess oil using paper towels.
Season with salt and pepper and serve hot !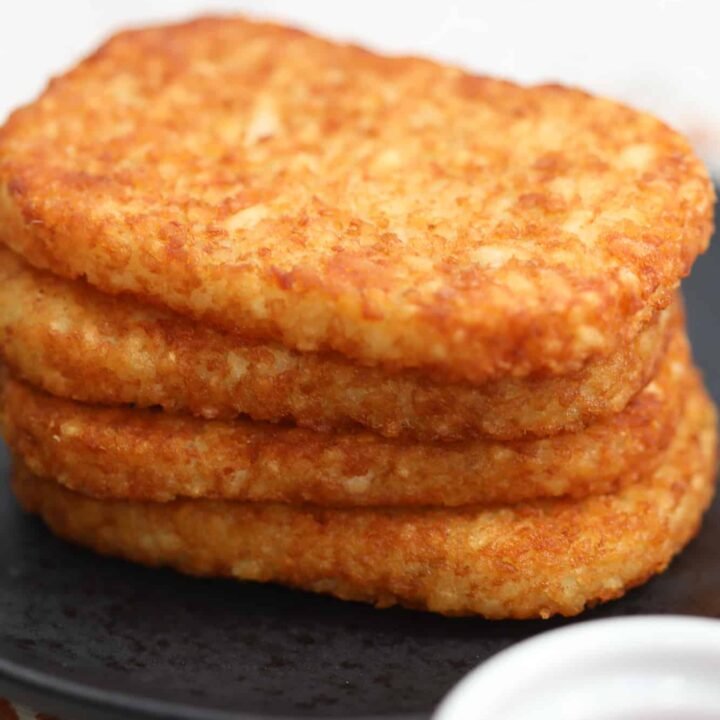 5. Feta eggs
Serves: 4
Ingredients:
Butter – 1 tablespoon
Onion, chopped- 1/4 cup
Eggs, beaten – 4
Tomatoes, chopped – 1/4 cup
Feta cheese, crumbled – 2 tablespoons
Salt and pepper to taste
Directions:
Take a skillet and melt the butter over medium heat.
Toss the onions until they are translucent.
Pour the eggs in and cook. Stir occasionally so as to scramble the eggs.
Stir the chopped tomatoes and the feta cheese in when the eggs look almost cooked.
Season with salt and pepper and cook till the cheese is melted.
Check out SBNRI's recommendations for Indian Restaurants. We are a one stop platform for NRI needs. Check us out!
To ask any questions related to the rights of NRIs, PIOs, and OCIs, you can download SBNRI App from the Google Play Store or App Store. You can also use the SBNRI app for investment in stock market/ mutual funds, NRI account opening, tax filing, etc. To ask any questions, click on the button below. Also, visit our blog and YouTube channel for more details.