Singapore is considered to be one of the greatest countries in South Asia that offers a blend of Asian & European cultures. Moreover, if you have not travelled to any South Asian country before, then Singapore is one of the most desirable destinations for you. Not only because the transportation is super convenient here, but also because most Singaporeans speak fluent English as well. It is famous for its scenic beaches, modern architecture, museums, theme parks, and shopping malls. Which enhances your holidays with a fun-filled experience and provides you with the best tourist-friendly environment. So, here is a quick guide on 8 must-visit places for you to plan your trip to Singapore.
8 Must Visit Places in Singapore
Following are the 8 must-visit places in Singapore in 2022: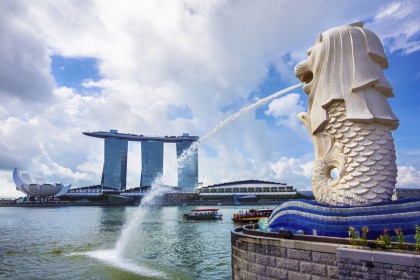 1. Changi Experience Studio
Located inside the Changi Airport, this is the first spot that most tourists rush for. It is a great place to learn about the past, present, and future of Changi with the aid of cutting-edge technological experience. It combines multiple 20 different touch-points, such as singing, games, and the Battle of Smiles. Visiting here will undoubtedly be an enjoyable start to your trip.
2. Universal Studios
A fascinating tourist attraction located on Sentosa Island, it is divided into 7 zones, consisting of 28 thrilling rides to roller coasters and many cartoon characters that make everyone super happy. It also encompasses other attractions like Lost World of Dinosaurs, Ancient Egypt City, Sci-Fi zones, etc. In addition to this, Universal Studios houses many top eateries in the world, along with a super hype-market from where you can buy cool trendy clothes. It will be good for you to buy tickets online from the Universal Studios website and if possible, try going for an express pass, which will allow you to hop on to almost every ride here.
3. Marina Bay Sands
If you want to make your Singapore trip truly memorable, then this is the place for you. Marina Bay Sands is Singapore's most opulent hotel, which has three major tall towers, with a gigantic ship-like structure atop each of them, leaving you astonished and astounded at the same time. With amenities like the casino, artistic museums, malls, luxury hotels, entertainment zones, and fine-dining restaurants, this place is a tourist paradise. The Hotel Skypark is the top footfall section of this building, where people come to experience not only luxurious stays but also the breathtaking skyline. It's also famous for its Infinity Pool, the world's largest rooftop swimming pool. However, if you're not willing to stay here, then you can also come to the observation deck and see the amazing panoramic view in front of you.
4. Chinatown
One of the most distinct and recognizable markets of Singapore across the world is the unique neighbourhood of Chinatown. This place will give you an opportunity to experience Chinese- Singaporean culture and will also allow you to learn about the cultural diversity of the numerous ethnic groups that call Singapore home. Apart from the lip-smacking variety of local cuisines, you can also witness numerous historical sites and temples located nearby. Like the oldest Hindu Temple Sri Mariamman, and Buddha Tooth Relic Temple as well. As this area is divided into 4 sub-zones, it is better to have a local tour guide, who can take you through the must-see spots of this area.
5. Singapore Botanic Gardens
Regarded as a UNESCO World Heritage site, Singapore Botanic Gardens are a must visit in Singapore. It encompasses five tropical gardens namely Ethnobotany Garden, National Orchid Garden, Jacob Ballas Children's Garden, Rain Forest, and Ginger Garden. Throughout the walking trail you can enjoy a variety of plants, beautiful flowers, and a peaceful atmosphere. You can explore this place without any entry charges, but few attractions do require admission fees.
6. Clarke Quay
If you are tired of exploring Orchard Road, then you can come and chill at Clarke Quay, located at the waterside of the Singapore River. During the colonial period, this used to be a commercial area. But today it is known for its nightlife, as there are many restaurants and bars. From its location, you can simply watch the scenery of this contemporary city. Here, you can also try the famous reverse G-MAX Bungee Jumping as well.
7. Sentosa Island
Can you envision yourself enjoying an island that has the best entertainment, events, and activities? Sentosa Island is one of the most popular tourist destinations of Singapore, situated on the southern coast of the country. You can reach there by taking the Sentosa Express Monorail, public bus service, and cable cars. Here you can visit Megazip Adventure Park, Skyline Luge Sentosa, S.E.A Underwater Aquarium, and Siloso Beach to name a few.
8. The Singapore Flyer
The Singapore Flyer will allow you to see Singapore's horizon and skyline. The architectural masterpiece offers you various, mesmerizing vistas of Singapore in a 30 min journey. It is like the London Eye but in a different region and country. You can also choose packages that include visits to the observation deck and some of Singapore's renowned gourmet treats.
Singapore is an exciting and popular tourist destination, offering a brilliant array of natural and man-made attractions. The country is widely regarded as a paradise for tourists from across the world, and despite being an island country it has a lot to offer you.
NRIs and OCIs living in Singapore can ask any questions related to India. You can download SBNRI App from the Google Play Store or App Store to get in touch with us. You can also use the SBNRI app for investment in stock market/ mutual funds, NRI account opening, tax filing, etc. To ask any questions, click on the button below. Also, visit our blog and YouTube channel for more details. 
FAQs
Q.1 What other places one can explore?
Garden Bay Sands, Singaporean Zoo, Orchard Road, Merlion Park, Raffles Avenue, Little India, and River Safari are a few more places that one should not miss.
Q.2 Best time to visit Singapore?
One can visit Singapore throughout the year, as the country mostly has soothing, calm, and pleasant weather for tourism all-round the year.
Q.3 Should one go for Travel Insurance before planning a trip to Singapore?
Singapore is a hugely expensive country, which can be a bit costly in case of any mishap. So, in that case, your travel insurance comes super handy and extremely helpful for you.