There is never a bad moment to travel to Vietnam. A tropical monsoon climate prevails throughout the nation from May to September, with the northeast monsoon predominating from October to April. Best time of the year to visit Vietnam will thus depend on the regions you intend to travel to unless you don't mind extreme heat and humidity or are caught in a daily deluge.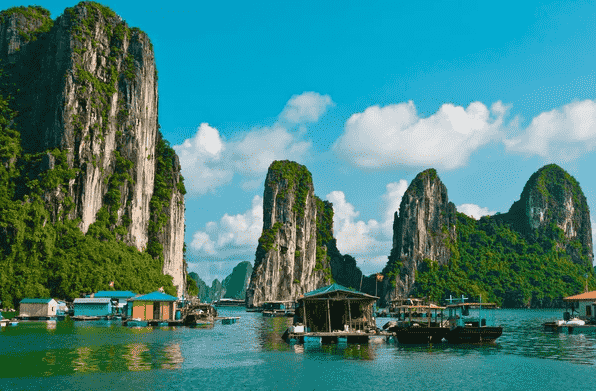 When to Visit Vietnam is Best
It seems that you would want to know when is the best time of the year to visit Vietnam. The nation benefits from a tropical monsoon environment that has two distinct seasons. The southwest monsoon is one, while the northeast monsoon is the other. The country's two deltas and west-facing hills receive precipitation from the southwest monsoon.
The northern monsoon delivers showers to the Gulf of Tonkin and the central coast up to the eastern boundary of the central highlands. These two main seasons cause changes throughout the nation depending on the time of year and the geography. Because of Vietnam's complex weather patterns, it is impossible to recommend a certain time of year as the ideal time to travel there. At various periods, the climate in each region of Vietnam varies. Therefore, drop by whenever you like to experience Vietnam at its finest.
What Season is Ideal For Traveling to Vietnam
Because of the country's varied landscape, choosing the best time to visit Vietnam might be challenging. Best time of the year to visit Vietnam are spring and autumn, respectively, from February to April and August to October. There is only very light rainfall at this time of year, and the temperature is not exceptionally warm. The absence of rain produces a pleasant mood in March and April throughout the spring.
Vietnam in The Spring
February marks the beginning of spring and April its conclusion.
Temperature
In Southern Vietnam, temperatures typically range from 20 to 30 degrees Celsius but can reach 40 degrees Celsius in March. In Central Vietnam, the temperature is constant. But temperatures in North Vietnam can drop as low as 10 degrees Celsius.
Weather
Southern Vietnam is experiencing stifling heat and humidity. It is even colder in Central Vietnam. In contrast, the weather can occasionally be wet and below freezing in North Vietnam. Tet Festival, the Vietnamese New Year, is celebrated during this time.
Why You Must go Right Away
The Phu Quoc and Con Dao Archipelago in southern Vietnam and the Dalat waterfalls are ideal places to visit at this time of year. You may also go to Nha Trang's beaches or the historic town of Hoi An in central Vietnam.
Before you go, be aware that despite the high humidity, there won't be any rain at this time.
Advice
If you intend to travel to northern Vietnam, pack warm clothing.
Vietnam in The Summer
May marks the start of summer, which lasts through August.
Temperature
Maximum temperatures in Hanoi and northern Vietnam can reach 30 degrees Celsius, while central and southern Vietnam can reach 40 degrees.
Weather
The southern region has heavy rainfall and hot, dry spells at this time of year. In Vietnam, this is presumably the wettest and warmest time of year.
Meaning
The Ghost Festival is a must-attend event in August.
Why You Must go Right Away
The small showers create a vibrant environment amidst the lush plains, making it the best time to visit Vietnam.
Know Before You go
The best summertime destinations in Vietnam are Hue and Hoi An.
Advice
Carry a lightweight, weatherproof rain suit to protect yourself from the rain and heat.
Vietnam in the autumn
September marks the beginning of autumn, which lasts through November.
Temperature
During this time of year, Vietnam's typical temperature varies from 20 to 25 degrees Celsius.
In central Vietnam, the rainy season is at its height right now. In southern Vietnam, the weather is warm and humid, yet it is rather chilly in northern Vietnam. You must attend the National Day and the traditional Ooc Om Boc celebration.
Why You Must go Right Away
This is best time to visit Vietnam now since the weather is cool and all the rain has largely dried up. That is the greatest time to explore Ho Chi Minh City and the Mekong Delta.
Before You go, Be Aware
The greatest time to visit Sapa's northern mountain ranges is now if you want to go hiking.
Advice
If you want to travel to higher elevations, pack warm clothing; if not, pack light, breathable clothing.
Vietnam in The Winter
Winter officially begins in December and lasts through February. The country's average temperature is between 20 and 26 degrees Celsius.
Weather
The winters are arid in the south and north of Vietnam with little or no precipitation. However, there is precipitation and a touch of snow in the extreme northern regions, like Sapa.
Meaning
You must not miss the numerous dragon dances, fireworks display, and national musical events during the Tet holiday.
Why You Must go Right Away
Vietnam's southern and northern regions are best visited during this time of year; rain will be less, and the weather will be much more relaxed.
Know Before You go
If you enjoy the snow, visit the Sapa region.
Advice
Bring all of your warm clothing to Vietnam in the winter since the country might experience shallow temperatures. If you plan to visit areas around Hanoi, bring light clothing.
You can also click on the button below for more information. Visit our blog and YouTube Channel for more details.
Is English used widely in Vietnam?
Few Vietnamese citizens are fluent in English. However, English will be understandable at hotels and restaurants in tourist districts.
What kind of money is in use in Vietnam?
Vietnamese is the official currency of Vietnam. Numerous hotels, eateries, and attractions in tourist regions accept Mastercard and Visa. In the majority of large cities, ATMs are easily accessible.
Do I require a visa to enter Vietnam?
When arriving as a tourist from either Canada or the United States, you must have a visa.
What possibilities are there for getting around Vietnam?
Vietnam offers a variety of transportation options. Travel between the north and south of the nation may be made quick and easy with the help of domestic aircraft. Visiting smaller towns or villages can also be made via trains or hired drivers. You may also rent bicycles to move around towns and cities.