Strata is a tech-enabled commercial real estate (CRE) investment platform. It is one of the top alternative investment platforms in India for retail investors who wish to invest in commercial properties. Strata pioneered the fractional ownership model in India by enabling retail investors to get partial ownership in physical assets with a minimum of Rs. 25 lacs. Let's understand Strata Property Management in detail.
SBNRI has tie-ups with Strataprop to help investors, including Non-Resident Indians, seamlessly invest in Grade-A commercial properties in India. NRIs who want to start investing in commercial real estate properties or expand their portfolio by investing in India can schedule a call right away.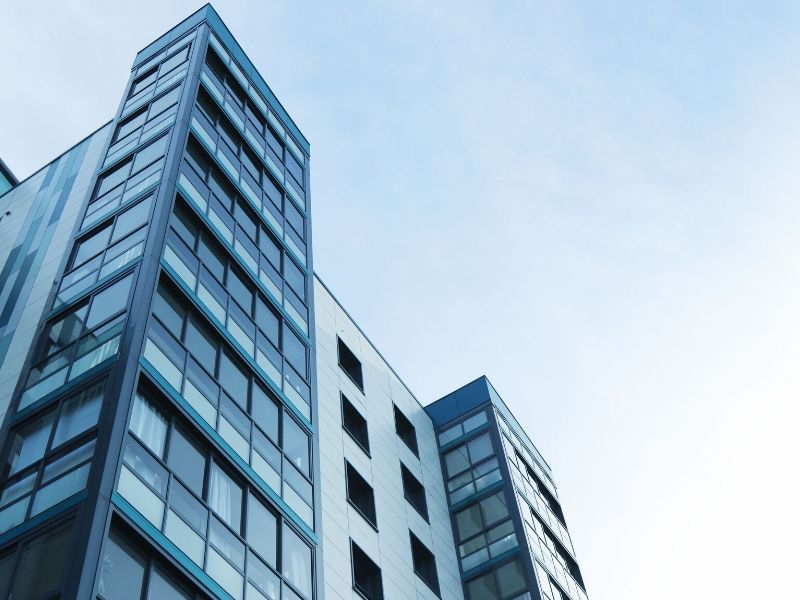 Why Strata Property for Commercial Real Estate
Liquidity: Through Strata, investors can liquidate their holdings with multiple exit options including asset sale, private sale, resale, etc. 
Diversification: You can diversify your investment portfolio by investing across locations and asset types i.e. different types of commercial properties. 
Attractive Returns: Generally, commercial properties deliver rental yields of 8-10% and targeted IRR of 16-18% over 5 years. 
Data-driven decision making: Strata has a data-driven approach with insights on properties, locations, building specification and pricing to identify high potential markets while offering superior ROI to its investors. 
Risk Management: Strata has been tirelessly working towards risk mitigation with 360 degree due diligence and exhaustive selection criteria.   
Transparency: Transparency is at its core. Access to detailed reporting and fair pricing, declared is upfront. 
How Strata Property Management Selects Best Property for Investment
Here is how Strata picks up properties that offer value to investors:
Property Screening: Properties for investment are diligently selected after considering location advantage, superior specifications and tier-1 tenants. 
Due Diligence: The legal counsel meticulously assesses property related documents to ensure every asset is risk free.
In-depth Financial Analysis: Data is analyzed to get insights on future growth prospects of assets.
Listing: Properties that have a flawless balance between yield, stability and capital appreciation are listed on the platform.
How Commercial Property Investment Works
Investing in commercial properties is easy and transparent on Strata platform irrespective of your locations. Not only residents, but Non-Resident Indians (NRIs) can also invest in CRE from their country of current residence. Investing with Strata is easy, here are simple steps:
Buy a commercial property listed on Strata platform.
Earn passive income from monthly rental yields.
You can track your portfolio performance and stay updated.
You can exit with several liquidity options available –

Asset sale: For significant capital appreciation on sale of entire asset
Resale: Investors can list their ownership Strata for sale
Private sale: You can sell your holdings to someone you know who is interested
Dedicated window: Transact holdings for a limited period at a discount
How to Invest in Commercial Properties through Strata
Investing in commercial real estate property can be beyond retail investors because of higher costs. Hence, investment through fractional ownership can be an ideal option. Individuals including NRIs can invest in commercial properties with as low as Rs. 25 lacs using SBNRI app.
Commercial Real Estate Investment Process
You need to complete the KYC process to create a Strata account. Followings are documents required to create the account:
PAN card copy
Address proof such as Aadhaar, passport, or driving license.
NRE or NRO account number.
Bank statement or a canceled cheque leaf with the name printed.
Non-individual investors will need to submit additional documents.
After verification, your virtual account will be created and you will be able to invest in any asset listed on the platform. To initiate the investment, click on the 'Invest Now' button and confirm your investment details. All necessary property and SPV-related documents will be sent to you for your consideration and scrutiny.
You will have to e-sign a binding Expression of Interest (EOI) and transfer the initial 10% token advance to your account to start the procedure and block your investment. Once interested investors provide 100% commitment, the opportunity is considered to be fully funded.
Now you need to transfer the remaining amount into your virtual account. The invested amount is routed through an escrow mechanism to the share subscription accounts and eventually to the current account of the SPV. You will receive allocated equity shares and compulsorily convertible debentures (CCDs) in the Private Limited Company. The SPV will commence the purchase of the asset.
Strata Reviews
Established by professionals having a deep understanding of investments and commercial real estate, Strata leverages data-driven insights and in-depth experience to help investors make safe, calculated investment decisions.
So far, Strata has Rs. 780+ Cr worth of assets under management (AUM), and 40,000+ users. The company is backed by marquee investors like Gruhas, Kotak Investment Advisors, Mayfield, and ELEVATION. Strata manages 2.8+ Mn Sqft space leased to tenants including Capgemini, PUMA, UBS, RANDOX, REACHLOCAL, EagleBurgmann, etc.
Strataprop Competitors
Listed below are some of the top competitors of Strata Property Management:
Assetmonk
h-Bits
Propertywala
Myre Capital
Magic Bricks
RealestateIndia
99acres
To ask any question related to NRI investment in India, you can download SBNRI App from the Google Play Store or App Store. You can also use the SBNRI app for investment in stock market/ mutual funds, Pre-IPO, Asset Finance, Commercial Real Estate, Indian Startups Funds, NRI account opening, etc. To ask any questions, click on the button below. Also, visit our blog and YouTube channel for more details.
FAQs
Who can invest with Strata?
Individuals, Hindu Undivided Family (HUF), companies, and NRIs can invest with Strata.
How can NRIs invest on Strata?
NRIs can invest using an NRE or NRO account at a RBI-registered bank in India. The rental yields and sale proceeds will, however, be credited to their NRO account. 
What is the minimum amount required to invest with Strata?
The minimum investment is Rs. 25 lakh subject to amendments. 
Does Strata provide any guarantee on returns?
Every investment has a certain degree of risk. While rental yields most opportunities listed on Starta can be discovered in advance, the risk that the yield and expected gains involve remains. 
How safe is Strata?
Strata platform has best-in-class security and privacy features. Users' data is hosted on secure cloud networks and the sensitive data is encrypted and stored with 256-bit SHA encryption. 

What is Strata investment?

Strata is a tech-enabled commercial real estate investment platform for retail investors who wish to own units of pre-leased, Grade-A commercial properties, including office buildings, warehouses, industrial assets, etc. 

Is there any lock-in on the investment?
Yes, there is a 1-year-lock-in period from the date when property is registered. After that you can sell your holdings. However, a long-term investment portfolio of 5 years or more is recommended.